LIVE Championship Boxing tonight from the historic Aintree Racecourse.
The Frank Warren promoted show is headlined by Ellesmere Port's unbeaten sensation Paul Butler who will be stepping up to bantamweight in an Intercontinental title challenge against Argentine Oreste Bernabe Nieva.
Liverpool star
Kevin Satchell
defends his Flyweight Commonwealth Championship against
Issac Quaye
, plus unbeaten Mancunian southpaw
Terry Flanagan
stays busy while he awaits a British title shot at lightweight. Flanagan (22-0) takes on the Belgium No1. To round off what should be a great night of boxing, (
also available on BoxNation
) is a top quality undercard featuring Merseysides best up-and-coming talent.
Latest Updates…
Fight # 1
4 x 3 Minute Rounds Welterweight Contest
STEPHEN LEWIS
 V 
KEITH SHEEN –

LEWIS WINS POINTS 40-36
Fight # 2
6 X 3 Minute Rounds International Bantamweight Contest
JAZZA DICKENS
 V 
KRZYSZTOF ROGOWSKI –

DICKENS WINS POINTS 60-53
Dickens drops Rogowski in a dominant opening round. Its all Dickens but it's a scrappy old fight and it's getting a bit naughty, heads going in, pushing and shoving and this looks to be going to the score cards… Rogowski is tough he shipped some big shots from Jazza in an entertaining scrap. Jazza takes the fight 60-53 on the refs scorecard but the talk at ringside is that Jazza has broken his nose!
Fight # 3
6 X 3 Minute Rounds Lightweight Contest
MATTY FAGAN
 V 
YORDAN VASILEV –

FAGAN WINS POINTS 60-54
Good performance from Fagan who takes his record to 5-0
Fight # 4
8 X 3 Minute Rounds Bantamweight Contest
RYAN FARRAG
 V 
JASON BOOTH –

FARRAG WINS KO4
Booth is down in the 1st! It's a tough old night for the veteran Booth. He cant get out of the way of Farrag's right hand. Farrag is fighting well.. Booth down again in the 4th, it's all over!
Fight # 5
10 X 3 Minute Rounds Light-Middleweight Contest
RONNIE HEFFRON
 V 
JOHN THAIN –

HEFFRON WINS POINTS 96-95



This is a good match-up of two talented British contenders. Heffron comes forward in the early stages pushing the fight. Thain is looking to claim centre ring and get behind his jab. Thain starts to build up an early lead and looks good boxing and keeping Heffron at range. Heffron looking to get inside and work to Thain's body but a few of his punches are going south of the boarder and the referee warns him.
Great scrap here a good mix of styles. Heffron is getting rough inside and again the referee has a word. Both want this bad, it is a real even match-up and the loser will have a few more runs of the ladder to climb, the winner can go on to a possible domestic title fight. Heffron is deducted a point. Thain building a good lead now and going into the 9th it looks like Heffrom needs a KO in the final rounds here…. Heffron fights hard in the last two rounds and its tight at the end both men give it their all. Thain looks to have just nicked it and the lost point could be crucial…. Heffron's hand is raised he wins the fight 96-95 on the refs card. A rematch is a good call here, Heffron looks happy but relieved, Thain is bitterly disappointed.
Fight # 6
THE COMMONWEALTH FLYWEIGHT CHAMPIONSHIP
12 X 3 Minute Rounds @ 112 lbs
KEVIN SATCHELL V ISSAC QUAYE – SATCHELL WINS POINTS, UNANIMOUS, Judges Scores 120-109, 119-110, 120-108.
Satchell is boxing well behind his jab and dominating proceedings from the beginning against his much smaller opponent. The pattern continues throughout the contest and Satchell runs out a clear winner.
Fight # 7
8 X 3 Minute Rounds Lightweight Contest
TERRY FLANAGAN V GYORGI MEZSEI JNR – FLANAGAN WINS POINTS 80-72
Flanagan boxing well behind his southpaw jab, in range quick, lands his shots and gets out. Looks a lot stronger than his opponent and dominating the early stages without having to find an higher gear. Flanagan is bringing the shots down stairs well. Turbo in total control. Mezsei is boxing on the back foot, Flanagan is hunting him down and cutting off the ring to try and trap his man. As the fight enters the second half Flanagan is trying to up the pace as Mezsei blows a bit, Flanagan needs to turn the key now and put the combinations together with intent when he traps his opponent but the Manchester man is in full control. At the end of a dominant 8 rounds Flanagan takes every session and takes the refs card 80-72
Fight # 8
8 X 3 Minute Rounds Light-Welterweight Contest
THOMAS STALKER V CALUM COOPER – STALKER WINS POINTS 78-75
Stalker takes the fight to Cooper and takes control of the fight from the first bell with quick sharp punches he gets through early to let Cooper know he means business. Cooper is tough and looks dangerous on the counter but Stalker is building up a lead. The former Olympian Stalker having his 7th pro fight here and is willing to mix it with Cooper and it's making for a very entertaining fight. Both are really giving there all and this is turning into a better fight than first thought. It's getting gruelling for both after setting a fast pace from the off. Stalker getting caught more so than in his previous half dozen outings but he seems willing to take a shot to land one, cracking contest which Stalker wins 78-75 on the refs scorecard after 8 entertaining rounds. Good to see Stalker back.
Coming Up…
MAIN EVENT Fight # 9
INTERCONTINENTAL BANTAMWEIGHT CHAMPIONSHIP
12 X 3 Minute Rounds @ 118 lbs
PAUL BUTLER V ORESTE BERNABE NIEVA – BUTLER WINS KO4

Good usual positive start from the impressive unbeaten Butler making his first appearance at bantamweight. The reigning British and Commonwealth super-flyweight champion is fighting here for the WBA Inter-continental belt and is setting the tempo and opening up early on Nieva. Butler is viscous when he switches his attacks to the body and he is sinking in the hooks down stairs. After three rounds Butler, 25, is in total control but Nieva is still there and soaking it up. BIG Left hook tom the body from Butler and it's over Butler wins and what a performance from the unbeaten rising star of British boxing. Butler from Ellsemere Port takes his record to 15-0, 8KOs and picks up another title. Butler will now chase a world title shot at bantamweight with IBF champion Stuart Hall in his sights.
Good night of Boxing at Aintree, we hope you have enjoyed our updates, join us again soon. Please browse our website for more British boxing News.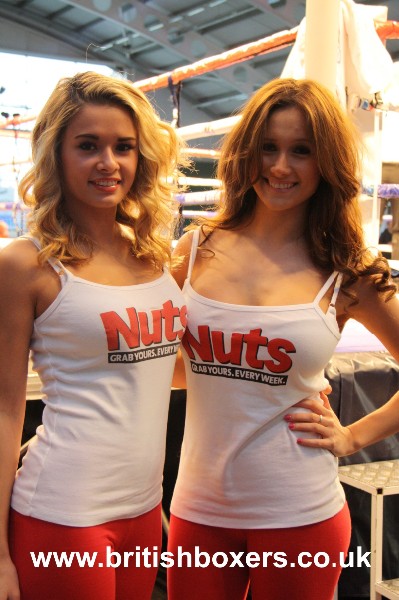 Continue to Page 2 for the Full Fight Running Order and Times