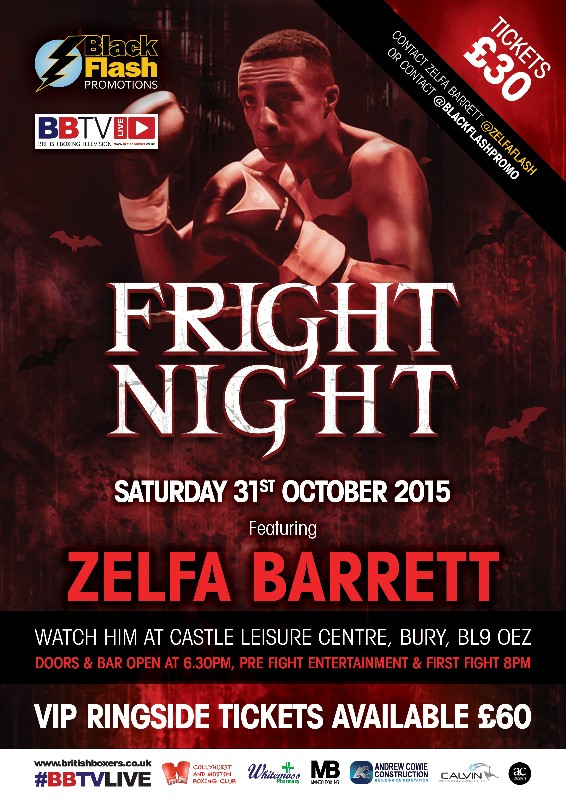 Zelfa 'Brown Flash' Barrett the highly rated unbeaten super-featherweight prospect from Manchester, will be the headline act when he tops the bill next Saturday night on the Halloween Fright Night show, at the Castle Leisure Centre in Bury, Live and Exclusive on BBTV and FREE to view.
Barrett, 22, the nephew of former British and European champion Pat Barrett, who is also his promoter and trainer, burst on the scene last October when he made his debut against Kristian Laight. He had two battles against local rival Jamie Quinn, winning both on points. He has also faced the experienced Ibrar Riyaz and knocked-out Joe Beedon in one round.
In his last fight in September, Barrett was gifted the chance to appear on a Sky Sports boxing show, when he fought in Liverpool on the televised Stephen Smith fight, scoring another decisive points with in a return with Laight. It is a year Barrett has been a professional and next Saturday will be his 7th outing as a pro to date, that's some going for a young pro in a short space of time.
Barrett has been courting rave reviews by the experts boxing writers and fans and many have described him as the future of British boxing. Gifted with plenty of skill, style, punching power and commitment, he has boxing running through his viens and it wont be long before the wider audiences get to see what others have.
I liked the look of Zelfa Barrett last night. Liked the way he spoke after too. Really level headed. One I'll keep an eye out for. ??

— Dave Coldwell (@davidcoldwell) September 20, 2015