CLICK PLAY ABOVE TO WATCH SELBY AND HUNTER GO HEAD-TO-HEAD
IBF world featherweight champion Lee Selby could possibly be or go on to be, one of the most naturally gifted boxers Britain has produced. He stands at the top of the tree and on the brink of some hugh fights domestically and on the world stage. Fights that will make him a lot of money and will either be the making or the breaking of him.
Names on the Selby hit list include Mexican Leo Santa Cruz and British rivals Carl Frampton and Josh Warrington have also been calling him out. If as expected he gets past his next fight, these are real possibilities somewhere down the line.
Selby burst onto the domestic scene when he knocked out Liverpool's Stephen Smith in 8 rounds in 2011 to claim the British and Commonwealth featherweight titles in his 12th fight. Since then the Barry boxer went on to add the European crown, before claiming the IBF world featherweight title in May 2015 against Russian Evgeny Gradovich. He defended the title successfully last October against experienced Mexican Fernando Montiel with a great performance that enhanced his reputation and shown his amazing potential to go on to be a great fighter.
This Saturday night Selby is back! On the undercard of the big heavyweight world title fight between American  IBF champion Charles Martin and British challenger Anthony Joshua at the O2 Arena in London, he defends his world title for the second time against mandatory challenger, the aggressive American Eric Hunter. The American is brash, cocky and comes to fight, this is his big chance and has come to the UK to upset the Selby applecart and take the belt home with him. If Selby wants the massive fights, he must find a way of dealing with Hunter and defending his belt.
Hunter (21-3-KO11) arrived in Britain from Philadelphian recently in confident mood of causing an upset. The challenger has something of a reputation with two of his career defeats coming via disqualification – and he wasted no time in kicking off the verbal assault on Selby by questioning the Welshman's self-belief.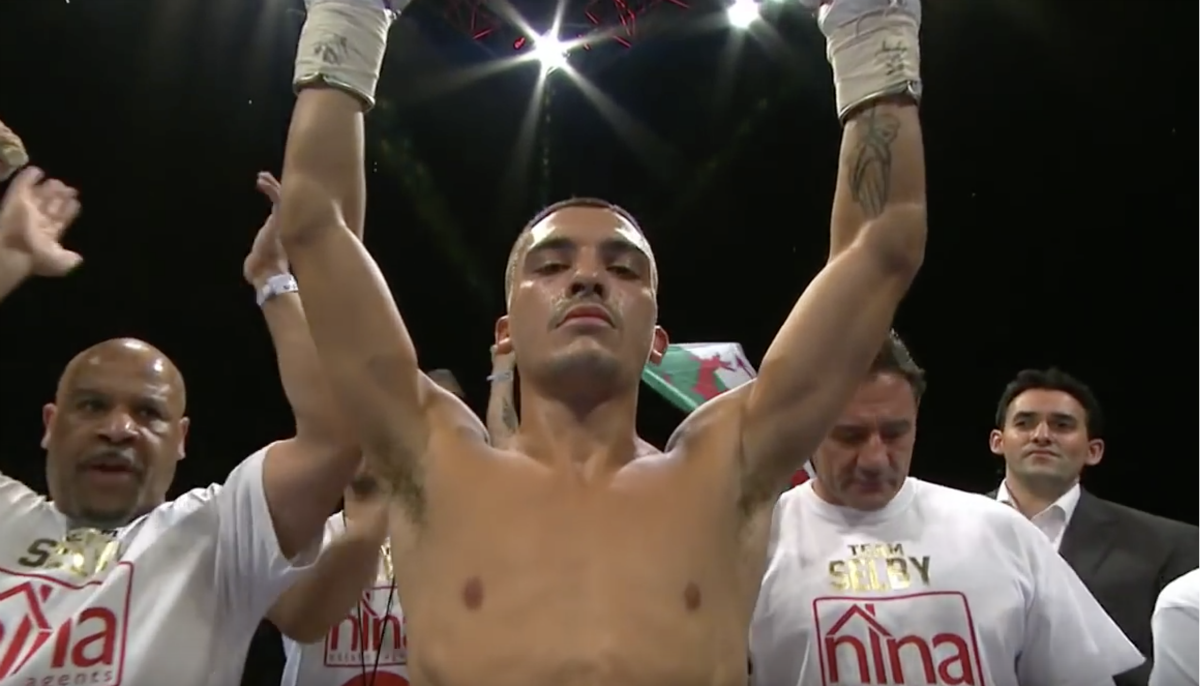 But Selby (22-1-KO8), told Sky Sports: "If he wants to stand and fight, we can fight. If he wants to box, we'll box. However, he wants it. I don't mind. If you see me sparring every day in the gym, I just want to have a tear-up.
"You don't win fights like that or at least, I'm instructed not to. I'm told to box all the time but when it comes down to it, I'd love to have a tear-up.
"I've never had the trash talking and at weigh-ins I've never had anyone in my face, but it won't affect me at all. It doesn't change my mindset one bit.
"I think his disqualification losses are a bit controversial. He hit the guy on the break and they said it was after the bell and the other was low blows. It's no coincidence he got disqualified twice.
"I have been disqualified myself once. It was against one of Tony Borg's boys and it was for holding. It was a dodgy referee and I think he was in Tony's pocket!"
With a packed house at The O2 and the chance of booking a fight with fellow world champions Carl Frampton and Leo Santa Cruz looking, the 29-year-old 'Welsh Mayweather' is full of enthusiasm.
He added: "I get to fight in front of my British fans at home again. It's the best atmosphere in boxing. It's a dream to go out to America to defend a world title but it's a dream to defend it on home soil in front of 20,000.
"Hunter is s a good fighter and it's a tough fight but I'm always in the gym, always ready and always prepared.
"There have been some great fighters calling me out. Carl Frampton was talking about me after his last fight, Josh Warrington has called me out a lot of times and Leo Santa Cruz has mentioned me too. There are plenty of options but I've got to come through this one.
"Warrington will never get to my level. He's done everything asked of him and won all the titles I vacated and it's a fight that could be made straight away if he comes through his next fight and I come through mine.
Lee Selby – Bad Boy Boxer The Last Chance BBC Documentary 2015
Documentary about Lee Selby prior to fighting for his world title. A look at Selby's life, family, friends, home town and his inner thoughts on his up bringing, his life and his dreams of boxing success. – Great Watch!