BROOK: I'LL SHOW THE WORLD I'M AN ELITE FIGHTER 
Sheffield star vows to display his full arsenal on September 10
Kell Brook says his monster clash with Gennady 'GGG' Golovkin for the WBA, WBC, IBO and IBF World Middleweight titles at The O2 in London on September 10 live on Sky Sports Box Office and HBO World Championship Boxing is his chance to prove he is an elite fighter. 
Brook welcomed Golovkin to London today for the UK press conference ahead of their clash and the unbeaten IBF Welterweight king bristled with confidence as the packed press rows that he had finally landed the blockbuster clash to showcase the skills that landed him the moniker of 'The Special One'.
"This is the biggest fight in world boxing – I'm so excited," said Brook. "I'm the best Welterweight in the world and no-one wants to fight me, he's the best Middleweight in the world and no one wants him. I'll be his size on the night and I'm bringing the speed to Middleweight. To be the best you have to beat the best.
[sam id="1″ codes="true"]
"I'm going to be so sharp and so powerful on the night. No-one has got the best out of me before but GGG will bring that out in me and I'm excited to see that from myself. I always find a way to win and there's going to be massive drama in the fight.
"It doesn't get better than this and I'm doing this for the fans that have wanted me to step-up and show them what Kell Brook can really do and prove I am among the elite in the sport."
Brook is moving up to 160lbs to face the feared Kazakh KO machine and it's a move that he says he's already feeling the benefit of in his Spanish training camp.
video: MaxBoxing
"I'm very healthy at 160lbs," said Brook. "I'm hydrated and eating well, nice sized meals that are giving me so much energy and I'm giving more of myself in the gym. I'm getting pushed in the gym and I'm delivering. I want to go down in history like Sugar Ray Robinson as doing massive things in big fights and beating the best – GGG is the best fighter in the world, and I am going to beat him."
Brook's clash with Golovkin is part of a huge night of action at the sold-out Greenwich venue and one of three World title clashes bitter rivals Lee Haskins and Stuart Hall rematch four years after their first fight, this time with Haskins' IBF World Bantamweight crown on the line and Charlie Edwards lands a World title shot in just his ninth pro fight as he takes on IBF Flyweight king Johnriel Casimero.
Martin J. Ward and Andy Townend clash for the vacant British Super-Featherweight title and Conor Benn tastes his fourth night of action in the paid ranks, with more fights to be added soon.
FURTHER QUOTES: 
Gennady Golovkin: I'm very excited and happy to be in London. I'm excited to perform in front of the UK fans. Kell Brook has my full respect and a great team behind him. It's not easy for us to get opponents – he's ready for me and I'm ready for him. I will bring a big, big show to London and the fans are going to love it. Kell Brook is the biggest test to me – he's a great champion, he's moving up in weight but great fighters have done that and won so I know he's a great boxer and he will test me the most.
Abel Sanchez – Golovkin's trainer: Four years ago we were here for Carson Jones and there's hundreds more cameras – Kell's improved massively since then and we're looking forward to a great fight against the best Welterweight in the world.
These guys are very intelligent in the ring and that's what makes them great. When the fear becomes aggression they want to win and excel. For GGG, Kell, Floyd Mayweather and Andre Ward – it's the intelligence that sets them apart and makes them great.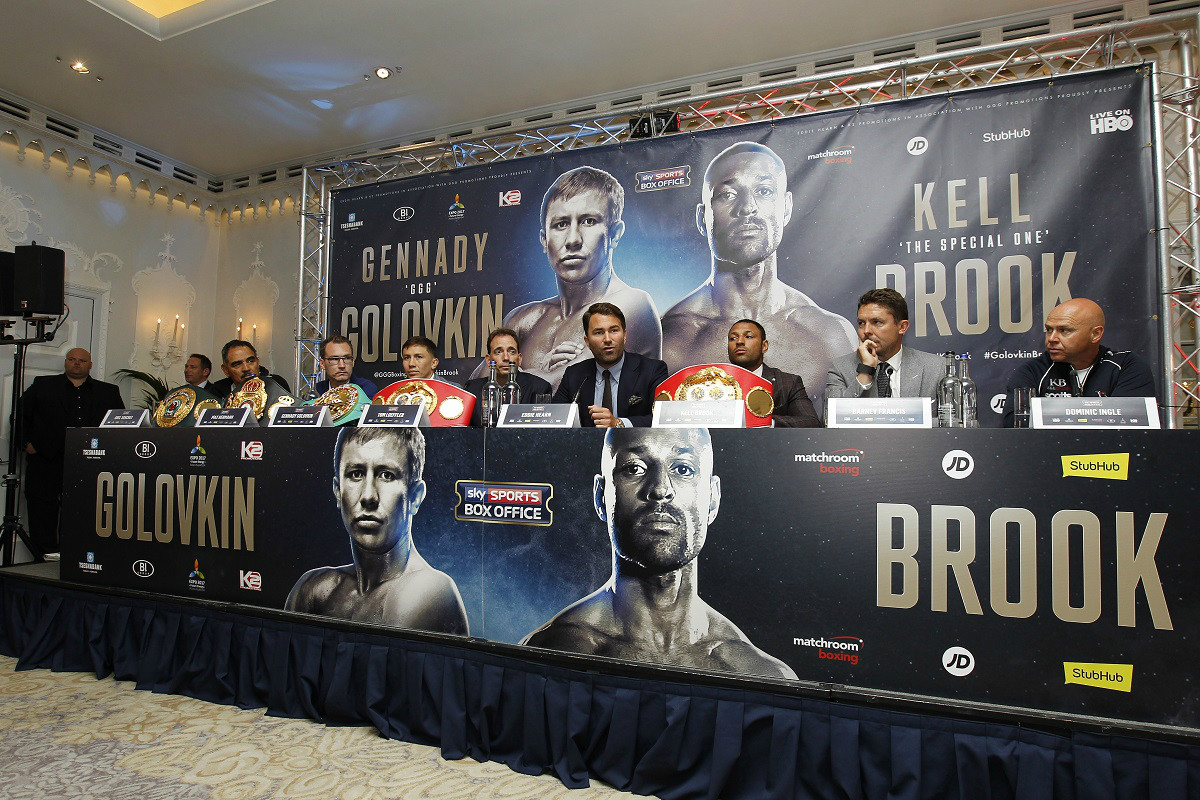 Dominic Ingle – Brook's trainer: We've had a great camp in Spain. We're in a quiet place in Fuerteventura and that's allowing us to get on with our work away from prying eyes.
Kell is going to be in great shape and he has to be to fight GGG. Kell is going to come out on top on the night – we've looked at GGG and we'll have the right plan. Kell has always says he's going to deliver something historic and he's done that already, and on September 10 Kell will become the new Middleweight champion of the world.
You have to go through the gears as GGG is a very clever and accomplished fighter so he has to match his intelligence, power and engine. The fear in the fight makes you perform the best, we've addressed all those scenarios and he'll deliver on the night.
Tom Loeffler – Golovkin's promoter: The heart that Kell Brook shows as a Welterweight stepping up to fight GGG is much bigger than the Middleweight's that won't get in the ring with GGG. There's been a huge response for this fight with HBO and RTL in Germany, GGGs first fight with them and we're excited about that.
This fight solves the problem for both guys trying to get opponents to get in the ring. The ticket sales were remarkable and the response to the two press conferences has been brilliant – we can't wait for this fight.
Eddie Hearn – Brook's promoter: Every now and then you make a fight that makes your hairs on your arms stand on end – this is it. We have the best Middleweight in the World and best WW in the world.
Kell Brook has been with us for 13 fights and I believe he's very special. I was in Madison Square Garden when GGG beat David Lemieux and I had the same feeling about him. Kell is stepping up to face the most best dangerous fighter in the world – and to be a great fighter you need to do great things. We're very confident and Kell is here to win not be in a no-lose situation.
It's my pleasure to bring GGG to the UK for this wonderful fight – he's a fighter I admire greatly and it's great to work with Tom Loeffler and HBO.
Golovkin vs Brook! It's real and it's on September 10th – Watch promo vid here
[sam id="1″ codes="true"]