[sam id="1″ codes="true"]
This Kell Brook–Gennady Golovkin fight seemed surreal when it was unexpectedly made and announced to the bemusement of boxing fans world-wide last month. But now it is becoming more believable by the day. A couple of head to heads and pressers later we have a realistic fight and as Brook put it, quite possibly the biggest fight coming up in boxing.
This contest has great ingredients to make for a high class spectacle when they clash at the O2 Arena in London on September 10th. – For British boxing it is a coup to have arguably one of the top 3 pound for pound boxers in the world fighting on our shores, the fact he is fighting one of our best current unbeaten world champions is of #boxingheads dreams.
Brook, the current IBF welterweight world title holder is stepping up to Middleweight to take on the current No1 king in that division, a feat that many predict is a step too far for the 'Special One' from Sheffield, but one that Brook is super-confident will be a decision that pays dividends.
At the Dorchester Hotel in London today, both boxers faced questions from the press and posed for pictures in front of the flashing cameras of the frenzied media presence in attendance as they put their cases across to the many ears and recording equipment on tenter hooks. Both had flew in to attend, Brook from his training camp in Fuerteventura, Spain and Golovkin from his Big Bear trying camp in the States.
[sam id="1″ codes="true"]
Both are obviously confident of victory and made their cases clear.
"This is the biggest fight in world boxing." said Brook.
"I'm the best Welterweight in the world and no-one wants me, he's the best Middleweight in the world and no one wants him. I'll be his size on fight night and I'm bringing the speed to Middleweight.
"To be the best you have to beat the best. I'm going to be so sharp and so powerful on fight night. No one has got the best out of me before but Gennady will bring that out in me and I'm excited to see that from myself.
"I always find a way to win and there's going to be massive drama in the fight, it doesn't get better than this and I'm doing this for the fans that have wanted me to step-up and show them what Kell Brook can really do.
"I want to go down in history like Sugar Ray Robinson as doing massive things in big fights and beating the best, Gennady is the best fighter in the world, and I am going to beat him. It's the best fighting the best."
There have been many great fighters who have stepped up from welterweight to win world titles at middleweight over the years. The main example that springs to mind is when in 1987 former world welterweight world champion Sugar Ray Leonard stepped up to take on the formidable Middleweight champion Marvin Hagler and pulled off a shock points win.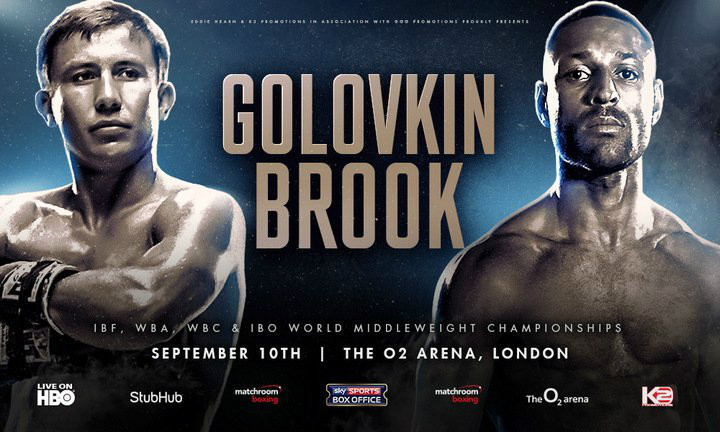 Golovkin is a smart a man as he is boxer and knows against Brook he has a challenge in front of him that he hasn't faced before. He will defend his multitude of belts against an unbeaten current world champion in the prime of his career in his back yard. The Kazacstan phenomenon says he has found it hard to find opponents like Brook eluded too and paid respect to Brook for taking it.
"I'm very excited and happy to be in London. I'm excited to perform in front of the UK fans." said Golovkin.
"Kell Brook has my full respect and a great team behind him. It's not easy for us to get opponents, he's ready for me and I'm ready for him.
"Kell Brook is the biggest test to me, he's a great champion, he's moving up in weight but great fighters have done that and I know he's a great boxer and he will test me the most. Thanks to Sky Sports and HBO, I can give the UK fans an amazing event and another big drama show."
With just over five weeks until fight night, we can't wait for Golovkin vs Brook!
[sam id="1″ codes="true"]