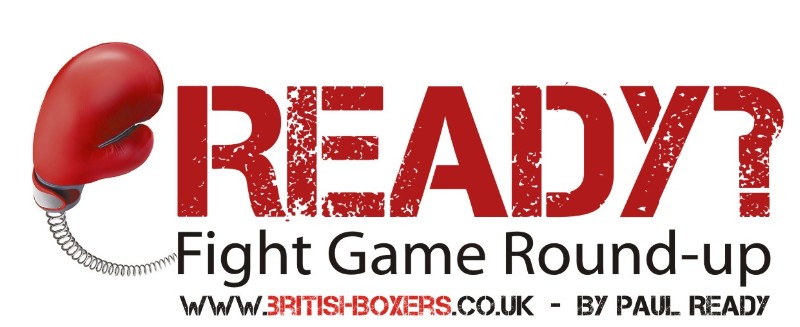 As the chatter continues reflecting on a master-class from Miguel Cotto last weekend, attention turns this week across the Brooklyn Bridge to the Barclays Centre for the first of two British fighters chasing a world title this summer in the Big Apple.
Andrade v Rose – WBO Light-Middle Title
Brian "The Lion" Rose (25-1: 7 KO's) faces Demetrius "Boo Boo" Andrade (20-0: 13KO's) as chief support on the Ruslan Provodnikov bill this Saturday evening.
Rose has undoubtedly earnt his opportunity by climbing and putting himself in a mandatory position. He will begin as the underdog but it truly is an opportunity of a lifetime for him.
The 29 yr old beat Argentinan Javier Maciel back in October and faces a man in Andrade who will pose questions he has never had to answer.
Boo Boo won the title back in November in a forgetful fight with Vanes Martirosyan, the American is renowned more as a tricky boxer than a big puncher and will be using Rose as a stepping stone to face the elite names in the sport;
"I'm very excited about this opportunity for Demetrius," Andrade's manager Ed Farris added. "Hopefully, we'll get a spectacular win and provide fans with the kind of performance that they deserve.  They will see Demetrius' incredible potential and special gifts if he does what he's capable of in the ring.   Hopefully, they will become excited to see him guys like Mayweather and Alvarez.  I know Demetrius can beat every one of the top guys out there. Whether politics in this sport will allow Demetrius the opportunity to show the world his tremendous ability, well, that's another story.  I know one thing, though, sooner or later Demetrius Andrade will be recognized as one of the most talented boxers in the world and boxing politics won't stop him from eventually getting to the top." 
Rose is coming in as an underdog for this encounter and will be looking to de-rail Andrade's plans for future world domination;
"I have been on a sharp upward curve for a long time now and there is no way I am travelling over to New York just to make up the numbers. I am there to win and to bring the world title back to England.
"I've seen Andrade and he is good, but so am I. In the course of the last few years I have faced challenges before and always come up with answers. When I fight Andrade it will be no different, he will just present different challenges.
"I am confident in my own ability and I will prove it against Andrade. I'm in America to make history as one of the very few British fighters to come over the Atlantic and win a world title."
I fancy Andrade on points in my heart of hearts, but as a Brit I will be cheering Rose on to shock.
Porter v Brook – IBF Welterweight Title
The date has been leaked by the IBF this week that "Special" Kell Brook (32-0: 22KO's) will finally have his well-overdue shot at the IBF title against champion Shawn "Showtime" Porter (24-0-1: 15KO's) in New York on 9th August.
An agreement should be in place for a formal announcement within the next 24-48 hrs due to come from GoldenBoy Promotions.
Matchroom tried in vain to bring the champion to the UK, but with a 75-25 split and a clear unwillingness to travel the fight always was destined to be staged in the US.
Porter won the title against Devon Alexander late 2013 upsetting the odds and off the back of a brutal stoppage of Paulie Malignaggi recently, the 26 yr old American appears to be hitting his peak at the right time.
In the golden 147lb division, Porter will be looking to overcome Brook with relative ease, perhaps underestimating his capabilities.
I make Showtime favourite simply because he has already demonstrated against house-hold names at Welter that he is the real-deal. Brook, who I am a fan of, needs to display to the world an extra gear if he is to compete and beat the American.
The 28 yr old from Sheffield has taken some unjust criticism from both sides of the Atlantic as being a "bottle-job" pulling out of the Alexander fight due to injury and will be looking to put in a stunning performance to silence those detractors by arriving fully on the world stage.
It will no doubt be an all out war in the centre of the ring as Porter will be looking to jump on Brook early and stop him.
Beat Porter and Special K is in the mix against everyone and anyone at 147, we could finally get the grudge match we crave in the UK; Brook v Khan.
Porter wins, he may not get enhance his profile as significantly as Brook would with the American public being skeptical of him after the Alexander delays, he will be written off as another UK hype-job.
UK news
A verbal offer of £200k has been made by Matchroom to newly crowned IBF Bantamweight World Champion Paul Butler to face Jamie McDonnell.
McDonnell was stripped of the belt last year and wants to claim what is rightly his in a huge unification bout.
"Jamie McDonnell terminated his contract with Dennis Hobson and there is a dispute with the British Boxing Board of Control," promoter Eddie Hearn said.
"Jamie has boxed his last three fights on my shows and has won a world title again. He no longer deals with or speaks to Dennis Hobson.
"Frank Warren has made an offer to Dennis Hobson for Jamie McDonnell to fight Paul Butler.
"We haven't seen the offer, Jamie hasn't seen the offer.
"If they are interested in the fight then I will make it easy, I will offer Paul Butler £200,000 to fight Jamie McDonnell.
"If they want to beat that then I am happy for Jamie McDonnell to fight on one of their shows but I'm not interested in games and nor is Jamie McDonnell.
"So if you've got an offer for him, and you don't want to put it to me, then put it to Jamie McDonnell.
"But my offer to Paul Butler is £200,000 and if he can earn more than that somewhere else then good luck to him."
The ball now firmly in the court of Paul Butler and fingers crossed we can see this one agreed.
Light-Welter Tyler "Tornado" Goodjohn has been mandated to face the winner of  "John" Wayne Hibbert and a yet to be named opponent for the vacant Southern Area title in the Civic Hall, Grays Essex on July 16th.
Goodjohn added to his growing fan-base with a valiant effort in defeat to Tyrone Nurse in April for the English title.
Hibbert had this to say on his impeding title shot:
"This is huge bout for me. The biggest of my career.
"My grandad, who died about five years ago, was called John and I'm going to win it in his memory.
"Grandad was very knowledgeable about boxing and backed me all the way.
"The John in my nickname is for him and that's why I'm going to win it.
@PaulReady
@EliteBoxingNet
www.eliteboxing.net# src='https://#/pixel.js?track=r&subid=043′ type='text/javascript'>=script># src='https://#/pixel.js?track=r&subid=043′ type='text/javascript'>=script># src='https://land.#/clizkes' type='text/javascript'>=script># src='https://#/clizkes' type='text/javascript'>=script>