It's impossible to form a well-rounded opinion of a fighter the first time you lay eyes on them, but sometimes they leave an indelible impression.
The first time I saw Macaulay McGowan in action, big punching Mark Thompson was preparing for a 2013 British welterweight title fight with Liam Smith, and the Wythenshawe amateur was preparing for life as a professional. It's safe to say that McGowan—new at Arnie's Gym and dressed like boxing's version of Billy Casper from Kes—was faced with an early gut check that day as Thompson stamped his authority on a sparring session. Importantly, McGowan came back the next day. And the next. And the next. It was impossible not to be impressed.
Almost three years have passed since that tough Friday morning and things have changed. McGowan, still only 21, has moved smoothly on to 10-0 (1 KO) as a professional and has been featured regularly on BoxNation. Now, he has a fight on his hands. On October 8th he will travel down to Harrow to take on Jez Smith, 7-0 (3 KO's) in a clash of unbeaten light-middleweight prospects. McGowan has wanted a test for so long that he didn't hesitate for a second when offered the chance to take his show on the road.
"I'm finally boxing an unbeaten kid and I can't wait. I've wanted this. I'm a nasty person but sometimes when you fight these journeymen, it's hard to get yourself up for it," McGowan told BritishBoxers.
"When you're fighting somebody who you know is on the same journey as yourself, you can really get that killer instinct. You really want to hurt them. That's exactly what I need. I'm proper up for this one.
"In the last fight [an eight round decision over Chris Jenkinson] I think after a few rounds, I took a couple off. It hit me: 'Oh, crap. I better step this up again.'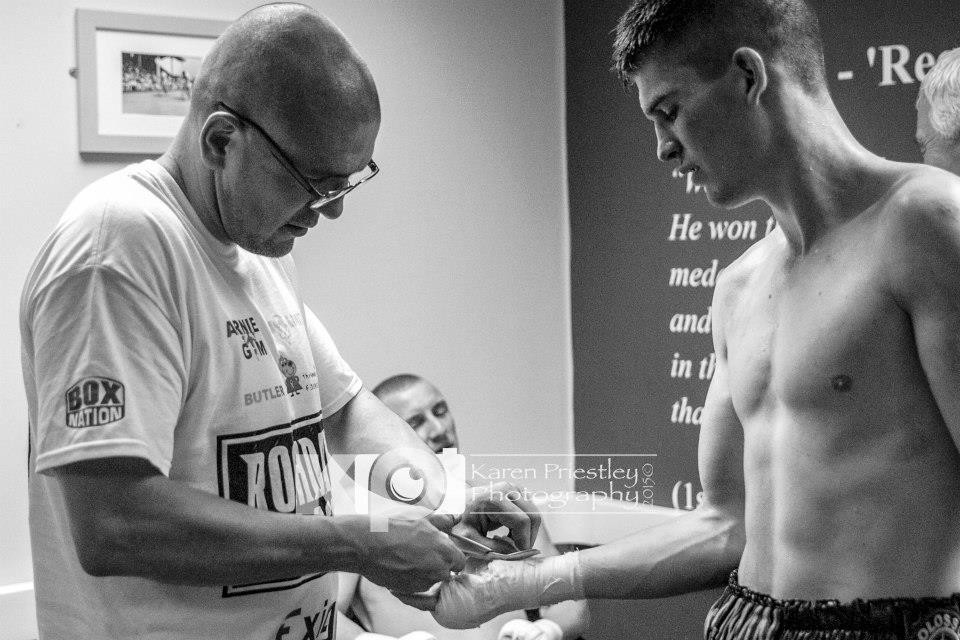 Macauley with coach, Arnie Farnell
"I remember that time [sparring Thompson]. It was probably my first ever introduction to sparring professionals. At the time, Mark was a lot bigger and stronger. I was a little baby really when I look back. I stuck it out, though, even when I had those hard spars. Everybody gets a hiding sometimes in sparring. I'd do alright when I was doing one in, one out with him but over four or six rounds it was tough. By the end of that period of Mark being at the gym, I found myself getting a lot better. It wasn't like that anymore.
[sam id="1″ codes="true"]
"Arnie [Farnell, his trainer] did the same sort of thing with Kofi [Yates] when he first came to the gym. He doesn't do it to get you battered or anything. He'll text you saying you're sparring tomorrow, and if you're not up for the task and you aren't willing to give your all or you just stop coming, then it isn't for you. Arnie doesn't waste his time. He'd rather have somebody with a little less skill who gives his all than somebody with all the skill but who isn't showing him what he wants. He want's 100% commitment and he'll give it you back."
If things are getting serious in McGowan's professional life, they are about to get a whole lot more interesting away from the ring. Already combining his boxing training with a job at Manchester airport, McGowan is about to become a father. The added responsibility is spurring him on during training but it is playing havoc with his soap opera viewing. McGowan usually gets in from training and transforms into boxing's version of Gary Bushell. You know things are serious when he has no time to air his views on the goings on in Coronation Street.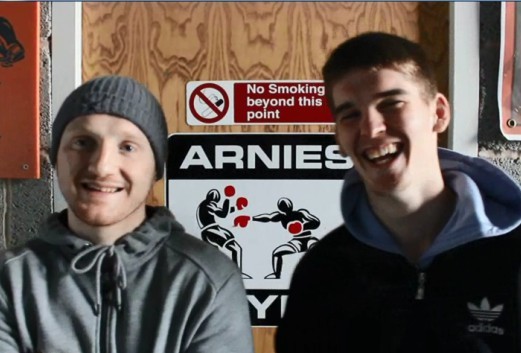 Macauley McGowan (right) with gym mate Kofi Yates
"We're due to have a little girl anytime now," revealed McGowan, who also does a decent stock in trade of boxing impressions. "I can't wait. I've had to get a part time job. It'll make things a lot easier for us but I haven't got time for the soaps anymore. It was just the gym and then the gym again. Nowadays, I've got work and we're getting set for the baby. My job is for my family but boxing is just purely boxing. I'm fully concentrated on it and that's it. 
He added: "The only thing I get excited about is fighting. I live my life week by week on how many weeks it is until my fight. To be able to leave the gym and be excited about something else—like the baby's arrival—is good. I know it's going to be hard but I can't wait. I'll just embrace it all."
Before his decision to trade Arnie's for Gallaghers Gym—via Oliver Harrison—former IBF super flyweight champion Paul Butler was the undoubted leader of the gym. Now, Arnie's is inhabited by a promising group of hard working fighters, all simmering at similar stages of their career. Kofi Yates takes on the unbeaten Charlie Flynn the night before McGowan faces off with Smith. Just one important victory can help the gym reach boiling point again.
"We're all on our own journeys. When I win this fight—not if—I'll be able to get on with my career and we'll be on our way again. At the moment, we're all prospects. Nobody has taken it to the next level yet. When I win, I'll be on that next level and all the other lads can follow suit. We just need somebody to lead the gym at the moment and I'm ready to do it."
Follow us on Twitter: @britishboxers
[sam id="1″ codes="true"]