Tonight, the Manchester's AO Arena will witness the heavyweight rematch between Joseph Parker (29-2) and Dereck Chisora (32-11). Rewind back to the beginning of May this year, it was Parker who had his hand raised by way of split-decision, despite suffering an early knockdown in the opening seconds of the bout. Finding himself ranked highly with the WBO (2nd), IBF (3rd) and WBC (4th), Parker cannot afford defeat in Manchester if he is to line-up another potential shot at a world title. Chisora meanwhile felt he was hard done by on the cards last time out and seeks revenge this Saturday as he continues to take on the top ten contenders at heavyweight.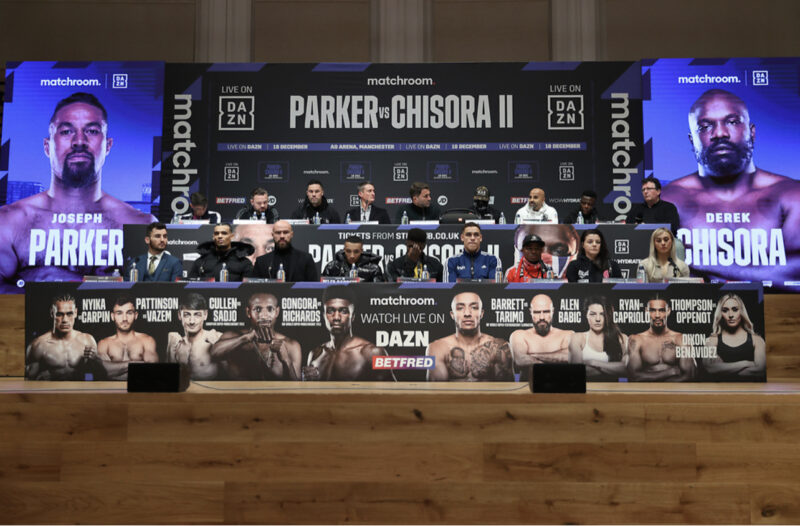 Despite losing a highly anticipated clash at light-heavyweight between Joshua Buatsi and Maxim Vlasov due to the former suffering a hand injury, Saturday night's undercard still features several intriguing bouts before the heavyweights close the show.
On Matchroom's 'Before the Bell', Parker's fellow countryman David Nyika runs out for the second time as a professional against France's Anthony Carpin (5-6-2) at cruiserweight. At 154lbs, Cyrus Pattinson (2-0) makes his third appearance in a ring as a professional against Evgenii Vazem (9-21). Pattinson won last time out on a Matchroom Spain show in September. Sandy Ryan has impressed hugely so far in her first two pro fights, scoring an eye-catching knockout in her previous bout in Milan with superb left hooks to the body and will hope to add another to her record against Maria Capriolo before looking at a potential world title shot over the next eighteen months at 140lbs.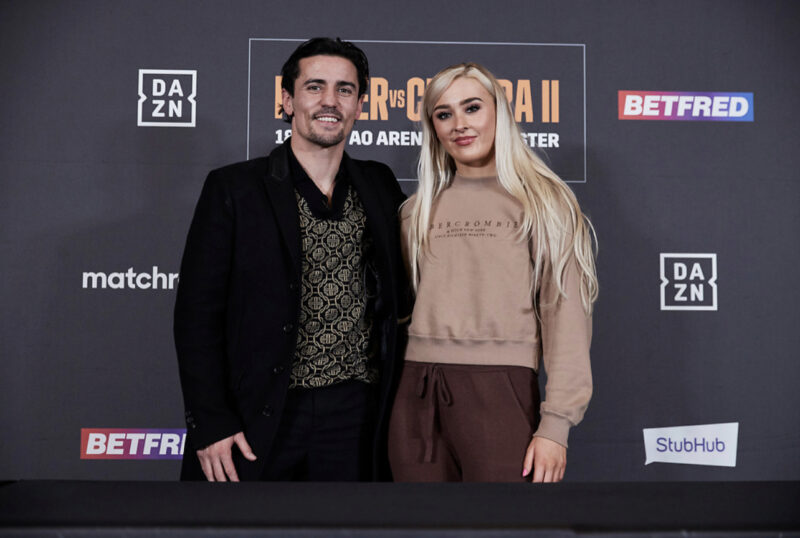 Meanwhile, Anthony Crolla's lightweight charge Rhiannon Dixon (3-0) will finally run out on a major televised card against Paola Pamela Benavidez (8-5-3) after missing out on a spot on the Liam Smith v Anthony Fowler undercard in Liverpool back in October. Dixon works part-time as a pharmacist and will look to maintain her unbeaten record as she continues to climb the ranks in the female code.  
Local Cruiserweight Jordan Thompson (11-0) fights over six rounds against Piotr Budziszewski (4-0) as he looks to maintain his unbeaten record and move closer to adding his name to a growing list of domestic cruiserweights in an already competitive division. Thompson stood out last time at London's O2 Arena on the undercard of Chantelle Cameron v Mary McGee, securing victory in the opening round against Piotr Podlucki and thus earning another opportunity on another big card on Saturday night, an opportunity he will be more than eager to take.
The always entertaining Croatian heavyweight Alen Babic (9-0) will end 2021 with his fourth fight of the year, this time facing off against David Spilmont (11-7-1). Babic beat up the uninterested, half-hearted American Eric Molina inside two rounds last time out and will surely dispatch of Spilmont in a similar manner come Saturday night given that the Frenchman hasn't shared a ring with anyone of note. Babic always provides a fun spectacle with his wild, over-aggressive style and has been tipped to target a shot at the WBC's nonsensical Bridgerweight title, currently held by Oscar Rivaz. While the Croatian always entertains both inside and outside of the ring, one can't help but feel that once he steps up a few levels against someone with superior technical ability that he might get found out. Nonetheless, it will be a fun ride while it lasts, and it shouldn't be expected to be halted on Saturday.
Another local man in Zelfa Barrett (26-1) will fight in his home city in an IBF eliminator at 130lbs against Australia's Bruno Tarimo (26-2-2). Many felt Barrett was fortunate to be awarded victory two fights ago against the now IBF champion at featherweight Kiko Martinez last February and after watching his close friend and stablemate Lyndon Arthur lose against Anthony Yarde a few weeks ago, Barrett will be eager to make a statement on Saturday as a potential world title shot edges ever closer. Tarimo meanwhile was victorious over Kye MacKenzie last time out and will look to cause problems for Barrett with his high volume punching and ability to switch from orthodox to southpaw.
The Australian often fights behind a tight guard and crouches down on the approach, providing an awkward task for Barrett who, despite his size advantage, will have to adjust given that he will often find himself having to punch downwards to find the range with his jab. Expect a bull versus matador type of affair, with the winner one step closer to a world title shot in 2022 at super-featherweight. Barrett finds himself ranked 3rd with the IBF compared to Tarimo who's ranked 4th respectively. 
'Little Lever's Meat Clever' Jack Cullen (20-2-1) continues to exceed all expectations with a shot at the EBU title at 168lbs against Kevin Lele Sadjo (16-0) of France. Cullen's response since his defeat to Felix Cash at 160lbs in 2019 has been phenomenal, upsetting the applecart against the then undefeated John Docherty at super-middleweight before comfortably outpointing Turkey's Avni Yildirim who just five months previous had shared a ring with pound-for-pound king Saul 'Canelo' Alvarez. While many were delighted for Cullen to share a ring with Yildirim who has been fighting at world level for several years, few gave him a chance of securing victory at Matchroom HQ back in July. Nonetheless, Cullen was dominant from the off and was announced a deserved winner on the cards by scores of 100-90, 98-92 and 97-93 respectively.
Cullen has therefore more than earned a shot at the European title after Lerrone Richards vacated the belt, and if he was to secure victory again, he will have exceeded all expectations set for him when he first entered a ring as a professional, and perhaps even expectations set by himself. Kevin Lele Sadjo will prove no easy task, bragging an undefeated record and stopping fourteen of the sixteen opponents he has faced. None of the names on his resume standout however and, given Cullen's form going into Saturday's bout, there's no doubting the Little Lever man will more than fancy his chances of getting his hand raised again as the Jack Cullen journey soldiers on.  
Perhaps the standout bout of the undercard is slotted in as Saturday's chief support, also at super-middleweight. Carlos Gongora (20-0), who is ranked as the 9th best 168lb fighter in the world by the prestigious Ring Magazine, faces off against Dave Coldwell's charge Lerrone Richards (15-0). There's no doubting the challenge facing Richards in what will be a huge step-up for 'Sniper the Boss', Gongora having recently scalped the undefeated record of Kazakhstan's Ali Akhmedov in the last twelve months and scoring fifteen of his twenty victories by knockout. Richards, though his style may not be the most exciting for the casual audience, is admired greatly by those who appreciate the technical art of boxing and has looked superb so far early on in his career, having already held the British, Commonwealth and European titles at 168lbs in just fifteen fights.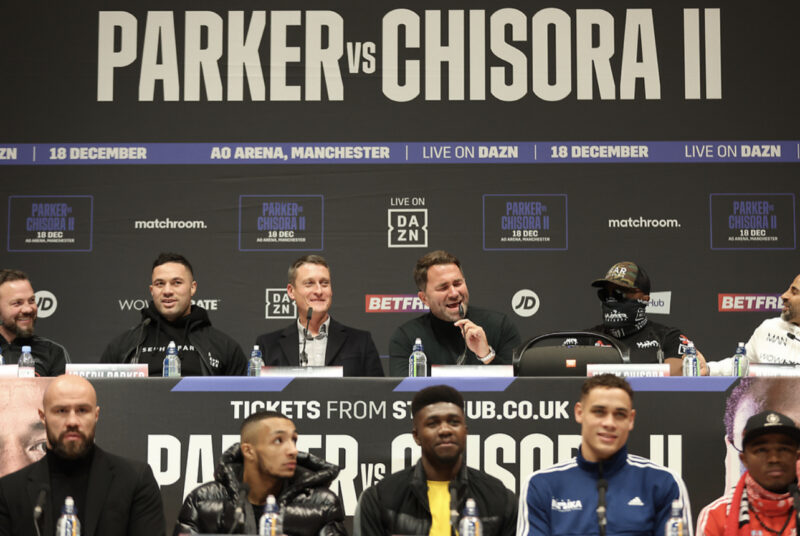 There is no doubting his ability, but Gongora will prove a mountainous task and one which will certainly propel Richards towards world level if he does emerge victorious on Saturday night. The bout will prove very intriguing to see if Richards is able to outbox the Ecuadorian at a much higher level than he has fought so far, and plenty of eyes will be on him in the chief support to a big heavyweight clash in the main event.  
Last May, despite finding himself on the canvas inside the opening fifteen seconds, New Zealand's former heavyweight champion of the world Joseph Parker (29-2) had his hand raised in a close split-decision bout over heavyweight veteran Dereck Chisora (32-11) at the same venue which will play host to Saturday's rematch. Chisora was left disgusted by the judge's scores, claiming he had been robbed and that a rematch had to take place. Parker's trainer, with whom he'd only spent a number of weeks with during the build-up to the first bout, acknowledged that the fight was close and agreed to grant the Finchley man his wish.
Now here we are, a couple of days away from the clash, and Chisora was up to his usual tricks at Thursday's pre-fight press conference, revealing his taped-up mouth with the words 'Eddie pay me to talk' written across. It provides a small incline as to why a man who has now last eleven fights in his career is still able to attract big numbers from the all-important casual fans of the sport, with Chisora never in a dull fight due to his easy to hit but aggressive, entertaining, come-forward style. One only need look at his two fights with bitter rival Dillian Whyte and destruction of Carlos Takam in a fight he was frankly getting beaten up in up until that point. The latter appears to have been a key point for Chisora, given that although he has lost to Whyte, Oleksandr Usyk and Parker last time out, he has managed to get himself into arguably the best shape of his career and still scored impressive victories over the likes of Artur Spzilka and David Price respectively. While nobody could criticise Chisora if he was to retire after Saturday night, or in fact at any point in the last few years, he still provides a fun watch and a stern test at heavyweight for those harbouring aspirations at a shot of those around the top ten.
The New Zealander Parker meanwhile has been plotting a route back to a world title after losing his WBO strap to Anthony Joshua in 2018 at Wembley Stadium. He lost again in his first fight back against Dillian Whyte in a fight of the year contender and was seconds away from stopping the Brixton man in the final seconds of the twelfth after scoring a heavy knockdown. He has since responded with five consecutive victories, including the first Chisora bout, and another win on Saturday would compound his solid rankings with the likes of the WBO (2nd), IBF (4th) and WBC (4th) as he targets another shot at world honours. A potential clash with Britain's Joe Joyce has been touted given Joyce's number one ranking with the WBO, with the winner surely next in line for the belt currently held by the Ukrainian Usyk. While there's no doubt Parker enters the ring on Saturday night as a favourite, Chisora has proved an easy task for few despite his number of defeats and there's no doubt that the extent to which Parker has improved under his first full camp with Andy Lee will be questioned.
While nobody was desperate for a rematch after the first bout, Parker had no obvious route to take after his hand was raised and so the opportunity to further develop under new trainer Lee will surely prove beneficial, especially given his relatively young age for a heavyweight given that he is only 29. Chisora meanwhile appears happy to take on all comers and had no shame in admitting during the first press conference a few months back that he always enjoys a payday. It is clear there is a lot of respect between the pair and that regardless of what happens on Saturday, the two camps will embrace at the end.