The British Boxing Board of Control released a statement on Wednesday afternoon stating that Conor Benn has now relinquished his license under them.
The announcement comes after a hearing with the Board which was attended by legal representatives of Benn. The hearing surrounded the adverse finding in a Voluntary Anti-Doping Association test carried out on Benn in September.
Both VADA and UK Anti-Doping are now in communication as an investigation into the matter continues.
While VADA have no authority to hand out suspensions to fighters, this is not the case with UKAD who may hand out a ban of up to four years if they determine any wrongdoing on Benn's part.
While the twenty-six-year-old passed all of his tests under UKAD, the only drug agency recognised by the BBBofC, the additional testing by VADA discovered trace amounts of the fertility drug shown to increase testosterone levels in the male body.
Clomifene may also be used as a masking agent to hide traces of other banned substances.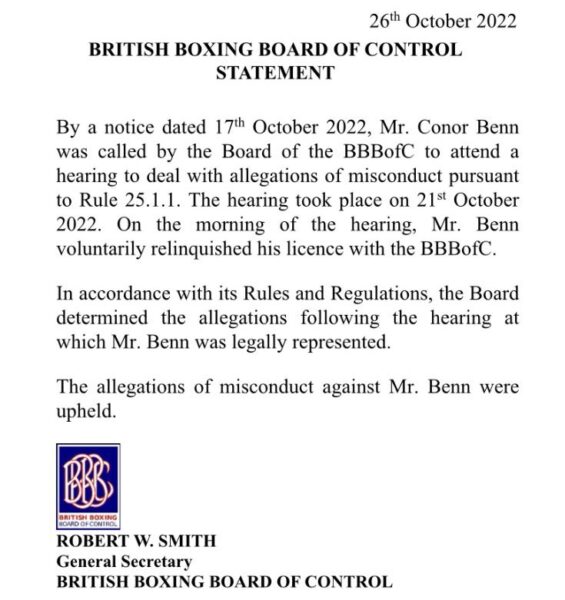 Shortly after the story broke, a statement was released by the Board stating they prohibit the bout from taking place as it goes against 'the interests of boxing' (as laid down in Rule 25.1.1 of the BBBofC's Rules and Regulations).
Matchroom Boxing and Wasserman Boxing, who were set to co-promote the Eubank Jnr-Benn fight, initially stated the fight would go ahead before releasing a statement on the Friday saying the fight would be postponed.
The promotional outfits also confirmed that they were continuing legal proceedings against the BBBofC as their 'decision to withdraw their sanctioning was procedurally flawed and without due process'.
Benn's promoter Eddie Hearn told talkSPORT earlier on Wednesday that the fighter will address the media this week as the investigation continues.