Anthony Joshua returns to the squared circle this weekend to take on the very decent Jermaine Franklin of Saginaw, Michigan. AJ is coming off of back to back losses to Ukrainian boxing icon, the eccentric menace that is Oleksandr Usyk.
Usyk made pretty easy work of Joshua in their first meeting, outboxing, out punching, out manoeuvring and out thinking him for 12 rounds and looked close to securing a stoppage on more than one occasion. The Ukrainians arm was raised and the two men embraced. 1-0 to Usyk.
Then the inevitable fallout we have all come to expect when a superstar loses a high profile match, first came the niceties, then the excuses, then ultimately the game that in the opinion of most fans is all too commonly played in top level boxing, the blame game. It seemed team AJ needed a scapegoat which was to come in the form of long term trainer and mentor Robert McCracken.
McCracken who had tremendous success with the granite chinned former super middleweight champ Carl Froch, lead team GB to its 2012 success, the very games in which AJ won gold and who guided the heavyweight through all of his toughest bouts at word level was let go.
AJ and his team, McCracken included did not get the tactics right in the first Usyk fight, no-one would ever dispute that, the idea that they believed the way to defeat Usyk was for AJ to box at range and fence his way to victory was more than just mistaken and the in fight adjustments and decision making that were so obviously needed weren't there. But even with all this taken into account Joshua did not embarrass himself, he bit down on his gum shield and saw it through to the bitter end. This marked AJ's second loss (the first being to Andy Ruiz Jr in 2019).
Blame game played, trainer sacked and a rematch to prepare for, Joshua needed a new man to lead his corner. Suggestions and rumours included the famed Freddie Roach, Teddy Atlas and Shane McGuigan among others.
Eventually after much media speculation Mexican American ex IBF super featherweight world champion Robert Garcia was tasked with the position. Garcia has cemented himself as one of the world's premier trainers and was voted Trainer of the Year by The Ring magazine in 2011 and by the Boxing Writers Association of America in 2012. He is also the older brother and former trainer of Mikey Garcia who held world titles in four weight divisions and was at one point considered a pound for pound talent.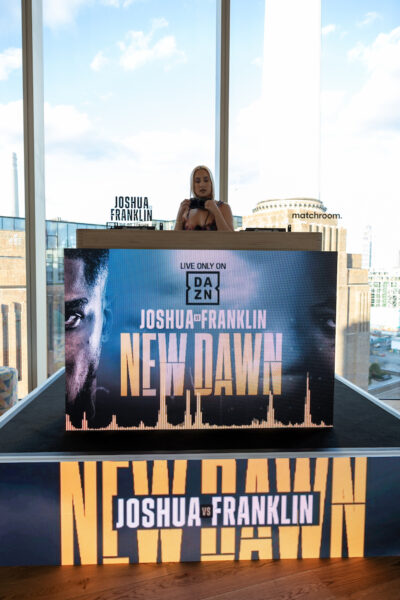 Garcia who works out of the Robert Garcia Boxing Academy in Oxnard, California has trained a plethora of great boxers and world champions including Nonito Donaire, Marcos Maidana, Abner Mares, Kelly Pavlik and many more. Garcia is a stalwart of boxing and undoubtably a great teacher of the art, but even so, getting AJ ready for and able to defeat Usyk seemed unlikely at best.
Then the night came for Joshua to step into the ring with Usyk once again. This time in Jeddah, Saudi Arabia. Most fans expected the brit to completely abandon his hopes of going the distance with Usyk and to impose his will upon the smaller man using his weight and strength advantage and push for an early stoppage with big shots and maybe some dirty tactics. But to everyones surprise AJ, Garcia and the others on the training team had come up with a pretty effective formula to combat Usyk's speed and movement.
AJ was instructed from round 1 to throw his punches in tandem with his opponent to increase his chances of landing, he kept himself in a semi crouched position throughout the fight which allowed him to tea off with massive body punches which were extremely effective and had Usyk hurt and wincing more than once. All in all it was a much improved performance compared to the last fight and far superior tactics were utilised, but still it was not enough. Usyk successfully defended his titles by a split decision with one judge scoring in favour of Joshua. Despite the loss Joshua shocked the world by closing the gap and making the bout so competitive. And as always there is no shame in being beaten by the better man.
Then it all went wrong, something strange happened, the normally respectful and humble Joshua went rogue. He snatched two of Usyk's hard won belts and threw them out of the ring and in the fashion of a toddler in the middle of a tantrum he stormed off and left. He tried to escape the arena itself and could be seen berating those impeding him, then as quickly as he left he was back. Everyone was confused, though I suspect no one more so than Joshua himself. He shook hands with a rather annoyed looking Usyk (the man of the moment) and some how he ended up with the microphone. What followed was one of the most bizarre ramblings ever broadcast on television, even by boxing's standards it was weird.
What we saw was a pure unbridled attack of the ego. The seething, defeated man was aggressive, almost screaming at the world he believed was against him, he seemed to be unaccepting of his own acceptance of the defeat, then we were all given a lesson on the biomechanics of big men in boxing and how they are not 12 round beasts and to top it off we were subjected to his limited understanding of geo-politics and war regarding the ongoing conflict in Ukraine. "Im sorry, but it's because of the passion we put into this". Well no one seemed to care about Usyk's passion.
But what was truly worrying throughout all of this was the fact that not one of Joshua's team had the balls to step up and rescue him from himself. No one wanted to be the bad guy or get on his bad side, no one wanted to ruffle the feathers of the golden goose or maybe no one cared. And thats a real problem. But forget the money men, suits and hangers on the fact that Robert Garcia himself had no control or even inclination to calm Joshua down should be a lesson for the former champ. The sport is too dangerous not have a trainer who has nothing but your safety and very best interests at heart and it always looked like he had that with McCracken and Tony Simms prior (the forgotten man of AJ's success). The whole situation was ugly and left real questions over Joshua's future, which is a strange worry to have after such a good performance.
And again the blame game was played but at least it was probably for the best this time. Garcia was let go, apparently via phone call and AJ was once again left searching for a trainer.
And again the speculation was rife. Who was going to take the reins? Who would be bold enough to take on that ego and make a contender out of AJ once more?
In steps Derrick James, a tough texan and former pro who has made a name for himself due to his time working with IBF, WBC and WBA welterweight champion Errol Spence Jr and undisputed light middleweight world champion Jermell Charlo. He was also the Ring Magazine trainer of the year in 2017.
James is said to be tough task master in the gym and from what we have seen of his corner work with the likes Spence he takes no prisoners and expects his fighters to show him complete respect and follow instruction.
We have heard lots of encouraging words about James and his new training set up from Joshua in the last few weeks and will probably hear a lot more in the coming days. But the proof is in the pudding and it is to be served on Saturday night in the form of Jermaine Franklin. If there is a future for Joshua at top level and hopefully there is, he not only needs to defeat Franklin in style, he needs to build a strong relationship based on trust and consistency with his cornerman and take personal responsibility when things go south. In his own famous words Joshua needs to "Stay Humble".