Former world super-lightweight champion Amir Khan has been banned from sport in the UK for two years after testing positive for a banned substance following his fight with Kell Brook 14 months ago.
Khan, who was stopped in the sixth round by Brook, was found to have trace amounts of ostarine in his system following their contest in Manchester in February 2022.
The Athens 2002 Olympian announced his retirement in the aftermath of the defeat at the AO Arena.
UK Anti-Doping (UKAD) conducted the test in question and released a statement on Tuesday morning saying they had handed the 36-year-old a two-year ban.
The statement reads: "On February 19 2022, UK Anti-Doping (UKAD) collection an In-Competition urine sample from Mr Khan after his fight with Kell Brook at the Manchester Arena.
"Mr Khan's sample returned an Adverse Analytical Finding (AAF) for ostarine.
"Ostarine is a selective androgen receptor modulator (SARM). The substance is listed on the World Anti-Doping Agency's (WADA) 2022 Prohibited List as an anabolic agent and is prohibited in sport at all times."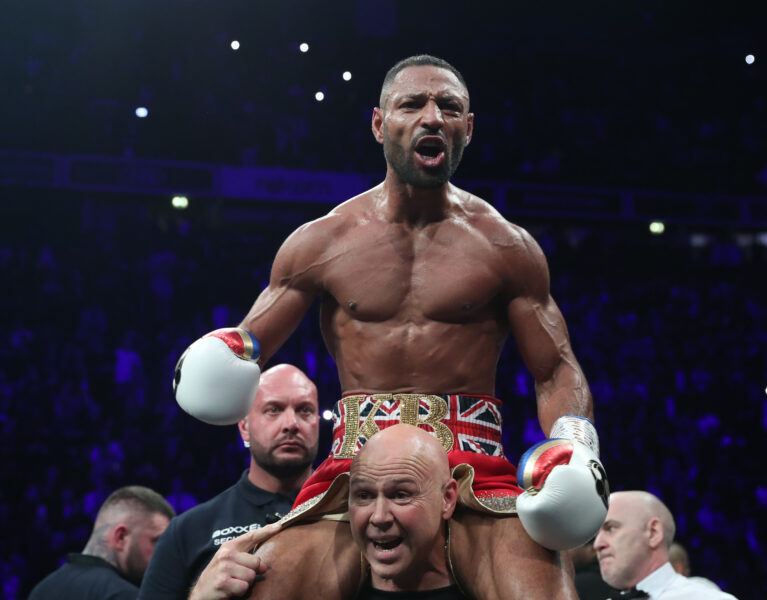 UKAD also say Khan was notified of the test result on 6th April 2022.
The body say Khan was then charged with the "commission of two Anti-Doping Rule Violations" on 20th July for the "presence" and "use" of a prohibited substance.
The Briton maintained his innocence, insisting his "ingestion of ostarine was not intentional" and that the result was due to "contamination of a supplement or incidental contact with another person."
The case was referred to a National Anti-Doping Panel as a result.
The independent tribunal accepted Khan did not intentionally ingest the substance as the small dose of ostarine in Khan's system meant it was unlikely he had intentionally ingested the drug.
"It is inconceivable that he would have sought to ingest a micro-dose which would have been a fraction, at least a 1000 times less, of a dose intended to provide any performance enhancement or any other competitive advantage", UKAD explained.
Khan also passed three separate tests between January 20th and February 12th.
a two-year ban was nevertheless imposed due to their acknowledgement of the 'strict liability' rule.
"Mr Khan's case was heard by the independent tribunal on 24 January 2023 and in its written decision dated 21 February 2023, the panel found both violations proved, concluded that Mr Khan had established they were not 'intentional'…and imposed a two-year ban on him.
"Strict liability means athletes are ultimately responsible for what they ingest and for the presence of any Prohibited Substances in a sample.
"It is important that all athletes and their support personnel, whatever level they are competing at, take their anti-doping responsibilities seriously. Not doing so risks damaging not only an athlete's career, but also undermining public confidence in clean sport."
The body say the ban began on "6 April 2022 (the date his provisional suspension was imposed) and will expire on 5 April 2024."
Khan reacted to the statement, telling Sky Sports he would never intentionally ingest a banned substance and referenced the small amounts of ostarine found in his system.
"I've never cheated, I'm a retired fighter. You can see by my performance vs Kell Brook. I lost. If I went in there and knocked Brook out it's different. I've never cheated in my life.
"The amount that was in my system could have been from shaking people's hands. I am a retired fighter, so I've got a two-year ban now which is quite strange and funny that they've banned me. I'm retired anyway."
BOXXER, who promoted the fight, also released a statement stating they only found out about the result on Tuesday morning via social media.
"BOXXER is disappointed to only learn via social media this morning that Amir Khan has been suspended from all sports following UK Anti-Doping (UKAD) rule violations", read the statement.
"BOXXER is vehemently against any use of any illegal or performance enhancing substances taken by athletes and condemns such unsporting behaviour. It goes against the very core of our company's values.
The statement concluded: "We will await further advice from all the relevant authorities."
BOXXER CEO Ben Shalo also told talkSPORT that he had spoken with Robert Smith of the British Boxing Board of Control who says he was only notified of the situation yesterday.
Featured image: Lawrence Lustig/BOXXER.