On Saturday night, young heavyweight Johnny "The Romford Bull" Fisher extended his unbeaten record to 9-0 on the undercard of Sunny Edwards Dazn debut against Andres Campos at London's Wembley Arena by knocking out the abysmally overmatched 38-year-old journeyman Emilio Salas in the opening round.
Johnny Fisher who hails from Romford, Essex is something of an anomaly in modern British boxing, a true ticket seller who packs out arena's nationwide with his avid supporters the "Bosh army" named so due to Fisher's father Johnny Fisher Sr. or "Big John's" catchphrase. A Fisher fight has the hallmarks of a big football match and his fans will happily attend away days, meeting in cafes early on fight day for breakfast, travelling to the fight town, drinking the pubs dry before making their way to the arena to watch their man perform all while enhancing the atmosphere and keeping the bleachers full.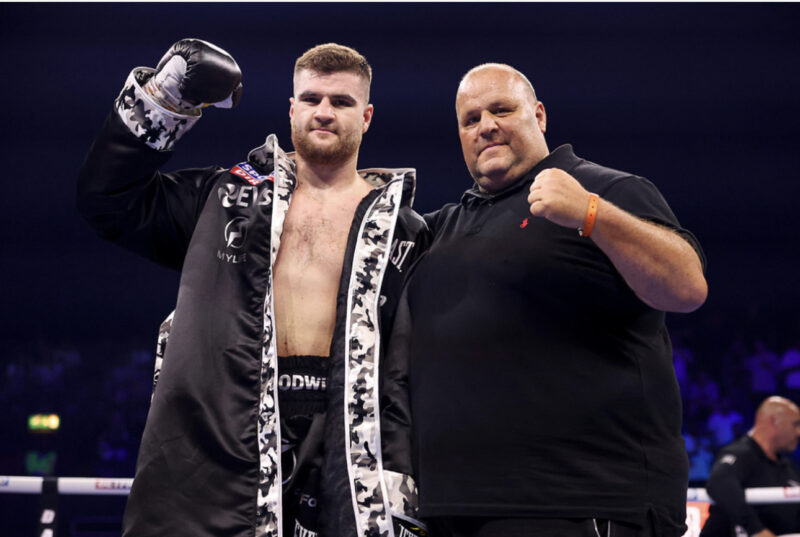 Fisher has turned out to be a real gem of a signing for Eddie Hearn and S-Jam management, put him on a fight card and he literally supercharges ticket sales, when he boxed on the undercard of Danny Jacobs vs John Ryder at Alexandra Palace against the completely unknown journeyman Gabriel Enguema it was widely reported that the then 4-0 Fisher's father Big John had himself sold 2,000 tickets which was around 20% of the arena's capacity and he went on to tell reporters he could of easily sold 2,000 more tickets. These numbers are utterly insane for a boxer at Fisher's level. A true unicorn in the world of boxing promotion. 
And he has not rested on his laurels. Fisher understands the art of marketing oneself in the world of social media, likes, clicks and engagement numbers. He is all over the internet recording training sessions, posting pictures with sparring partners, giving interviews with the boxing media, making and releasing his own fight promotion videos that have decidedly Rise of the foot soldier vibe to them and giving his fans a glimpse of his social and family life which as it turned out was the master stroke. His father is now arguably as big of a star as he is having utilised Tiktok and Instagram in order to promote his son, Big John and his monicker of Bosh have transcended boxing and made it into meme notoriety. BOSH!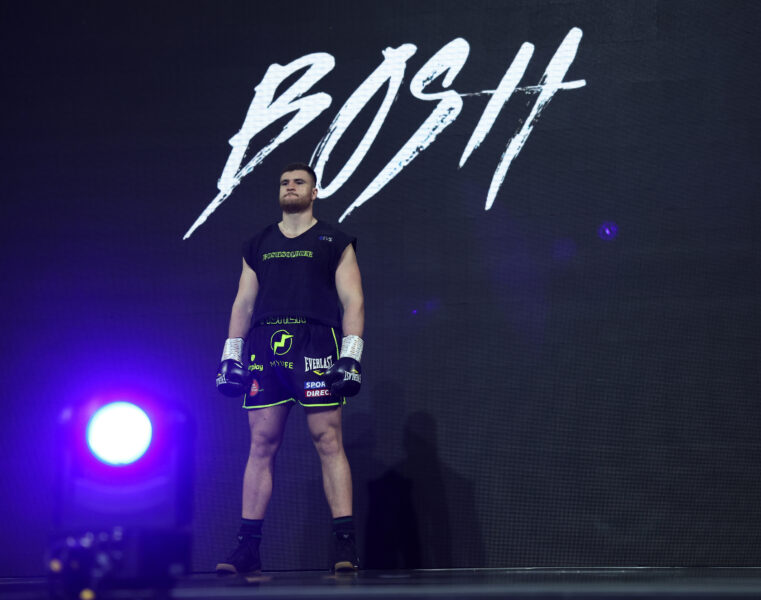 This is all great, Fisher is selling tickets at an unfathomable rate and it must be assumed that he is making fantastic money for the level he is boxing at. But this comes with its own set of unique issues. Simply put there seems to be no direction in Fisher's career, now 9-0 with 8 knockouts he's only had one reasonably tricky test which was against the previously mentioned Gabriel Enguema who after cutting Fisher in the first of a 6 rounder made the young brit look rawer than a French steak.  
Just look at what we were served up on Saturday night or rather what was served to the "Romford Bull", Emilio Salas was not match fit let alone good enough to be in the ring with a hungry young talent like Fisher. No one is expecting to see Fisher take on the likes of Fabio Wardley or challenge real international talent any time soon but we can at least expect to see one of Dazn's premier young charges take on someone with a modicum of ambition. We were told the game was changed after all. 
This is not a criticism of Johnny Fisher, as the boxer he can only beat who's put in front of him and he is a talented young man. By now we have all heard the stories of him starting his sporting life on a rugby pitch, discovering boxing relatively late, devoting himself to it during his time at university and only having around 10 amateur bouts (though this number tends to change with every report). The truth is the 24-year-old does need to be progressed slowly, he's big, strong, carries some real power and is learning his trade nicely under the tutelage of Mark Tibbs but he is raw, his feet are slow and sometimes messy, he can be wild, occasionally he throws his head in when delivering a big right hand, his attacks are a tad predictable and when he smells blood, he gets a bit right hand happy.
But there is a limit to how many of these types of bouts he can have before he loses his fan appeal and it seems that Eddie Hearn knows this, in the after bout interview on Saturday evening Hearn was asked What are the next steps for Johnny Fisher to which Hearn replied "It's time to rush a little bit you know I think that he's done his apprenticeship now and also I want to thank the unbelievable fans that came out for his first nine fights because they've had to come along for the apprenticeship swell and sometimes every fan wants to see him stepped up, every fan wants to see him in big fights but we have to give him a chance to find those levels and to have that education, he's had that now and the great news is for everybody that's supported him it's about to get really serious, it's about to get really exciting, we're gonna step up to ten rounds!" 
Great, time to move on to bigger and better things, Fisher is certainly talented enough and he has the behemoth of Matchroom boxing to push him onward, the cards are stacked in his favour. But apprenticeships are meant to serve as a period of time to challenge and educate someone in their chosen trade, one semi-challenging evening in 9 bouts doesn't really cut the mustard. 
Hearn then went on to say "I see him fighting for his next championship next, I'd love him to go through the traditional route, Southern area championship, English title, British title but now its gonna get serious. He's too big and strong for those guys as soon as Salas felt it to the body, to the shoulder he didn't want to know!"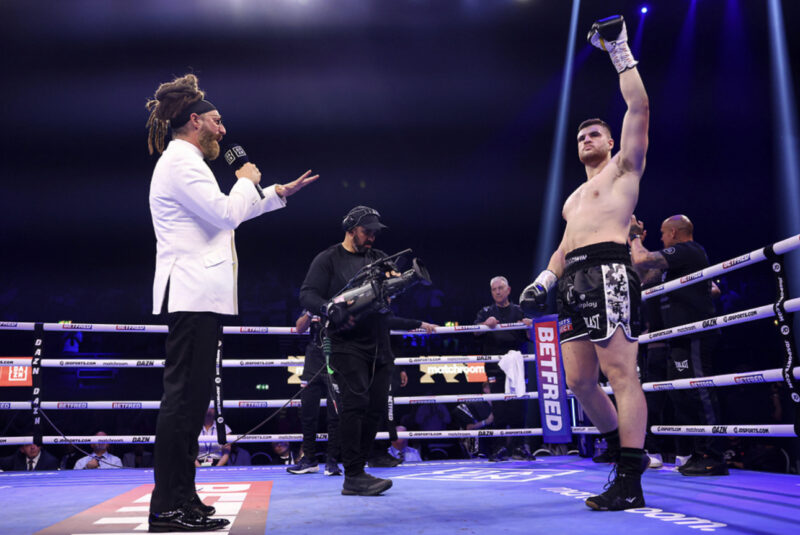 There are two problems with this statement, the first being if Hearn and by default the matchmakers knew Fisher was and has simply been too big for his opponents why have they continued to put him in with such opponents when there is plenty of home-grown young talent such as Naylor Ball or Tommy Welch and older more experienced heavyweights like Nick Webb, they could have matched him up with. Because a true apprenticeship was sacrificed in order to protect the ticket selling machine, as stated that is not to take anything away from the Romford man, he is a real prospect with real talent and deserves the fans utmost respect.
The second problem is the idea of challenging for the Southern area championship. It may seem odd to criticise this idea, the traditional route is the best route and area titles are wonderful and massively underappreciated championships that nearly always deliver barnstormer fights. But is it really fair for Fisher, a man signed to a global promotional company, managed by a premier management firm sitting on a record of 9-0 to now fight for an area belt?
Probably not but life isn't fair and boxing certainly is not but Fisher is also a man who regularly shares camps with management stablemate and world class operator Joe Joyce, traveling to Las Vegas with "The Juggernaut" to train with Ismael Salas at his boxing academy and at the UFC's Performance Institute, a Multimillion dollar state of the art facility hosting some of the world's top performance coaches, medical experts, cutting edge technology and facilities in keeping with the 4 billion dollar company that the UFC has become.
When you look at the whole picture it doesn't sit right that Fisher should only now be stepping up to area level, he may still be an in-ring novice but his training and out of ring experiences will surely eclipse that of any boxer who is set to challenge him for the vacant Southern are belt. Yet he is still far too inexperienced to step up to 12 round or British level so why not take on some of those British heavyweights that are knocking about, Naylor Ball who may currently be inactive would be a good match, Tommy Welch would certainly put the wind up the Bosh army, Steve Robinson or even Wasserman Boxings Hosea Stewart Jr or maybe step up against one Britain's own domestic old guard. 
Johnny Fisher certainly has a bright future in boxing, let's just hope he is matched accordingly going forward. 
Fisher vs. Salas: Fight Highlights