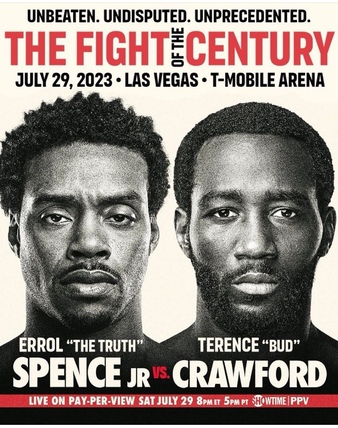 There's a sentence I never thought I'd be writing; Errol Spence Vs Terence Crawford. It really is incredible, and exactly what boxing needs. The two very best of a division, unbeaten and all of the belts on the line. It's about time we saw these pair get in the ring. They are both in their primes at this moment in time, so there is no concern that this fight is past its best or either fighters are washed. It's the perfect timing for the perfect fight.

I never thought I would ever see this fight get made. When Terence Crawford was promoted by Bob Arum and Top Rank, this fight was dead in the water. There's no way Top Rank would work with Errol Spences promoters (Al Haymon's PBC), on a fight of this magnitude. However, when Crawford left Top Rank this cleared the way to a much smoother process to get this fight made. With Crawford being a free agent, I feel this is what has made this fight happen.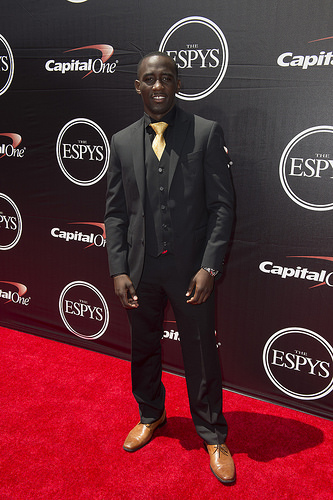 With this in mind, Terence Crawford needs to take the credit of this fight getting made. He has made the tough decisions to get to this point. He has changed promotors and headed over to PBC to ensure this fight gets made. There is no doubt that Errol Spence is one of PBC's most valuable commodities, so there is always that factor of favouritism creeping in. However, regardless of all of this, the fight is on. And what a fight this is. To go into detail of its significance, this is what the fight consists of;

* Two unbeaten Welterweight World Champions (Errol Spence – 28/0 – Terence Crawford – 39/0).
* All of Boxings World Titles on the line (WBA Super, WBC, IBF, WBO & The Ring Magazine).
* The two best Welterweights on the planet colliding.
* Ranked #3 & #4 in the P4P Ring Magazine Rankings.

This is the biggest fight in the Welterweight Division since Floyd Mayweather Vs Manny Pacquiao, without question. It is the biggest fight in boxing right now and it is nice to see it is being made. Hats off to PBC this year for bringing big time boxing to fight fans including Gervonta Davis Vs Ryan Garcia, Naoya Inoue Vs Stephen Fulton (what a stoppage by Naoya Inoue in the 8th Round on Wednesday by the way), and of course this Blockbuster – Spence Vs Crawford.

A fight of this magnitude has perhaps not had the build up which I thought it would, but then again a fight of this magnitude doesn't necessarily need the type of build up and sell that others need. It is going to do well regardless, across the world, for just how big it is. The main talking point about this fight has to be one point and one point only; who wins? Let's delve into the careers of both men, their records and their chances come fight night.

Errol Spence Jr.
I am kicking off with Errol Spence Jr. for the sheer fact he is an outright Welterweight and has been throughout the entirety of his Professional Boxing Career (with the odd Super-Welterweight bout at the beginning of his career thrown in). He is the naturally bigger man at the weight of himself and Terence Crawford, so this is my reasoning for kicking off with him and not Crawford.

'The Truth' Errol Spence Jr. has been captivating boxing fans for 11 years as a professional. He came into the Professional Ranks with an outstanding Amateur pedigree with achievements including;

* U.S. National Golden Gloves Welterweight Champion (2009)
* National Amateur Welterweight Championship Winner (2009, 2010, 2011)
* Welterweight World Championship Quarter Finalist (2011 – Defeated by acclaimed Amateur, Serik Sapiyev)
* Welterweight Olympic Quarter Finalist, London 2012 (Defeated by Andrey Zamkovoy)
* Amateur Record of 135-12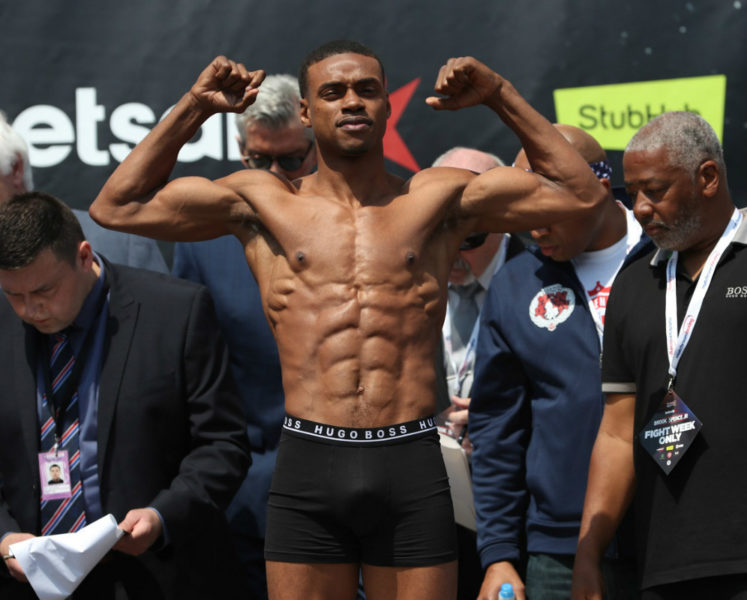 After turning professional shortly after the London 2012 Olympics (November 2012), Errol Spence hasn't looked back. He has consistently delivered performance after performance and backed his amateur accolades up to this very point in time.

Notable victories early in his professional career came against Welterweight veterans including Samuel Vargas, Phil Lo Greco, Chris van Heerdan and Chris Algieri before taking on the big hitters of the division (all of the above were defeated by KO).

Errol Spence was well known in the US, but he really hit the mainstream of boxing after his sublime performance against Kell Brook back in May 2017 where he won his first World Title (IBF Welterweight World Title) after dethroning Kell Brook at his hometown club, Bramall Lane (home of Sheffield United). The 11th Round Stoppage shot Errol Spence into the Welterweight, and boxing, spotlight. I was fortunate enough to be there that night, and it really was a spectacular performance. Errol Spence had lift off.

From that night in Sheffield, Eroll Spence has won every other Welterweight Belt barring the WBO Welterweight World Title. This included winning the WBC World Title against Shawn Porter and the WBA (Super) Welterweight World Title against Yordenis Ugás. Running alongside and between these fights, Spence has notched up victories against Danny Garcia, Mikey Garcia, Lamont Peterson and Carlos Ocampo.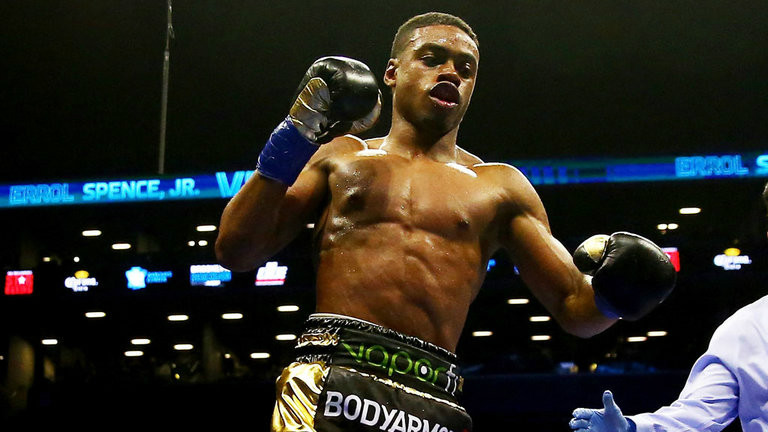 It is clear to see just why Eroll Spence is so highly regarded in Boxing. The belts, the undefeated record and the people he has beaten along the way. However, will he be a match for Terence Crawford?

Terence Crawford
I was fortunate enough to watch Terence Crawford Vs Julius Indongo back in August 2017 (it was this and other reasons I remember this fight night haha!). Terence Crawford was the first man I saw become Undisputed World Champion, which for me was incredible. At Super Lightweight, Terence Crawford stopped Julius Indongo to claim the WBA Super, WBC, IBF, WBO & The Ring Magazine World Titles. This is some achievement.

But not only has Terence Crawford been Undisputed Super Lightweight World Champion, he has been a World Champion at Lightweight (WBO) and a current Welterweight World Champion (WBO). He really is a generational talent and a fighter many consider their #1 P4P Champion.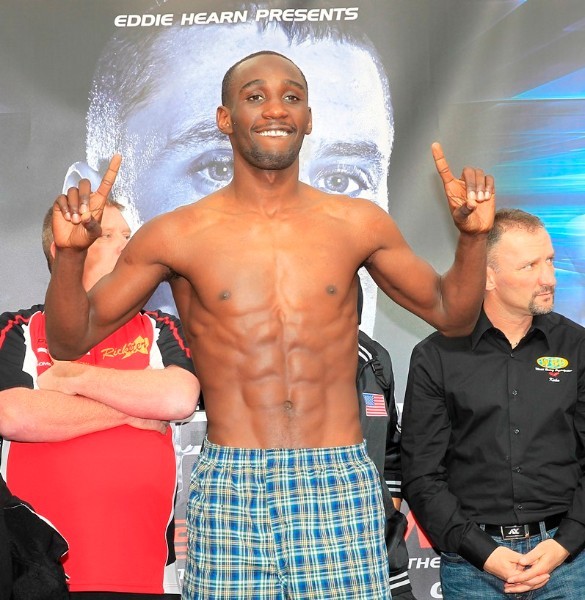 As an amateur, Terence Crawford had a record 70 Official Bouts with 58 Victories and 12 Defeats (with victories over future Professional World Champions Mikey Garcia and Danny Garcia).

Although his Amateur Career may not be as decorated as Errol Spences, his achievements included;

* National PAL Championships – Winner 132 lbs (2006)
* Blue & Gold National Championships – Winner 132 lbs (2006)
* U.S. Pan American Games Box-Offs – Winner 132 lbs (2007)

Although Crawfords 2008 Olympic ambitions were brought to an end through defeat to Sadam Ali (who went on to beat Miguel Cotto for the WBO Light Middleweight World Title in 2017), this certainly didn't harbour his ambitions as a Professional. An outright three-weight World Champion, undefeated and at the business end of his career, it feels as though Terence Crawford has a point to prove.

Throughout Crawfords career, he has fought the best of who has been put in front of him. Through his promotional partnership with Top Rank and Bob Arum throughout the majority of his career, the monumental fights have alluded him through the Monopoly of Welterweight fighters at PBC. Credit to Crawford for jumping to PBC to make this fight.

Verdict
In all honesty, who cares! I'm just so happy to see this fight is happening. Either man can win, as they are both generational talents.

However, if this fight is fast paced, I feel Crawford gets the W. Spence has been at 147 for a very long time (maybe too long?), and with the retina operation and the car crash, I feel Errol Spence really has had a lot of wear and tare on his body.

For me, Terence Crawford gets the W late, with a stoppage between Rounds 10-12. However, it's such an outstanding fight that any man will be the deserved winner!

It's refreshing to see a mega fight getting made. And one which I am extremely excited for.

Catch all of the action live from TNT Sports Box Office tonight, with the main event set for around 04:00AM (UK).
Greg Cooke/GC___123 x BBTV