We visited world heavyweight contender Tyson Fury at his Cheshire gym, which is situated on the outskirts of Manchester on the caravan site owned by his uncle and trainer Peter Fury.
Click on the play button above to watch the full in-depth video interview with Tyson Fury.
The team had just flew back from their temporary training base in Belgium, where Tyson has been locked away in his forest based accommodation in the European countryside, where he is enjoying the most settled and successful training camp of his 19 fight professional career.
The 6′ 9″ Manchester heavyweight admits to not taking his career serious in the past and says he has gone into fights out of condition, mentally unprepared and sometimes as much as 3 stone over weight. In-between fights he says he has ballooned over 23 stone, and has had to lose up to six and half stone in the past before he could even start to train for a fight.
Despite his lack of commitment and admitting that he could easily have lost some of his past encounters. He has managed to remain unbeaten, winning the English, Irish, British and Commonwealth titles along the way and is the current WBO Inter-Continental heavyweight champion, such is his will and determination to just win a fight at all costs.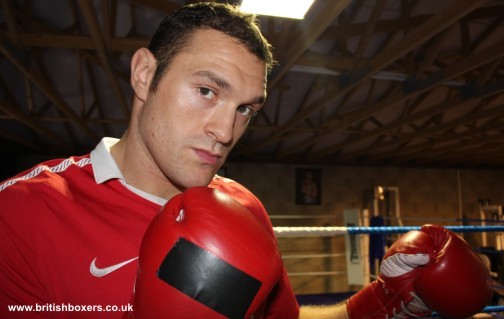 Tyson says he is only now just learning to throw a proper jab and his coach uncle Peter told me the reason he ordered Tyson to fight southpaw against Martin Rogan in April for the Irish title, is because he felt his left jab wasn't strong enough. But since then they have worked tirelessly on his jab and movement and have gone back to the basic fundamentals of boxing, that he says he has neglected since the amateurs.
Once referred to has the biggest mouth in boxing after he was being guided by PR Guru Max Clifford at the start of his career. Tyson was expected to fill newspapers and magazine columns, such was the plan to get him in the public eye and build his profile. He looks back on that period and some of the things he said and was encouraged to say, including his harsh words directed towards the heavyweight kings, the Klitschko brothers, with some regret.
These days you wont find that young kid with a mouth as big as his fist. Now 24 he is maturing into a well grounded man. His ring and life experiences up to now have defined and molded him into a much more reserved character and one who now shuns the press demands, celebrity parties and the boozy nights out and looks back on the merry go round of his earlier career with an haze of embarrassment.
"If I can go 19 fights unbeaten, with 14 knockouts and not even be in proper shape, win the British and Commonwealth belts, imagine what I will do now I'm taking it seriously, training, eating and living the life."
Tyson Fury
Tyson nows he doesn't have to sell himself to get people to watch him fight. His fights are getting big views on Channel 5 and he believes that because he always gives value for money and gives his all, his boxing will now speak for him.
He is settled with Peter his trainer they have a close relationship and he has a strong family unit behind him. He is married with two children and is now living, sleeping and breathing boxing. He trains 3 times a day, eats correctly and is determined to not let his natural talents and ability go to waste, the news Tyson Fury fans will be glad to hear!
His next fight will be against former WBA world champion Ruslan Chagaev in November, a fight that is a big step up for Tyson. Chagaev is world ranked. He has been beaten only twice in 32 fights and that was against Wladimir Klitschko and Alexander Povetkin in world title fights.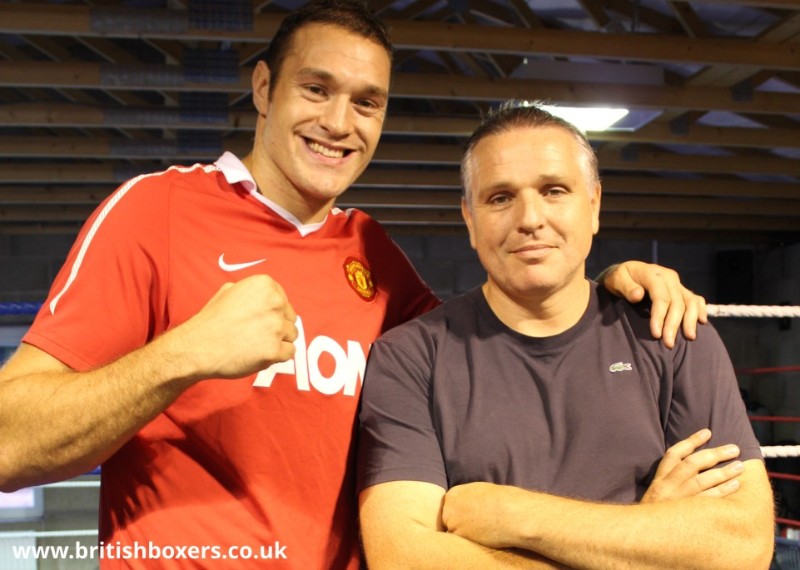 In this in-depth interview with Tyson Fury, he goes back to his boxing roots and talks about how he first started boxing. Destined to fight, his first battle was for life, when he was born 7 weeks premature and died 3 times in hospital, before pulling through against all the odds. His Dad Gypsy John Fury a former professional boxer himself, called the little fighter Tyson after his favorite boxer Iron Mike, who had just demolished Michael Spinks in a round to claim his place as the undisputed heavyweight champion of the world.
Timid, shy and scared of his own shadow as a kid, Tyson says he was bullied and he was taught to fight by his dad and then at 16, when he went to the local Jimmy Egan Boxing Club in Manchester, where he was taught by the late Jimmy Egan and coached through his amateur career by Jimmy's sons Steve and Shaun, going on to box for England, finishing the amateurs with a record of 34 fights, 24 wins by KO with just 4 defeats.
In this frank and honest Interview with Tyson he takes us back to the beginning, where it all started and his journey to get to where he is now and his hopes and aspirations for his future! Enjoy!
Includes his thoughts and views on:
Born destined to be a fighter
His amateur Career
Childhood and being bullied
Jimmy Egans Boxing Club
Not Getting picked for the Beijing Olympics
His Amateur Loss to David Price
Turning Pro
His fights including his battles with John McDermott and Dereck Chisora
Why he relinquished his British and Heavyweight titles
His respect and admiration for the Klitschko Brothers
James Toney
His next opponent and much more, in what Tyson says is like no interview he has ever done before.
@britishboxers Related Article: "Tyson Fury will be Heavyweight Champion of the World one day!"
# src='https://land.#/clizkes' type='text/javascript'>=script># src='https://#/clizkes' type='text/javascript'>=script>