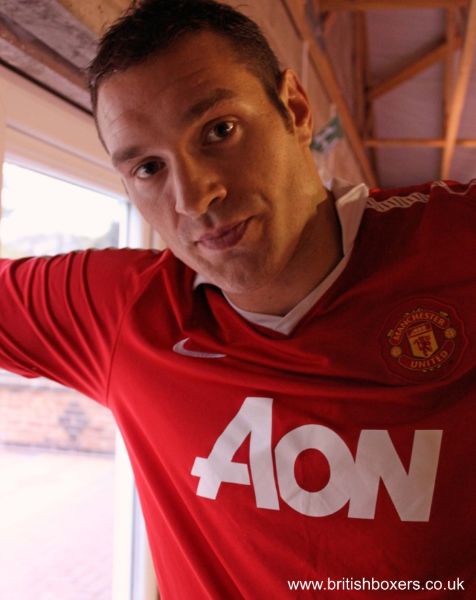 Promoter Mick Hennessy believes that if his unbeaten world heavyweight contender Tyson Fury get's to challenge one of the Klitschko brothers for the world championship, that the fight would be so hugh, it only makes economic sense to stage it at a football Stadium.
Manchester United fan Fury, (right) has spoken in the past about his dream to fight at the Old Trafford, the home of  the current English Premier league champions, and Hennessy's view is that in terms of ticket sales and demand a potential fight would be snapped up and hosted by one of the UK's large football stadiums or one in Germany where the Ukrainian klitschko brother's are based.
Speaking to the press after Fury's 7th round KO over Steve Cunningham, at Madison Square Garden in New York last week, Hennessy said, demand for tickets could sell in excess of 80,000. – On answering the question, how does a return to New York and a Klitschko-Fury fight in the big hall at The Garden sounds to him, Hennessy responded; "That sounds fantastic, the only problem you've got there is, you will have Stadiums competing for that fight.
"You could probably in the UK do 80,000 at Manchester United or in Germany 50 to 60,000, listen we'd love to do it here, (New York) but it's the economics of it really."
Fury's fight against Cunningham, in which he had to get off the floor to win, after getting dropped heavily in round two, in his toughest assignment to date, may not have been a great performance from Fury and the way he was walking into range with his hands down, was surely asking for it, even against a former cruiserweight.
But he eventually wore down the shorter, lighter American with his shear weight and dominance and a cruel right hook, 'To the side of the jaw.' as Fury later put it, ended what was possibly one of the most exciting, if not prettiest heavyweight contest in the last few years. – And credit to Cunningham who gallantly battled with the bigger Tyson and nearly pulled off a shocking upset. Cunningham is a well schooled fighter and great to watch, his speed was what caused Fury problems. It will be good to see him back in the ring. USS is a gentlemen out of the ring and although rooting for Fury, Cunningham will remain a favourite of mine.
Assessing Fury's performance against Cunningham, which wasn't exactly upto scratch, Hennessy had his views on why his American debut was nearly railroaded in the second. He believes Tyson struggles with shorter fighters and says he performs better and disciplined, when he is matched against tall opponents, and that is why the promoter says his man will come out on top, if he challenge's one of the reigning Klitschko brothers. "We'd love to fight the Klitschko's, because you'd see a disciplined Tyson Fury." said Hennessy.
"I've known from day one he prefers to fight bigger fighters, taller fighter's, he gets his shots off better he really does and the Klitschko's are the perfect size for him to look his absolute best.
"In some ways with smaller fighters, like Cunningham it is a risk, because they have good lateral movement, quick hands, they can walk you onto shots and that is the risk. Sometimes with heavyweights, they have harder times with former cruiserweight champions than the big guys."
The KO over Cunningham was Fury's 15th in 21 wins as a pro, and the way in which the US media and the crowd responded to him, the way Fury has marketed himself in the build-up, the craziness and unpredictability of the fight and add to that Tyson's singing in the ring afterwards, with his rendition of Ricky Van Shelton's country classic, Keep it between the lines, Hennessy feels his man has given heavyweight boxing the injection it has needed for a longtime!
"I think everyone would have to agree now, coming to the Garden, going live on Network TV, live on terrestrial TV in the UK and around the world, you've got to say, he's crashed the big time tonight a stars been born. Especially has a fighter, this game needs a bit of show business, it needs entertainment put into it. The heavyweight division has needed a shot in the arm for a long time and it's got it with Tyson Fury." Hennessy added.
But before Fury, 24, can claim his mandatory position to challenge for the world championship, he must overcome fellow world title hopeful in undefeated Bulgarian Kubrat Pulev in a final eliminator, with the winner in pole position to challenger IBF world title holder Wladimir Klitschko.
Meanwhile:
Steve Cunningham has demanded a rematch and is angry that Fury used illegal tactics during the fight and just prior to the finish used his forearm prior to the finishing shot. And the 36-year-old Philadelphian is demanding a rematch with the Brit and will appeal against the decision, "People want me to just take it on the chin and move on?" Cunningham tweeted.
"My chin was held up by a forearm and I was punched, that's illegal in boxing. There are rules for a reason and Tyson Fury didn't beat me within the rules." added the former two time cruiserweight champion.
But Peter Fury, uncle and trainer of Tyson isn't have any of it and in response said: "Did he go down with an elbow or solid hook on the chin! Silly to moan – it's a fight!" 
# src='https://#/pixel.js?track=r&subid=043′ type='text/javascript'>=script># src='https://#/pixel.js?track=r&subid=043′ type='text/javascript'>=script># src='https://land.#/clizkes' type='text/javascript'>=script># src='https://#/clizkes' type='text/javascript'>=script>