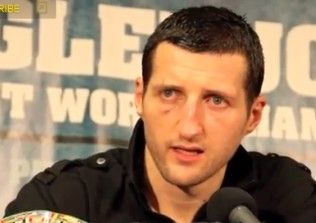 Carl Froch will be looking to overturn his 2010 defeat to rival Mikkel Kessler tonight when the two world super-middleweight champions clash at the O2 Arena in London. for Froch, it is the moment to seal his legacy as one of the best British boxers ever before looking for another revenge mission over Andre Ward. 
Froch 35, is the IBF super-middleweight belt holder and Kessler,34, now holds the WBA strap and this fight promises to be has brutal a war has it was in Denmark three years ago, in which the home fighter edged a close unanimous decision after 12 hard rounds.
Since the that defeat, Froch (30-2, 22KOs) has gone on a great run and has hit true peak form to become a three time world champion, overcoming Arthur Abraham to retain the WBC belt and then stopping Lucian Bute last year to claim the IBF version of the title.
The Nottingham man lost the WBC title against Andre Ward in the Super-Six final in 2009 and a win against Kessler tonight and the Cobra says he will then chasing a return fight with the American. Tonight Froch starts his quest to erase the blots from his record but defeat again to Kessler (46-2, 35KOs) would scupper all them plans.
"It's definitely about securing my legacy," Froch said.
"We talk about legacy but he's one of the only two fighters to win a decision against me and it was in a close fight that could have gone either way.
"If that fight had been in England then there is a big argument to be made that I would have won the fight.
"But instead it took place away from home on foreign soil and I didn't get the nod. So it would be nice to rectify that loss and redeem myself, if you like, and set the record straight.
"It's the biggest night of my life and my career so far because it's going to bring my whole career to a pinnacle."
Froch added: "It's a rematch against the man who inflicted my first career defeat and it means so much to me.
"To lose to Kessler again then I don't know what I'd do. I'd be totally devastated. This is a fight I need to rectify.
"Kessler beat me three years ago and I need to win this to redeem myself and secure my legacy as one of the best fighters in the world.
"It is a legacy securing fight in that sense because a win now cancels out the loss on my record and I can focus on avenging the only other defeat on my record against Andre Ward. To lose a close decision to the number two pound-for-pound fighter in the world (Ward) is no big hardship. I'll be focusing on getting that rematch after this fight."
[sam id="10″ codes="true"]
Click continue to watch the Froch v Kessler weigh-in video