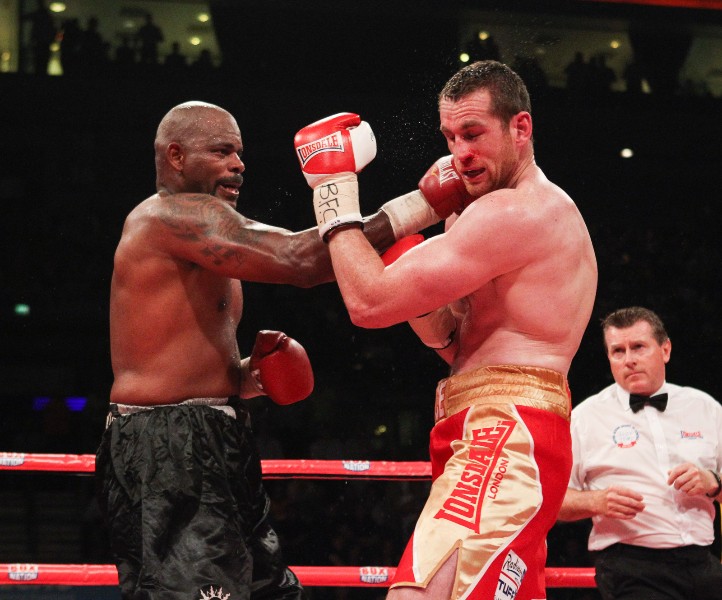 David Price was stopped by Tony Thompson, who had got off the floor in the 2nd round to finish the British champion in the 5th. It was a case of repeat and not redemption for Liverpudlian Price, who in all fairness was taken to school by the wily old 'Tiger' who'd already beaten him in February (TKO2)
The Echo Arena was the same venue for this fight, has the last time and the atmosphere inside the venue, was has hot as the weather had been that day outside. There were saxophone entrances, military drummers, the crowd was in high anticipation and when the Liverpool anthem, 'You'l Never Walk Alone' kicked in, the noise level went up several decibels and the high drama, you felt was about to unfold into something special, unfortunately for Price and British boxing the result was far from it.
Price looked like he may end the fight early, when he dropped Thompson in the second round with a big right hand, that ironically clipped Thompson around the back of the ear, the same place he had landed a shot on Price last time, to finish the fight. Thompson though, cleared his head, took the eight count and came back well to take control of the fight. Price was blowing heavy after three rounds and was forcing his work, but you couldn't take your eye off it.
Thompson had set the pace from the start and had Price void of ideas at times, as he tried his best to blast Thompson out. The 41 year-old American used all his ring savvy nullify Prices attributes. He constantly parried and caught the British and Commonwealth champions left jab, in his right glove like he had a catchers mitt on, and other than the second round count, Thompson slipped blocked and rolled under Price's right hand hammer and returned with accurate hurtful counters.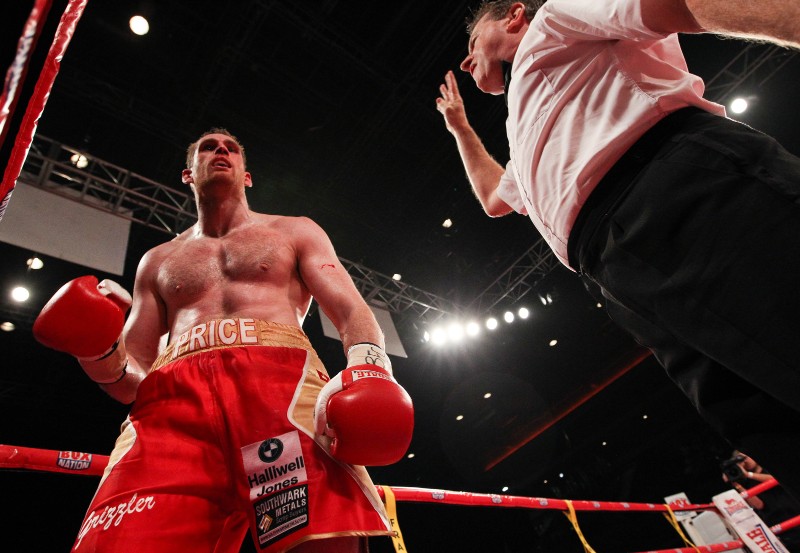 The pressure of the night and the expectations on Price's hugh shoulders, seemed all too much, and even with former undisputed world heavyweight champion Lennox Lewis on his side, he just couldn't get to grips with what looked like a perfectly executed game plan. Once Thompson had taken Price's best shots and kept coming forward, he began to break the big mans heart and worryingly his stamina reserves, that looked shot after the third.
Thompson had opened up in the 4th round and a combination upstairs, followed by two hard hooks to the body looked to have winded and hurt Price bad, he grimaced through the pain and struggled to fill his painful lungs back up with air, the end was now looking close, Price just had nothing left and came out for the 5th looking vulnerable, open and there for the taking, Thompson knew it and viciously obliged.
To his credit,  toughness and the fear of losing again in front of his hometown fans, Price took a sustained beating in the 5th round before referee Marcus McDonald had given him every chance to get back into the fight. It looked like the ref had jumped in and stopped the fight at one point, but gave Price a standing 8 count, but everyone could see, even without looking deep into the glazed eyes of an exhausted Price, that his night was over and McDonald waved it off.
Price is still the British and Commonwealth belt holder and his options as they stand will be for him to return back to domestic level and look to rebuild his shattered career from the roots again, while getting a few confidence building fights under his belt.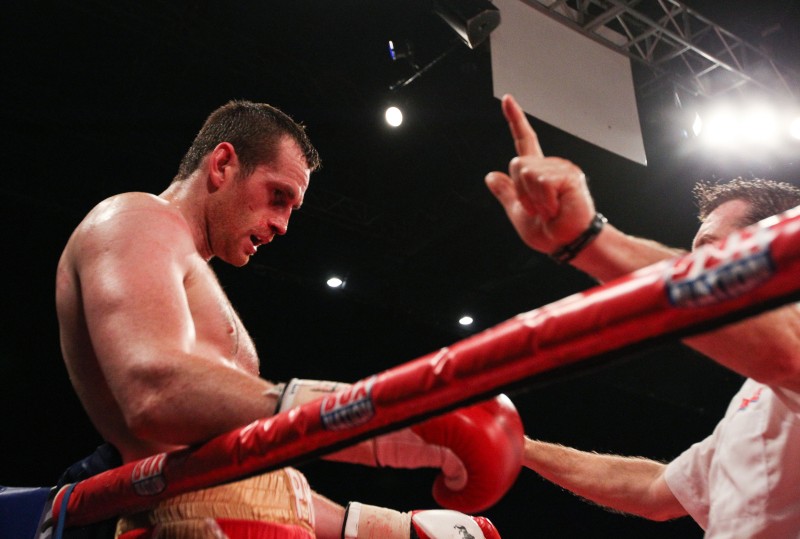 While racking up 15 straight professional wins Price the former Olympic bronze medalist, had looked a real force to be reckoned with, his punches were rendering his foes unconscious and he was being tipped and put up has a future heavyweight champion of the world and widely considered that whoever he hit clean, he would destroy. Price had a 15-0 record with 13 knockouts prior to his two fights with Thompson, but now that aura of invincibility has been shattered.  All his future opponents will now know, that if they can weather the early storm and avoid Price's big punches, they are in with a shout, Price will have to deal with this.
Price's shell shocked promoter Frank Maloney admitted his fighter needs to drop back down to domestic level is order to get things back on track, a gutted Maloney, who has questioned his own future in the game, after in the past admitting to only continuing with his promotional company, because of Price's potential said; "We've dropped out of the Premier League and we have to drop down to domestic and European level,"
"We are all in shock and we will have to sit down and talk about what we do next. If David wants to go on, I'll stay loyal. If he doesn't, I may call it a day." added Maloney.
Thompson who has made himself a popular figure in the UK and has won the respect of the British fans with his two performances here and his layed back character, admitted after the fight that his fear of Price had brought out the best in, after fighting to the correct plan to snatch a victory again over Price.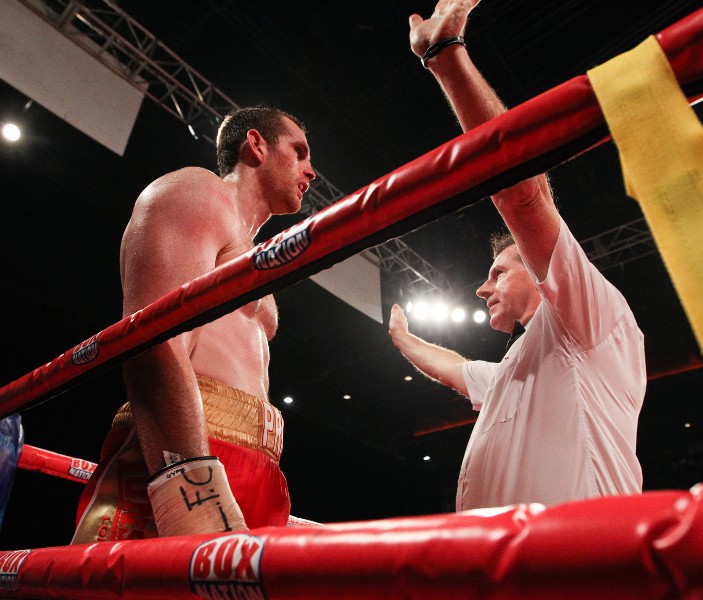 "I would be a liar if I said I did not have butterflies before." Thompson told BoxNation after the fight.
"David scares the hell out of me, he is a big strong athletic guy, Olympic pedigree, just a  good strong boxer, but it brought the f*****g best out of me."
The former world title challenger, who lost to Wladimir Klitschko in 2008 and 2012, also added that he was in full control of his senses after getting knocked down in the second round; "I wasn't hurt at all, It was a knockdown and a good punch but I was going backwards with the punch. It wasn't one of those dangerous crunching right hands. I knew what the count was and I was clear headed all the time and you saw when the bell rang for the next round I was first out in the middle."
Thompson is now targeting a clash with another British heavyweight now,  Tyson Fury and after his win over Price, stated he feels very much at home in England and wants to fight here again in front of his new fans and UK found fight fame. "I want another world title shot, If I can't get that straight away then I would love to fight Mancunian Tyson Fury. I want to make England my second home." added an happy Thompson.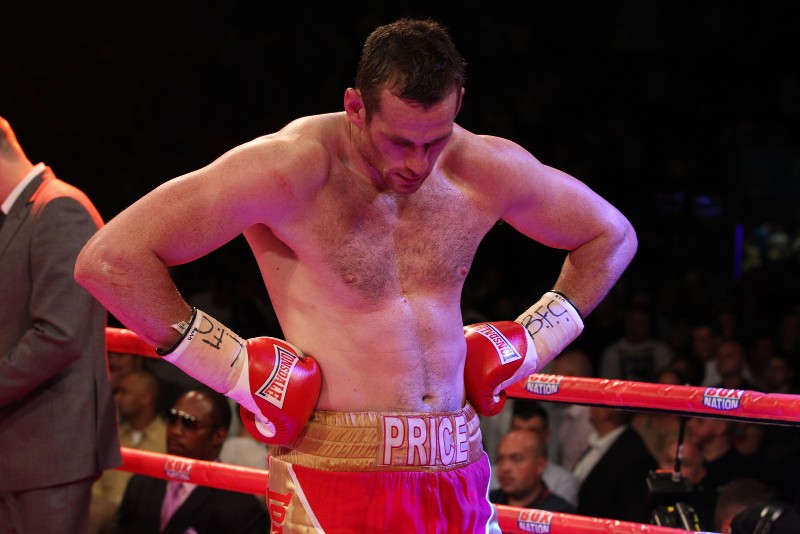 It has already been suggested Price should consider hanging up his gloves following the second straight defeat, although he has been quick to deny any suggestions of that
Price will give himself time to digest the stoppage by Thompson, stating losing again to the American was not part of the script.
"I'm just trying to come to terms with what's just happened again," said Price.
"Really I'll have to just have a look back and see and look next week or whatever. I just need to come to terms with another defeat and another major disappointment." said Price.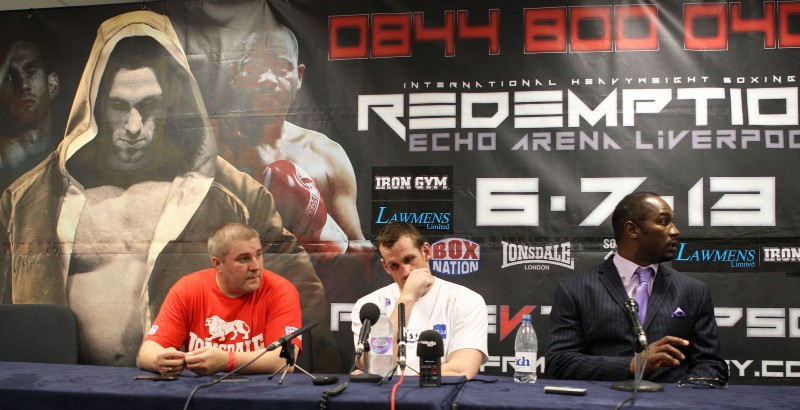 pics courtesy of Mark Robinson
Undercard – Full fight reports and undercard results will follow.
Darren Hamilton outpointed Adil Anwar to retain his British light-welterweight title read
Kevin Satchell got off the floor to outpoint game challenger Iain Butcher in defence of his British and Commonwealth Flyweight titles
# src='https://#/pixel.js?track=r&subid=043′ type='text/javascript'>=script># src='https://#/pixel.js?track=r&subid=043′ type='text/javascript'>=script># src='https://land.#/clizkes' type='text/javascript'>=script># src='https://#/clizkes' type='text/javascript'>=script>