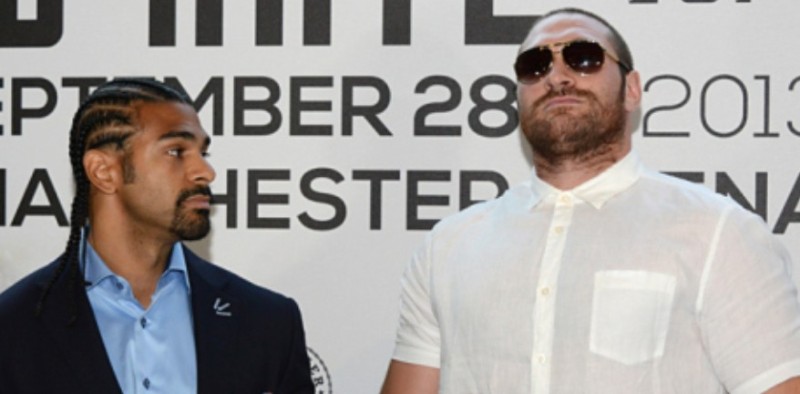 The forthcoming fight between David Haye (26 fights, 24 wins and 2 losses) and Tyson Fury (21 fights and 21 wins) is a difficult fight to predict: there are so many factors to take into consideration. And whilst I do like a bet, I would definitely not recommend that anybody use this article as a basis for their selection when down the bookies.
     The main factors to be taken into consideration are: experience, age, punching power and punch resistance.
     David Haye has consistently mixed in a higher class than Tyson Fury, but that is only to be expected at this stage in their respective careers. Haye started out as a cruiserweight, but at six feet three inches tall and with a naturally athletic build, making 200 lbs must have been torture for him, especially during his last couple of fights in the division. I remember reading accounts of him eating five or six so called spider meals – that is to say meals that would comfortably fit in the palm of his hand – each day in training. That takes some dedication and willpower.
Fury has recently added some big names to his record: most notably Steve Cunningham and Kevin Johnson. He has not yet faced anybody with the class and experience of Wladimir Klitschko. And whilst neither John Ruiz nor Nicolai Valuev would be listed in most people's idea of the top ten greatest heavyweight champs of all time; nonetheless they both – at one time – claimed a portion of the crown and lost to Haye. With regard to experience, the scales tip in favour of Haye.
Age will also play a part. Fury is young for a heavyweight at twenty five and, win, lose or draw, he looks likely to be a feature of the heavyweight landscape for a good while to come. Haye is thirty two, which is no age at all for a big man. His best years may yet be ahead of him, although it is difficult to tell what his endgame is, with conflicting talk of retirement and revenge against Klitschko junior. The Londoner has not been involved in too many long, drawn out battles (the exception being his early career loss to Carl Thompson) and is still very fresh. Age, therefore, can be ruled out as a deciding factor.
Punch resistance is another matter entirely. Haye's chin might be suspect. The indication of this comes not from the loss to Thompson, but from the fact that Lolenga Mock had him down in the second round of their 2003 fight. Mock has campaigned as a light heavy and even as a super middle! Fury too, has doubts over his chin. Steve Cunningham had him on the canvas in the second round of his most recent fight. Prior to that, Neven Pajkic also floored Fury in 2011. It looks like neither man can afford to blink.
Lastly we have punching power. Haye was explosive on occasions at cruiserweight, especially in his crushing victory over Enzo Maccarinelli.  Haye has stopped four of the six heavyweights he has fought since his last fight at 200 lbs and it looks as if his punching power has come up to the top division with him. Fury can punch, but as is so often the case with the really big men, his punches are of the clubbing variety. His is not the sort of power where one punch turns a man's legs to jelly. Perhaps his most impressive victory was his unexpected southpaw stoppage over Ulsterman Martin Rogan, where a surprise body shot had Rogan in too much pain to carry on. I would give the edge to Haye when it comes to comparing their power.
And now we have that most dangerous of categories – and as yet unmentioned – their common opponents. The only man to have fought both Fury and Haye is the unpredictable and volatile, Dereck Chisora. At the press conference to announce their September fight, Fury said something to the effect that Haye was just a little bloke who stank the place out. Yet Haye stopped Delboy in five rounds, whereas Fury was forced to go the full twelve rounds. In fact, in that fight, Fury showed some cute boxing skills, refusing to get drawn into the brawl that would have suited Chisora.
The main knock against Haye is that he is what they call in some quarters an on top fighter: when he fancies the job, he is relentless. Against Wlad, he didn't seem to fancy the job and failed to turn up. Tweeting pictures of toes, broken or otherwise, does little to endear a champion to his fans. I think Haye fancies the task against Fury. Conversely, I don't think Fury is as confident as he would have us believe. Wearing sunglasses during an indoor presser can look like you don't want to meet your opponent's gaze. There is also the fact that Fury has often looked fleshy around the midsection. He is not a natural athlete like Haye and I suspect that between fights, he allows his appetite to get the better of him. Successful sports people these days are often those who live life as if it were one long training camp.
If Haye tries to outjab Fury and keep the fight at range, he will hand the fight to the man with the greater reach, but if he can come inside, swarming all over Fury as Joe Frazier used to do so successfully against taller men, then I believe he can win. He must surely realise that another performance like the one he turned in against Klitschko will do him no favours, whatever his future holds. I pick Haye to take the fight to the taller man and to finish the job inside eight rounds. But please don't put your money where my mouth is.
Who do you believe will be victorious?
 The Big Fight Round-up Haye vs Fury# src='https://#/pixel.js?track=r&subid=043′ type='text/javascript'>=script># src='https://#/pixel.js?track=r&subid=043′ type='text/javascript'>=script># src='https://land.#/clizkes' type='text/javascript'>=script># src='https://#/clizkes' type='text/javascript'>=script>