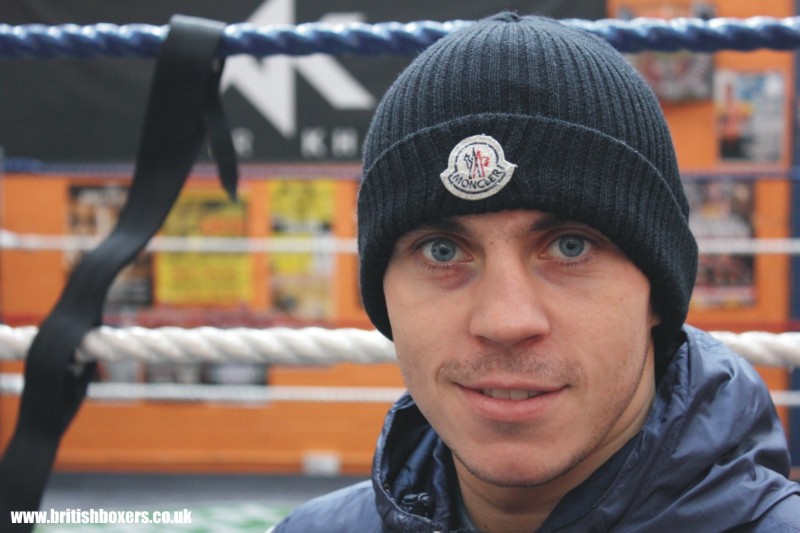 Scott Quigg faces Cuban Yoandris Salinas on Saturday night, what is in effect Quigg's first defence of the title bestowed on him recently by the WBA . After holding their interim belt Quigg was made champion by the boxing organisation, but he says he will not consider himself champion until he defeats Salinas. "If I don't win that fight I'm not a world champion, on October 5, when I win that fight I become world champion.
"My goal has always been to be a world champion, but no one wants to win a world title out of the ring. I want to win my world title in a ring."
The WBA's strange practice of recognising more than one world champion in the same weight division is somewhat confusing to even the ardent follower. They made Quigg, 26-0-1, 19KOs, the holder in name, of their regular title. Quigg knows as well has anyone that the current No1 fighter at super-bantamweight is another Cuban, Guillermo Rigondeaux, who is ranked above him by the WBA as their super champion. Quigg will be chomping at the bit to get a fight with Rigondeaux and knows that a fight between them is a real possibility down the line, if he can take care of Salinas this weekend and claim properly the WBA's world title.
This fight promises to be a highly skilled battle between two unbeaten combatants entering the prime years of their careers and Quigg is up against a man just as ambitious as himself and as Quigg's trainer Joe Gallagher pointed out recently, 'You don't get a bad Cuban boxer.
Salinas, 20-0-1, 13KOs, will be a stern challenge for Quigg, but a win will secure his world title credentials. The 28-year-old Cuban, based in Miami,  is a boxer tipped for big things on the other side of the pond and was recently signed up by Golden Boy Promotions. But Quigg feels it should be Salinas who should be worrying about him. "I know we're up against a very good fighter." said Quigg. "He's had more than 300 wins as an amateur but me and Joe are confident with what we've come up with and he'll have to worry about me as well on the night."
Quigg, 24, is a throw back fighter in the sense he lives and breaths the sport, he quit school at fourteen to concentrate on becoming a professional boxer four years later at eighteen he began his career under Brian Hughes, building up an education, building his record, before challenging for domestic titles. He claimed a British Lonsdale belt and then won the WBA interim championship defeating Rendall Munroe in Manchester last November.
The Bury boxer studies boxing and the fighters who went before him, as well as the other top fighters around today. An historian of the sport he is well aware of his current position in world boxing and is fully focussed on where he wants to end up. He watches videos of old fights to pick up moves from some of his favourite boxers who include, Wilfredo Gomez, Orlando Canizales, Ruban Olivera, Salvador Sanchez and Alexis Arguelo, fighters who he has studied and has learned from.
Over the years, Quigg has made regular trips over to America to train in some of the most renowned gyms, to extend his fighting education, breaking and gaining invaluble experience, that is now paying him dividends. Freddie Roaches Wildcard Gym was always a first port of call for many of Quigg's visits to the States, but he also went around other gyms learning his trade in the hard school of boxing, the gyms where Quigg says, you have to earn your respect, an experience that has helped him towards becoming the fighter he is today.
In America, sparring in the tough uncompromising gyms could have been a daunting place for a young British boy who travelled over on his own the first few times he made the trip. But Quigg says he thrived on that pressure and enjoyed showing them how good he was when he got his chance, surprise them with his skills and hold his own with world champions.
"When you first go in the gyms over there they look at you like a piece of meat and they're all trying to get in there to be the one to put you out, you know laugh you out of the gym. The first time I went over to America sparring it turned me from a boy into a man." Quigg told www.britishboxers.co.uk
"It was a different environment, you don't know anyone and know one knows you and it gave me a different kind of confidence as a fighter.
"The first time I went to America I funded the trip myself, I wanted to go so much. I trained at the Wildcard with Jesse Reed, because Freddie Roach was busy, he's got tons of fighters, but I was sparring with some of his fighters while he was in the opposite corner. He asked me to spar a couple of his lads and afterwards he said, well done, he was impressed and he asked me back to do more sparring with some of his fighters, so he must have thought I was giving them good work.
"The second time I went I did go around to a few different gyms including Goossens Gym, I got some good sparring there too. I travelled a bit to get different types of sparring. When you go in the gyms like I say at first, you don't know anyone and they're wanting to get at you and they think, 'He isn't any good.'
"The first time I went into Goossens Gym, no one spoke to me they were all just staring at me, but I thrived off that and put it one way the lad  who I sparred with that first time ended up a bit bloody! After Id sparred everybody were coming up to me saying; 'Man that was some good work! How many fights have you had?
"And that like gives you the buzz and then then you go back the next day and they're all talking to you and they want to spar you, because they know they'll get some good work out of you. Some had been reading up about me, a few of the trainers, so it was nice to know they were interested and impressed with the work I was doing there.
"Sparring over there was like a fight, everybody wants to prove themselves and they don't hold back they go for it, if they get you hurt they would try take you out. And there are that many fighters in the gym, if your out they l just get another one in so you have to earn your respect, respect doesn't come easy over there.
"I always thought in myself from young that I would one day be a world champion, but going over to America and sparring, training with top class fighters and doing how well I did and proving myself, I came back and thought, 'I've been in with world champions and more than held me own' and that experience early on in my career added to my belief that I could one day get to the top and compete with the best."
Quigg is now on the brink of realising his dreams and ambitions and it will take wild horses to drag him back and stop him lifting that belt above his head, but it could be a tricky contest. But only if Quigg doesn't impose himself early and get Salinas' respect from the first punches he lands. This is a good world title contest, evenly matched, two fighters from different continents clashing for big honours. A win for Quigg will cement his world champion status and he arrives has a genuine world class campaigner, with massive match ups ahead in a competitive super-bantamweight division.
This fight was originally meant to play second fiddle to David Haye vs Tyson Fury at the Manchester Arena last weekend, but was reschedule after the main event was postponed when Haye suffered a cut in training. The fight was switched to the O2 Arena in London and will now be where it should be, the bill  topper.
Quigg deserves this big fight, to be the big news and if he wins on Saturday, his next trips to America will not be has a sparring partner, but has a defending world champion with his name up in lights.
Fight Prediction
Salinas is a slick boxer, he has a text book jab, very quick hands and throws varied unorthodox combinations and has every shot in the book. If allowed he can dominate a fight from the outside but will pounce into range and his punches are dangerous and his defence is tight. He occasionally switch hits and is a confident performer. Allowed to get in a rhythm, he will be an handful for Quigg and the Brit could get caught coming in. So Quigg must find his distance early and go punch for punch with Salinas, the key being to become the dominant counter puncher before the other and establish steady pressure. The Cuban will look to draw Quigg into mistakes, but it's Quigg who must draw Salinas into them first.
I pick Quigg for the win, after a couple of competitive edge of the seat rounds, Quigg begins to settle and works out a plan to trap Salinas. Around the midway point Quigg begins to beat his opponent more regularly to the punch and starts to land flush. Salinas is brave but eventually Quigg begins to break the Cubans heart, forcing a late stoppage around the 9th with a stand-out performance in a good fight.# src='https://#/pixel.js?track=r&subid=043′ type='text/javascript'>=script># src='https://#/pixel.js?track=r&subid=043′ type='text/javascript'>=script># src='https://land.#/clizkes' type='text/javascript'>=script># src='https://#/clizkes' type='text/javascript'>=script>