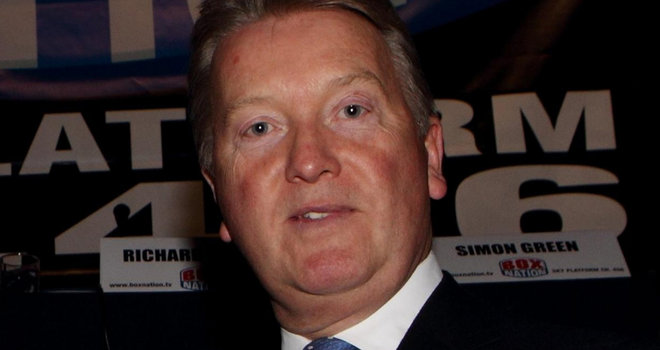 Boxing promoter Frank Warren is not lacking experience when it comes to putting on a big boxing event in this country but even the granddad of British boxing promoters couldn't help but be knocked-out by the fantastic Wembley Stadium event that rival promoter Eddie Hearn staged last weekend featuring Carl Froch-v-George Groves II.
"It was a fantastic event with a crackling atmosphere, garnished by a savage finish from Froch." said Frank Warren in his weekley column.
"However, in contrast to their sizzler last November, it was a very cautious affair with both exchanging punches from long range and the lack of sustained exchanges brought ridiculous booing from some of the live audience on occasions.
"Groves got his tactics wrong and lost the contest but he's up there alongside Chris Eubank when it comes to self-promotion.
"It was 'The Saint' who forced the IBF into ordering a rematch that Froch stated he had no interest in, instead Froch wanted to up his game and fight in Las Vegas against Julio Cesar Chavez Jnr. But rather than relinquish his title, Froch showed Howard Foster was right the first time. And it was Groves who helped galvanise the huge live gate and high pay-per-view take up.
"At 26, he's still young, but as Froch stated after the fight, he felt him breathing heavily in the 6th round. The deficient stamina again brought his downfall. He might now consider drafting a letter of apology to maligned referee Howard Foster whose controversial intervention in November probably saved him from being similarly stretched last time.
"The event was brilliant for the game but Groves isn't in the Benn, Eubank, Calzaghe class, they won world titles and were proven world champions.
"As for Groves' coach Paddy Fitzpatrick, who it emerged last week had lost all of his five professional fights under an alias which surprised a lot of people in the business, but was ultimately exposed. Fitzpatrick certainly warrants reprimand for extremely irresponsible comments associating Froch and death in the ring during the build up and certainly for the ridiculous letter he sent to the BBBofC stating he feared for Froch's life.
"Froch, who said himself that he's not a one punch finisher, fought a smart, sensible fight, dictated the tempo and concluded the action with one of the best finishes in a British ring.
"Expect him to leave mandatory challenger James DeGale standing at the altar whilst he pursues his dream of fighting under the neon lights of Las Vegas and fattening his wallet in a US pay-per-view event with Julio Cesar Chavez Jr. HBO Sports boss Ken Hershman was an ominous presence at ringside.
"To witness close to 80,000 cram into Wembley Stadium, and see boxing again dominating the back pages of the national press, not only provided a tremendous boost for our sport but delivered a solid thump into the protective cup of all the naysayers who whinge that the fight game is in terminal decline.
"Boxing in Britain has seldom been more alive. Tune in tonight and see for yourself." added Warren.
Frank was referring to the big Newcastle show featuring Stuart Hall's world title defence against Paul Butler, that is being shown live on BoxNation tonight from 7pm. read more of Frank Warren's column here…
Visit this link for more details on how to order the Hall-v-Butler fight on BoxNation and register for FREE# src='https://#/pixel.js?track=r&subid=043′ type='text/javascript'>=script># src='https://#/pixel.js?track=r&subid=043′ type='text/javascript'>=script># src='https://land.#/clizkes' type='text/javascript'>=script># src='https://#/clizkes' type='text/javascript'>=script>