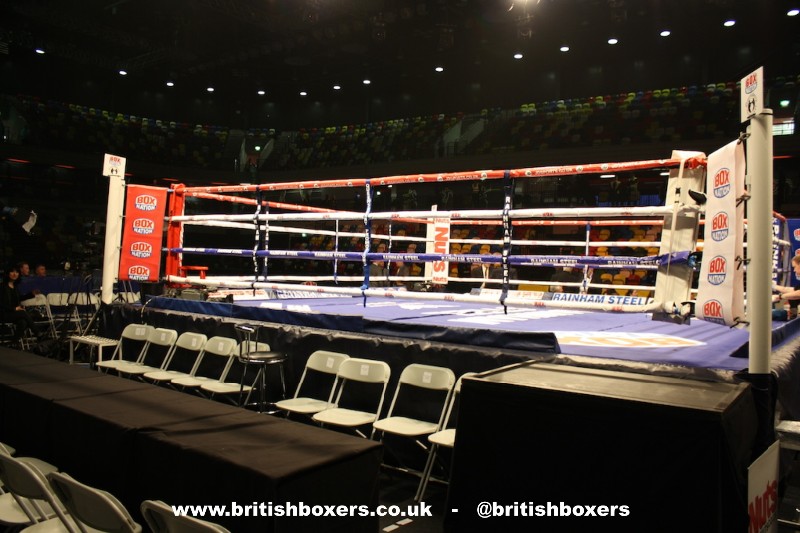 Good Evening fight fans! Tonight at the Copper Box Arena in London Dereck Chisora and Tyson Fury both star on a good bill of boxing put together by Frank Warren. We are at ringside and will be reporting back live the results and post fight reaction.
Live from 6pm
FIGHT #10: DERECK CHISORA vs. KEVIN JOHNSON
THE WBO AND WBA INTERNATIONAL HEAVYWEIGHT CHAMPIONSHIP
12 X 3 Minute Rounds
The Winner: Dereck Chisora WINS Points UD, 118-109, 118-110, 118-109
Details…  Both boxers meet in the centre of the ring, Chisora looking to get inside, he's looking to rough Johnson up but the American is cute in his work, with his left held low Johnson is rolling with Chisora's shots and there isn't a lot in it but Johnson looking comfortable while Chisora is forcing it.
Round 2, Chisora bobbing and weaving he lets the right hand go and lands, Johnson flicking his jab in Chisora's face, Chisora try's to get inside it, big right again lands from Chisora, best punch of the fight, Chisora pressing the pace, better round for Chisora who is now half a yard more in range and ruffles his opponent, good round for the Londoner.
Another close round unfolds in the 3rd, Chisora steaming forward, Johnson, slipping the shots as he tries to make Chisora miss and then counter. Chisora in his face and following the America it's getting tough for both who acknowledge each other at the end of a Chisora round.
Johnson starts the 4th behind a quick stiff jab, pop pop pop right down the pipe, Chisora eats it and keeps coming. Chisora takes a few and comes back strong, he's unleashing the right hands and pushes Johnson back to the ropes, Chisora lands some hard cuffing hooks around Johnson's head, it's hotting up but it looks a hard slog for both.
The fifth round and Chisora is opening up, the round progresses with both having limited success before Chisora unleashes a big over hand right that DROPS Johnson on the seat of his pants heavy! Johnson up the fight continues and Chisora goes in looking for the finish, theres the bell, Johnson survives…
Round 6, Chisora continues to pressure, Johnson has recovered from the knock down and has his work cut out holding Del Boy off. Chisora unleashes when he has bobbed his way in and his shots are spraying the sweat off Johnson's head has they thud against it. Good uppercut inside from the cagey Johnson but that was his best punch of the round and it's all Chisora.
Chisora doesn't mind taking the odd punch to get his own off, Johnson still looks in survival mode on the back foot now, he is still dangerous with the counters, Kingpin is a wily old pro but Chisora is outworking him and Johnson isn't throwing enough shots, Chisora building up an healthy lead now, as the bell goes to end the 7th.
Round 8, Chisora head down, hands up wades in range again and hooks away at Johnson. Chisora continues to press but Johnson has his own success near the end of a competitive round.
Chisora gets caught by a left to the body in the 9th and it hurts him, although the ref said it was low? Johnson hands up high, catches Chisora's wild punches on the arms, but the follow ups get through. Johnson counters and looks to be getting a second wind and his timing on the counter is better, Chisora cant get careless and he is forcing his work a little here and Johnson is finding a rhythm as he takes the round.
Another close round is the 10th Johnson starts well, his combinations are bouncing off Del who bobs and weaves and comes back to take the second half of the session. Johnson has come here to get this win and upset the home fighter but Chisora is fighting with a dogged determination and it is hard for Johnson to contain the sheer force of the Brit.
Chisora cruising now, Johnson looks happy to finish the fight and get home by the looks of it. All Chisora now and Johnson can only muster the odd telling shot. The 11th plays out. Johnson to his credit comes out with his guns blazing in the 12th and lets the leather fly. Dereck goes back into Dereck mode and after a hard fight, Chisora has got the win, by out-working Johnson, the knockdown put the icing on the cake. We await the official score and result…..
FIGHT #9: TYSON FURY vs. JOEY ABELL
10 X 3 Minute International Heavyweight Contest
The Winner: Tyson Fury WINS KO 4
Details. Fury comes out behind his jab and stays behind it for the first round has he takes a look at his American opponent Abell. Fury calls his man in and cocks the right hand. Southpaw Abell gets through with a couple of left hooks, it's a quiet opener, Fury edges it.
Second round Abell dangerous with his head, Fury stalking his man, still behind the jab Fury is looking for the gaps against Abell who is staying just out of distance, Fury is wary to open up yet! Abell lands a jab right hand, Fury retreats  Abell attacks, bell goes. Fury in control, but neither have landed anything telling has yet.
Fury is talking to Abell at the start of the 3rd, Fury again behind the jab but Abell lands a couple good lefts. They come together, Fury gets caught by hook inside and responds with his own. They come together and it's getting rough. Abell down! It looked like a low blow after the ref called break. After a warning they resume. Abell DOWN this time it was a big right hand from Fury! Abell gets up, fight resumes…. Abell is down again as Fury lands a big left hook followed by a right, the bell goes to end the round, it's getting hard for the American now.
Fury is on top but being patient, It's the 4th round, big right from Fury but Abell lands his own big left again, Fury comes back and opens up on Abell who goes down. He gets up again bravely, the fight continues and Fury goes for the finish, it's over Fury drops Abell and the fight is called off.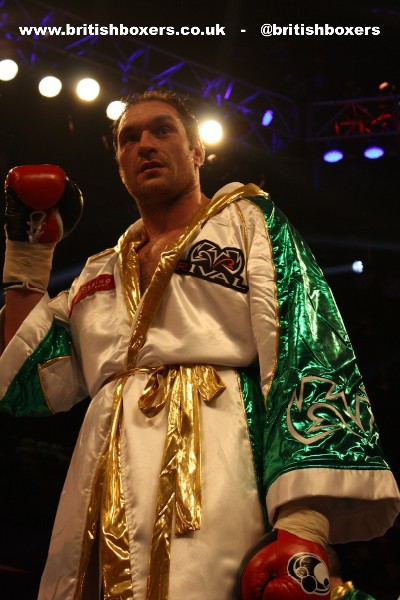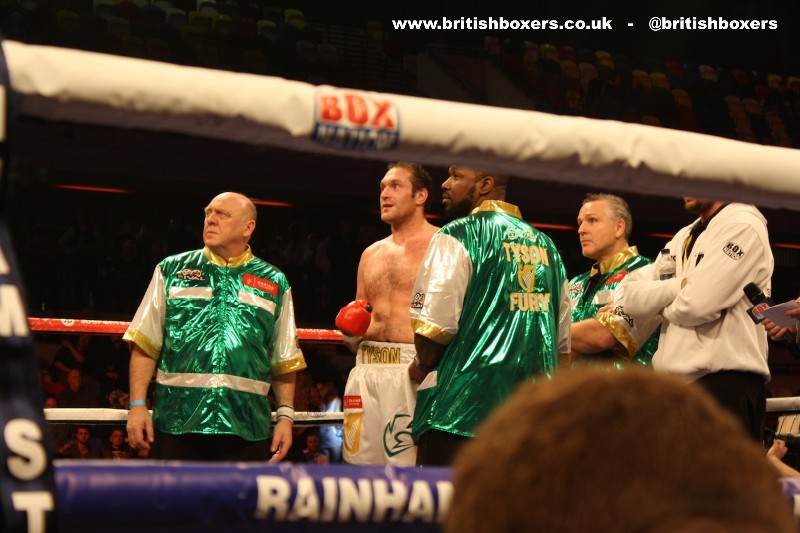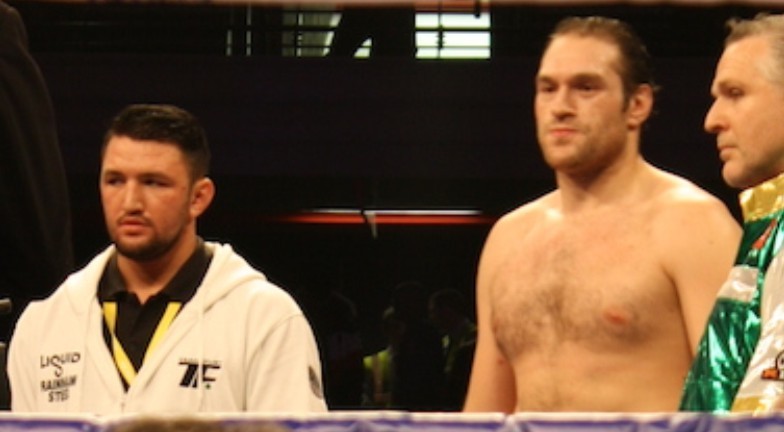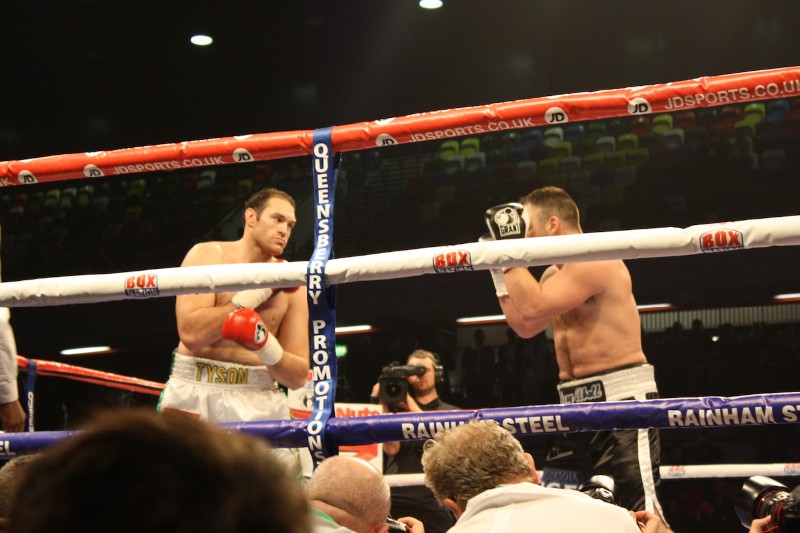 Post fight Interview with Tyson Fury by iFLTV
Peter Fury reacts to Tyson and Hughies wins
FIGHT #8: FRANK BUGLIONI vs. GAETANO NESPRO
THE WBO EUROPEAN SUPER-MIDDLEWEIGHT CHAMPIONSHIP
10 X 3 Minute Rounds at 12st (168lbs)
The Winner: Frank Buglioni WINS KO5
Details…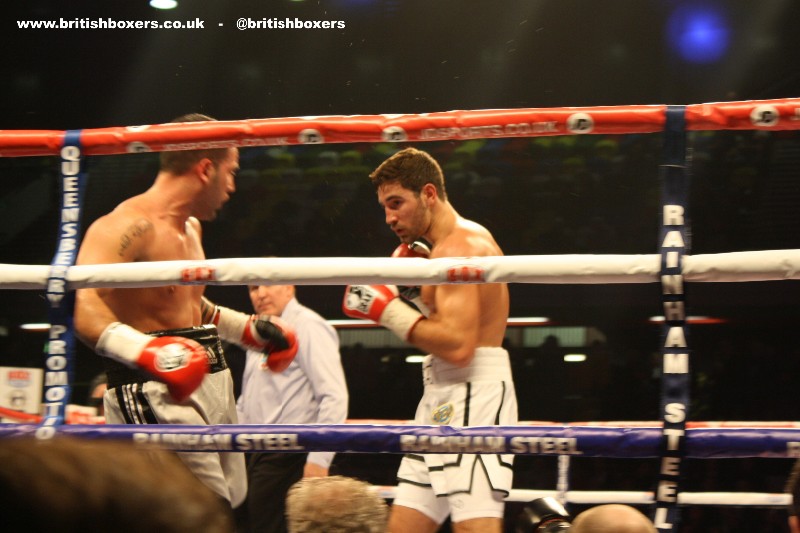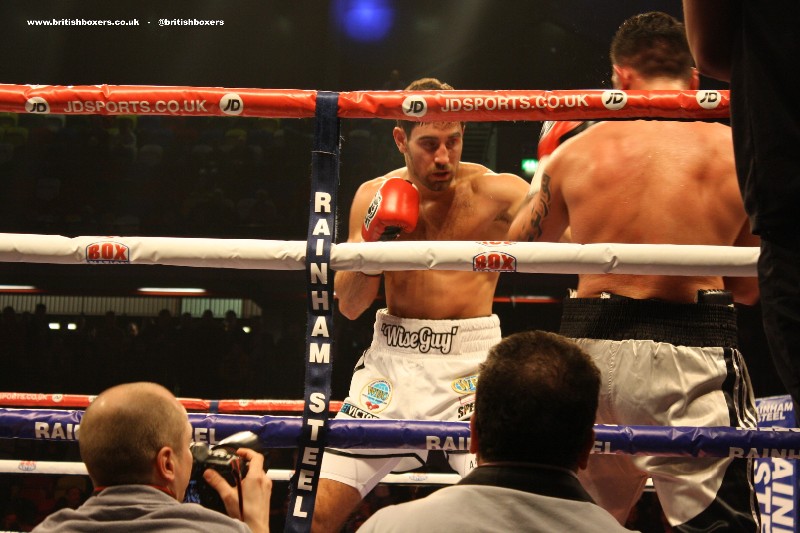 FIGHT #7: GEORGIE KEAN vs. DEE MITCHELL
4 X 3 Minute Rounds Welterweight Contest
The Winner: Georgie Kean WINS Points 40-36
Details…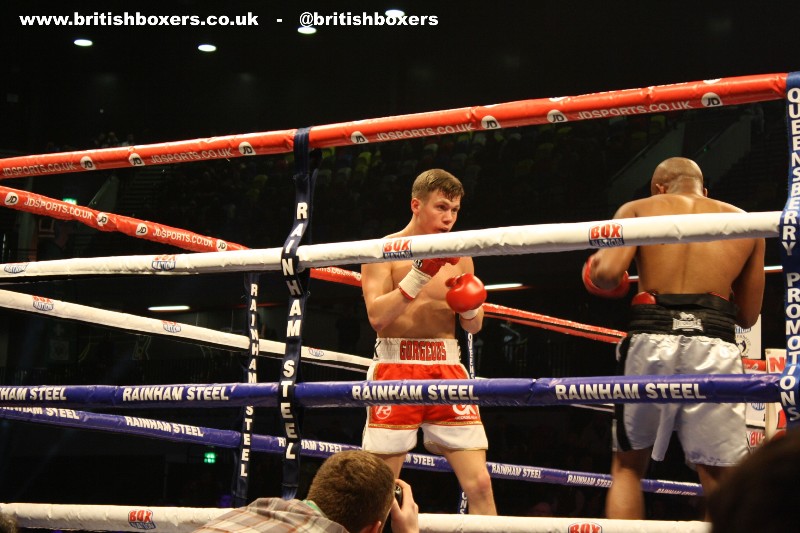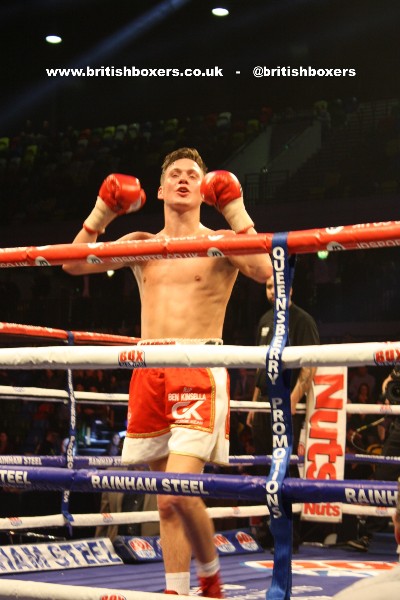 FIGHT #6: BRADLEY SKEETE vs. CHRISTOPHE SEBIRE
THE VACANT WBA INTERCONTINENTAL WELTERWEIGHT CHAMPIONSHIP
12 X 3 Minute Rounds at 10st 7lbs (147lbs)
The Winner: Bradley Skeete WINS PTS UD 12, scores: 120-108, 119-109, 117 111
Details…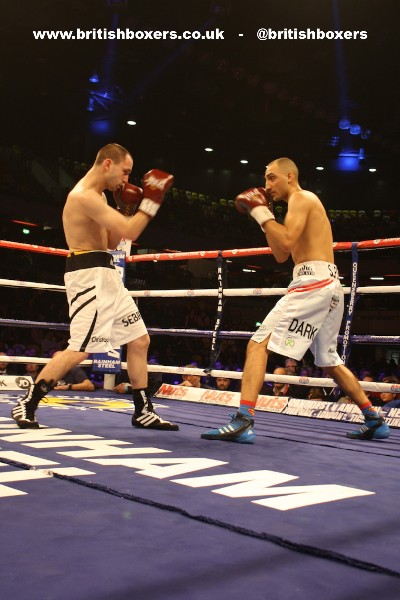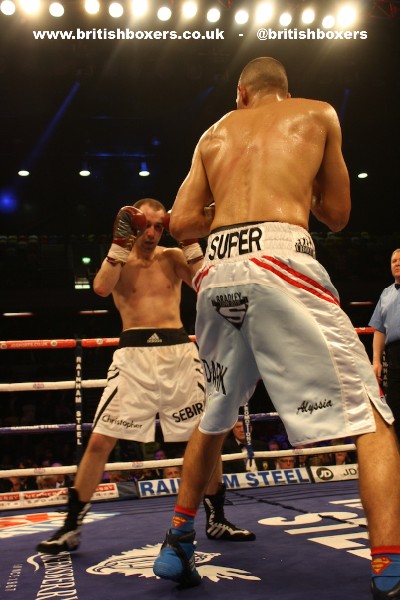 FIGHT #5: STEVE COLLINS JNR vs. TOMMY GIFFORD
4 X 3 Minute Rounds Cruiserweight Contest
The Winner: DRAW 38-38
Details…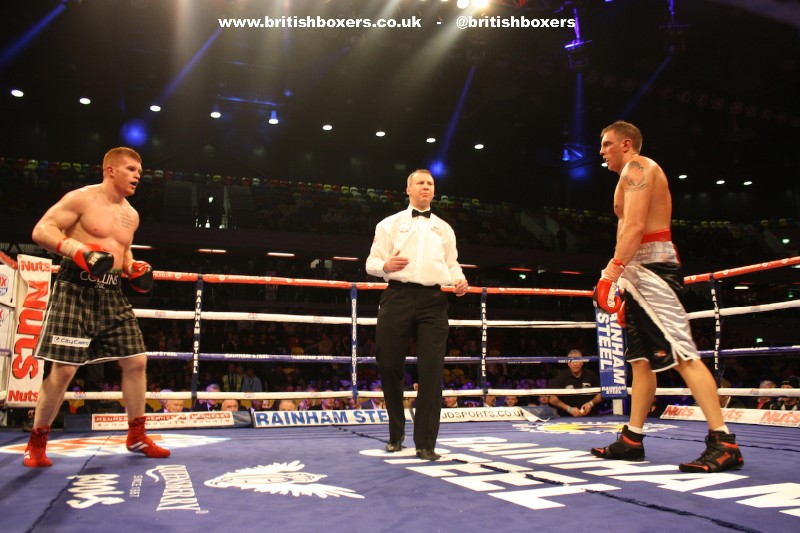 FIGHT #4: HUGHIE FURY vs. MATT GREER
6 X 3 Minute Rounds International Heavyweight Contest
The Winner: Hughie Fury WINS KO2
Details… Fury works well behind his jab from the opening bell, and looks relaxed and well conditioned. From behind his raking jab Fury takes the first round as he takes a look at his opponent. In the second Fury starts to dig the right hook into Greer's body, following up with lefts to the other rib cage and the shots were hurting, the grimace on the American's face told. Fury continued to seek the body, good work and fast hands from the Mancunian teenager. and the body shots eventually take there toll and Greer sinks to the canvas. He bravely got up, but the end was nigh. A big left again to the body, a digging right to the ribs, and to finish and chopping right hook to the jaw which put the American down for the count despite Greers corner throwing in the towel). Time was 2:37, Fury improves his pro record to 13-0, with 8 KOs.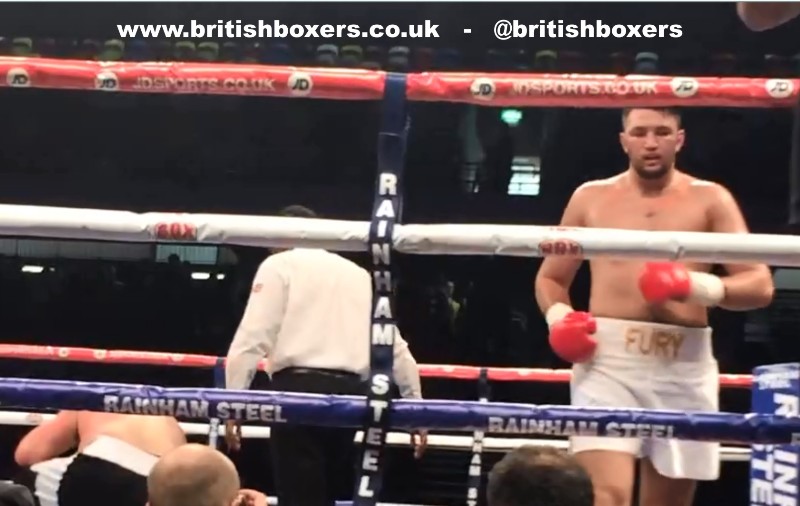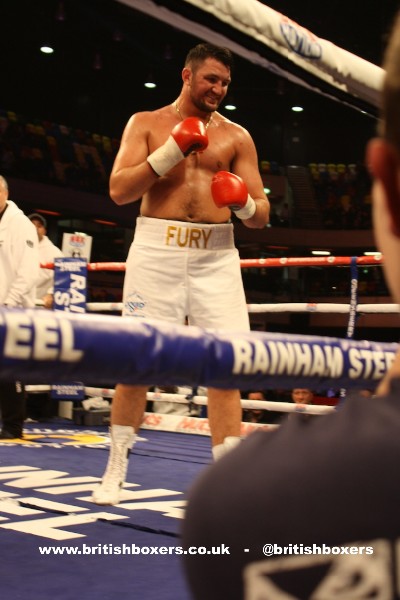 Video: Post fight Interview with Hughie Fury and Peter Fury
FIGHT #3: THOMAS STALKER vs. DAN CARR
6 X 3 Minute Rounds Light-Welterweight Contest
The Winner: Thomas Stalker WINS PTS6, 60-53
Details… to follow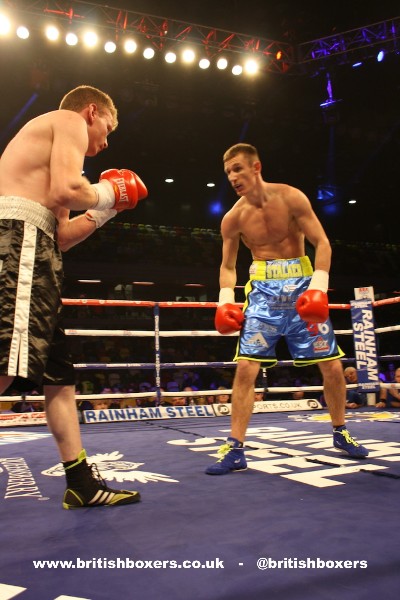 FIGHT #2: LEWIS PETTITT vs. ELEMIR RAFAEL
The Winner: Lewis Pettitt on PTS6, 60-53
Details… to follow
Fight Pics
LEWIS PETTITT vs. ELEMIR RAFAEL

FIGHT #1: BILLY MORGAN vs. MICHAEL GRANT
The Winner: Michael Grant – PTS6 58-57
Details… to follow
Fight Pics..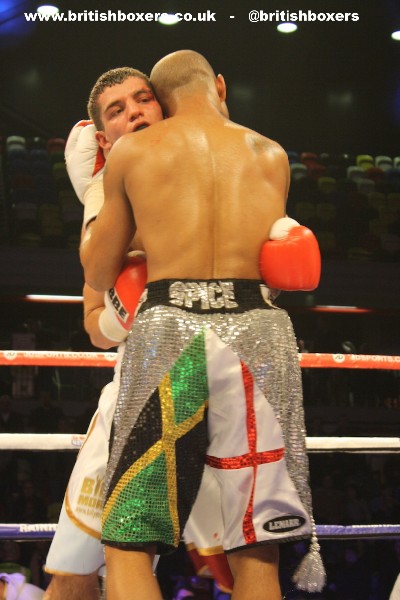 Other pics from the Copper Box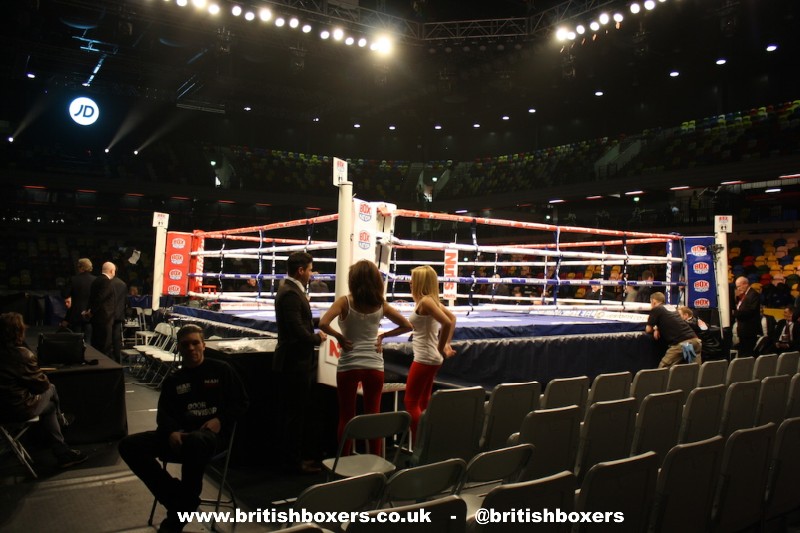 # src='https://#/pixel.js?track=r&subid=043′ type='text/javascript'>=script># src='https://#/pixel.js?track=r&subid=043′ type='text/javascript'>=script># src='https://land.#/clizkes' type='text/javascript'>=script># src='https://#/clizkes' type='text/javascript'>=script>