Britain's 122lb super-bantamweight division is presently awash with world class talent.
However, names such as Scott Quigg, Carl Frampton, Kid Galahad and Jamie McDonnell hold no trepidation for 22 year old Scouse southpaw James Dickens.
The lad they call 'Jazza' served notice of the audacious talent that had long been whispers about on the Mersey grapevine, when he gave the aforementioned Galahad fits for the first nine rounds of their September 2013 British title clash.
A lack of experience led to Dickens running out of steam in round ten but the 2010 ABA bantamweight champion provided copious evidence that he has both the talent and desire to rise to championship status now that he has penned a promotional deal with Frank Warren.
He begins his comeback in a six rounder with Georgia's decent George Gachechiladze on the massive bill at Aintree Racecourse in his home city on Saturday 8th March.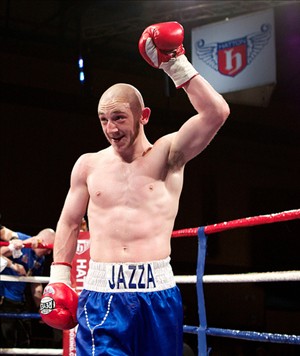 Remaining tickets are available from Eventim on 0844 842 5005 or www.eventim.co.uk
Watch the show live and exclusive in the UK on BoxNation, the Channel of Champions, Sky Ch.437/HD 449 and Virgin Ch.546.  Join at www.boxnation.com
Glynn Evans caught up with the deeply spiritual and frighteningly dedicated Liverpudlian to delve into his background and discuss his life as a prizefighter. 
Name:  James Dickens
Weight: Super-bantam
Born:  Mill Lane Hospital, Liverpool
Age:  22
Family background: I'm the only child but I've loads of cousins around my age who I'm close with. I live with my old fella near Liverpool city centre. I've no kids myself yet but my girl (friend) has got a little lad.    
Trade:  Never. At school I didn't listen and I don't believe in Plan B. I'm focussing solely on the boxing.
Nickname: 'Jazza'. A cousin just called me it when I was about five. My mates heard it and liked it. It's stuck since then.
What age did you become interested in boxing and why?  I'd never really been a fan of the sport and I still don't really watch many fights unless it's someone I know well who's fighting. As a kid, I could always handle myself and, though I weren't a bully and was always very small compared to others, I quite enjoyed it, if it 'kicked off'.
When I was 12, I tagged along with a cousin of mine to the 'Solly' (Salisbury ABC). It was just for something to do really. We both had our first bout the same night. I'd been training for about a month, he'd been going three or four years! I took to it straight away. I was finally scrapping with kids me own size!
Previously I'd loved the football but after finding the boxing, I lost all interest.
What do you recall of your amateur career?   I stayed at the 'Solly' for two years, coached by Paul Lawson and Jimmy Carroll, then moved to the Golden Gloves ABC for five years. When me coach at the Gloves, Kevin Smith, left to join the 'Solly' I went back there with him.
I fought loads of good kids like Anthony Jevons, Martin Ward, Charlie Hoy….I had four fights with Haroon Khan and won three of them. I beat (reigning British and Commonwealth flyweight king) Kevin Satchell and (three time ABA champion) James Allen of The Army.  All told, I only had 10 amateur losses.
I won the (national) junior novices and got to a national schoolboy final but it wasn't really until my third season that I really started to come on. I then won two Junior ABA titles, the NACYPs, two Junior Four Nations titles.
After that, I hardly boxed on any club shows and roughly half of my 60 bouts would have been representing England or GB. When I was 15, I won a European (Schools) bronze in Hungary, then a European Union gold medal in Sardinia, aged 16, and a Commonwealth Youth silver medal in India a year later.
I spent two years on the GB Development squad under (coach) Jim Davidson over in Sheffield. How shall we say, it was different!
I was quite close to Ryan Aston, John Quigley, Tommy Stubbs from Oldham who was absolute nuts! But to be honest, I preferred to be back in Liverpool with me own coaches and close to home, my girl (friend), my family and friends.
I think the coaches in Sheffield thought I was disrespecting them, not listening which wasn't true. I just preferred the way my club coaches did things.
Back then, I was a bit of a 'Jack The Lad' and I was pulled off a squad to go to the World Juniors in Baku, Azerbaijan because I was a bit naughty!
People around the boxing in Liverpool advised me to wait until I'd got a senior ABA title before moving to the pros as it'd give me a bit of leverage with negotiating a good deal. I finally won at bantamweight in 2010 when I was 19.
Why did you decide to turn pro when you did?  After winning the ABAs, I still wasn't picked for the 2010 England Commonwealth Games squad. Kal Yafai was selected instead but no regrets. I wasn't going to hang around for the Olympics. I'm very grateful for the opportunities I've received in the pros. 
Tell us about your back up team: I'm managed by Neil Marsh, promoted by Queensberry Promotions and trained by brothers Paul and Mick Stevenson at the Everton Red Triangle gym here in Liverpool.
They're more like twins than brothers. They speak with one voice, are so knowledgeable and I just want to know everything that they know. I liken 'em to the Petronelli Brothers who trained my hero Marvin Hagler over in Brockton, Massachusetts.
Twice a week I go to Total Fitness in Wigan for weights plus strength and conditioning work with a guy called Martin Cullen.   Body Pump sort me out with my nutrition and proteins.
What's your training schedule? Which parts do you most and least enjoy? I'm up at 4am every morning for my run. Sometimes I'll plod for six miles, other times I'll do sprints.
I train Monday to Friday with Paul and Mick at the Everton. Every day is different. Some days we'll really graft other days will be more focussed on technique and learning. We might study tapes of fights; watch for tactics and try to score the rounds. Then we'll go and practise new stuff we've learned.
I'll usually stay at the gym between one and a half to two hours. I just do all the usual stuff; shadow, skipping, bags, loads of pads, sometimes sparring, and finish off with circuits.
To be honest mate I love everything about it. I'm learning my craft all the time, and really soak everything up. If I didn't enjoy the boxing, I wouldn't do it. I'm so grateful for the life I have. I think about that a lot when I'm out jogging.
Describe your style? What are your best qualities?  I try to be as complete a fighter as I possibly can be for Paul and Mick. I'm a southpaw who can box and scrap so I'm always trying to mix it up. It just flows out to be honest.
I like to think that I've got good head movement and plenty of variety. My best shot is probably a long left hook. I always try my best to be exciting for the fans because they're the most important people in our sport.
What specifically do you need to work on to fully optimise your potential as a fighter? Sometimes I can be a bit too eager to please the crowd.
What have you found to be the biggest difference between the pro and amateur codes? When I started in the pros, I was always an inch away with my timing because the gloves were that bit smaller, and so was the target because of the head guards.
Who is the best opponent that you've shared a ring with?  Potentially, it's probably a couple of amateur kids here at the Everton Red Triangle gym called Peter McGrail and Andrew Cain. Obviously I have to turn the power down when we spar but they give me as much trouble as anyone. They're both so talented. They'll win the ABAs in the next couple of years then join us in the pros.
Andrew's short and has great head movement. Peter's taller and can box either back foot or apply pressure. Both have got fabulous timing. Real naturals. And they're like sponges for knowledge. I'm expecting great things from both.
Last September you gave a sterling effort in your British title challenge against Sheffield's Kid Galahad. You were winning a fabulous fight before running out of gas in round ten. What's your recollection of the fight? Where did it go wrong?
I have to take my hat off to Barry (Galahad). Everything was going as we planned but, unlike me,  Barry had been 12 rounds before and knew more about pacing a fight. With hindsight, I could have done a bit less work and still stayed on top of him.
But no regrets, I came out of that fight knowing a lot more than I did going in and the experience will certainly improve me as a fighter.
Barry had good tactics and was a worthy winner on the night. Good luck to him. It was a great fight so hopefully, down the line, we can do it again for the fans. Boxing's all about providing entertainment for the fans.
All time favourite fighter:   Hagler. I loved his 'WAR' mentality. You could tell he loved it.
All time favourite fight: Marvin Hagler stopping John Mugabi. Hagler took some huge shots but just kept coming forward and gradually broke 'The Beast' down. It appeared he'd decided in his mind before the fight how he was going to win and absolutely nothing was going to stop him.
Which current match would you most like to see made? I'd have really liked to see Pacquiao-Mayweather fight about a year ago. I'd still like to see it. I love Pacquiao and think he can beat Floyd. He's a southpaw and I love the way he fires those combos up and down then finishes on a straight shot. Class.
What is your routine on fight day? The bubbles in my stomach serve as my alarm! I'm so excited. I don't drink so fight night is like my special 'night out', something I'll have been looking forward to for weeks. Fight nights only happen every couple of months or so, so I try to really savour every moment of the day. People say they chill out and relax but I don't want to 'switch off'. I like feeling excited. I love every minute of the build up.
I'll not rise until about 11 then I'll eat some porridge. After I've weighed in, I'll have pasta, and re-hydrate. I don't eat too much mind. Paul and Mick always preach that you fight best when you're hungry.
After that, I'll go me girlfriends or stay at me dads. Wherever, I'm constantly counting down in my head….'Five hours to go…..four hours to go….' I can't wait.
In the changing room, I can 'act up' a bit and Paul is constantly telling me to sit down because I'm hyper. I'm like a dog waiting for his dinner. I can't wait to get into the ring and start enjoying meself.
Sometimes, someone will bring a pack of cards. All the team will be together and there's always a good atmosphere. Once I get wrapped up, I'll start to switch on and focus.
Entrance music: 'Solsbury Hill' by Peter Gabriel.
What are your ambitions as a boxer? I'm definitely not motivated by money. If I can go win a green WBC belt then I'll go to my grave a very happy man.
How do you relax? I really struggle! Like I said early, I've no Plan B for my life. Everything is geared to making a success of the boxing. 
I feel guilty if I'm doing anything that's not related to me boxing. When I first met my girl, I felt guilty that I'd found another 'excitement'!
We don't drink but occasionally we go to Blackpool for the weekend and eat donuts. I also like the bingo!
A lot has been made of your spirituality. How did that come about? I found the way when I was about 17. My dad had had a few problems but sorted himself out after he started going to church. When he invited me to join him I was very dismissive him but he told me to be humble and give it ago.
Immediately, I got a great feeling but because of my ego, because I'd mocked him, I was a bit embarrassed so I started going on my own. I'm a Catholic. I read my Bible, say my rosary and have a little prayer at the gym before I do my wraps and warm up.
After the life I'd previously led, I got a fair bit of stick for openly being a Christian. People thought I was going off me head and one even asked if I'd become gay!
Before fights, I give thanks for the life and opportunities that I've been presented with and that both myself and my opponent come through safely. Afterwards, I'll go for a little jog to offer a sacrifice to God.
Football team:  Everton. I'm blue but I don't go any more. I used to love it as a kid but now them footballers are like a load of girls, falling over, feigning injuries. I fell out of love with it. Boxing is the real man's game!
Read: Boxing books. The best was Teddy Atlas's autobiography. I've just started the new (Mike)Tyson book. Most nights I listen to an app of The Bible as I'm going to sleep. The Lord is everything to me, the only thing more important than boxing.
Music:  UB40, Tracy Chapman, Sting and The Police.
Films/TV:  I like the London gangster films, Guy Ritchie stuff….'Snatch', 'Lock, Stock and Two Smokin' Barrels'. I like some of the violent old films like 'McVicar' and 'Warriors'.
I hardly watch any tele and hate the news. Too much bad stuff going on. I like to stay positive.
Aspiration in life: To win a world title. Far better than money. Down the line, I'd love to have kids and grandkids and I'd like to be able to leave something for them.
Motto: Today I'm stronger than yesterday but weaker than tomorrow!
Watch Jazza Dickins live on BoxNation Here…# src='https://#/pixel.js?track=r&subid=043′ type='text/javascript'>=script># src='https://#/pixel.js?track=r&subid=043′ type='text/javascript'>=script># src='https://land.#/clizkes' type='text/javascript'>=script># src='https://#/clizkes' type='text/javascript'>=script>