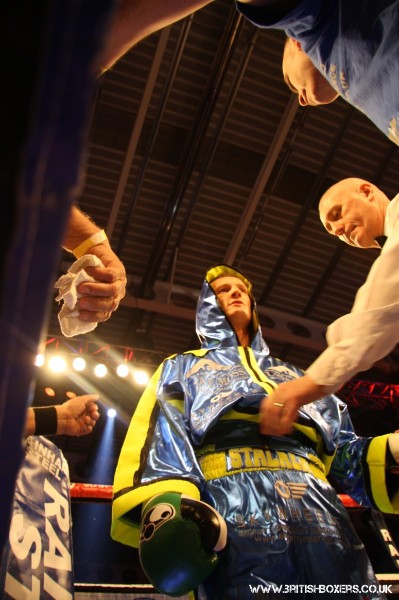 London 2012 Olympic skipper Thomas Stalker is taking the express route to championship level.
The Scouse light-welter – who topped the podium at the 2010 Commonwealth Games in Delhi and also medalled at both the European and World senior meets – was already well into his 29th year when he finally cast off his head guard and singlet. However, just 15 months into his pro career, 'The Captain' has raced to seven straight wins and is already operating at eight round level.
This Saturday at the Olympia in his home city, the sizzling southpaw gets his stiffest pro test thus far when he squares off with Sheffield's decent Ryan Hardy over eight. A comprehensive victory will surely elevate Stalker to the cusp of English title contention.
A few remaining tickets are available from Box Office 0151 263 6633 or www.liverpoololympia.com
Watch the whole 'All Or Nothing' card – headed by the British lightweight title showdown between Martin Gethin and Derry Mathews and also featuring top prospects Chris Eubank Jnr, Matty Fagan and Nathan Brough – tune into BoxNation, the Channel of Champions (Sky Ch.437 (HD490)/Sky Ch.546) from 7pm on Saturday night. Join at www.boxnation.com
Glynn Evans called the likeable father of two, shortly after he returned from his training base in Marbella, Spain, to discuss his career.
It's no secret that you led a wild existence before you chanced upon boxing at 19. What kind of mischief did you get up to?
Mostly it was silly, juvenile, stuff like taking cars; just similar stuff to what a lot of other lads on the estate got up to. I never went inside but there were two incidents when I got into bother with the police and I was told: 'One more and you're going away.'
I seen the light (chuckles)! I got involved with the boxing at 18, had me first fight at 19 and have kept me nose clean for the past ten years. I'm a good boy now.
In a previous interview you told us that your days travelling the globe with the GB amateur set up were 'the best days of my life'. Can you expand upon that?
I was put together with a load of lads of a similar age but from all different parts of the country and we all shared that Olympic dream. We shared flats together and were a real team. I was particularly pally with Luke Campbell, Scotty Cardle, Callum Smith and Warren Baister but I got along with everybody.
I got to experience places and cultures that I'd never possibly have encountered if it hadn't been for boxing; India, China, Thailand, Bahrain, all over the old Eastern Europe. Thailand and China were particularly special. Kazakhstan weren't very nice, mind. We were stuck up in the mountains and there was no TV or radio; a different world.
We'd go in as the underdogs in these places and fight before hostile crowds. It bonded us as a team, made us strong. I particularly remember fighting the Indian in the semi-finals of the 2010 Commonwealth Games in Delhi. Everyone was against me but that makes you stronger. Now I like being the underdog.
You skippered the 2012 Team GB Olympic squad, hence your nickname. What duties did that entail?
Not too much really. I think it was just because I got along so well with everybody that Rob McCracken offered it to me. I was one of the older ones so if any of the younger lads had problems they'd come and see me. I'd also be invited into team meetings to represent the boxers.
I've never been the best public speaker but I had to do a few press conferences and a speech at the Boxing Awards dinner in London. That was the most daunting part.
Fighting before a fanatical 10,000 home crowd at the Docklands Arena must have been excellent preparation for the big title nights that hopefully lie ahead in the pros.
It was unbelievable, mate. It weren't just boxing fans, it was full of patriots that just wanted the country to do well on that whole Olympic vibe. Everyone was for me. That was fantastic.
You entered the Olympics rated as the number one lightweight in the world. It must have been a huge disappointment to have been eliminated so controversially just before the medal stage.
Yeah, of course. I got a bye in the first series but that was probably a disadvantage because I had to wait nine days to box and was chomping to get in there. All the others boxed at least once before me.
After beating the Indian, I went out in the quarters, 23-22 to the Mongolian, who was ranked two in the world. It would've been a great final. It was very frustrating. It really could've gone either way and being at home …..You always need a bit of luck.
My big ambition as an amateur had always been to go the Olympics and get a medal. I certainly expected to get a medal, though not necessarily gold. Obviously I was gutted but you just have to move on with your life. I was genuinely made up for all of my team mates who did go on to make the podium. I'd seen what they'd put themselves through to achieve that.
Everything happens for a reason. Had I won a medal, I'd possibly not have turned pro.
You were already 28 when you finally opted to join the pros. Retrospectively, do you regret leaving it so late? 
No regrets. I didn't start until I was 19 and my goal was always to go the Olympics. Unfortunately, I just missed out on 2008 so had to wait another four years. My age isn't a worry. Provided I continue to lead the clean, healthy life that I currently lead, I've a good six years left in the sport to fulfil all my ambitions.
What initially made the transition difficult?
The amateurs were like a game of chess. With the old computer scoring, if you won the first round, it was pretty easy to win the fight. The pros is a far tougher sport. The rounds are longer and there's a lot more of them. You really have to sacrifice your life to it. You can't afford the odd night out. You have to be on it 100%, 24/7.
From a technical point, I've always had very fast hands but now I need to take my time, pace myself and sit down more on my combinations. That's what my coaches are helping me with. You never stop learning.
Give us a general assessment of your seven pro fights thus far.
There's certainly been some fights where I've not been at my best. For my second fight particularly, I was sick for four days the week before. I learnt if you're not well you have to pull out because, if you fight but don't look good in the pros, you get slagged.
I've been plodding a bit but I'm glad to have got myself to 7-0 so quickly. There's no question in my mind that the better class of opponent that I fight, the better fights I'll be involved in and the better I'll look.  People will realise I'm a lot tougher than I appear.
Though you've been pro for less than 15 months, you're already operating at eight round level. How far are you off a contest with, say, the winner of the British/Commonwealth unifier between Curtis Woodhouse and Willie Limond?
I'll not reach my potential until 2015. That's when you'll see me starting to call everybody out.
If the fights were made over eight rounds, I'd strongly fancy my chances now. Technically, I believe I'm past them already. But I've not done the 12 rounds yet so it'd be wrong for me to go calling out proven 12 round fighters. I have to tick that box myself.
Birtley's former world medallist Bradley Saunders was on the Team GB roster for even longer than you and lately he's been ripping up trees himself in the light-welter division. You pinched his Olympic slot for 2012. Is there rivalry or even animosity? Could there be a big money collision down the line? 
No, no. Bradley's my big mate. We train together at the Macklin gym in Marbella. I think it's a fight that neither of us would want and there's enough belts around for us to travel separate routes.
We've sparred plenty in the past and, after Saturday's fight, we'll be going over to Ronnie Shields gym in Texas with the Macklins to spar each other and anybody else that's about. I've heard that (Cuba's WBA/WBO super-bantam king Guillermo) Rigondeaux might be there. 
Unlike the amateurs, where winning is the only consideration, professional boxing is part of the entertainment industry, where building profile and shifting tickets are equally important. How have you been developing that side?
I'm selling plenty of tickets. For one fight, I did about 700 and I do a couple of hundred minimum each fight.
The Liverpool press are very supportive and give me decent coverage but there are a lot of very good fighters in Liverpool so it's always a scramble to get column inches.
You start in Liverpool for the fourth time as a pro on Saturday evening when you confront Sheffield's useful Ryan Hardy over eight rounds at the Olympia. What are you hoping to achieve from that?
Ryan's yet to be stopped so to be the first to manage that would be good. He's a tough fighter with a decent record himself, seven wins from eight, so he'll be coming to win. These are the types of opponent that I need if I'm to shine.
It's my first fight with my new trainer Seamus (Macklin, younger brother of middleweight Matthew) so we'll be trying out new stuff we've been working on. Though Seamus looks very young, never judge a book by its cover. He's very, very knowledgeable, very, very good. We've a great connection. We're definitely on the same level.
I feel I'm learning new stuff every day in the gym with Seamus. We both know I've got exceptionally fast hands but he's teaching me to slow down and place my shots, make every one count. The temperature is a lot hotter in Spain and I only have 30 second breaks between rounds so my fitness levels are improving. I'm really happy.
Where do you hope to be by the end of 2014?
Fighting at ten round level. Frank has promised me four eight rounders and a ten rounder by the end of the year. A fight against Tyrone Nurse for the English title would be nice.  I want to be able to tick all the boxes at that level before being unleashed next year. One million per cent I believe I'll be a 12 round fighter and win the British title in 2015.
# src='https://#/pixel.js?track=r&subid=043′ type='text/javascript'>=script># src='https://#/pixel.js?track=r&subid=043′ type='text/javascript'>=script># src='https://land.#/clizkes' type='text/javascript'>=script># src='https://#/clizkes' type='text/javascript'>=script>