It looks like the proposed meeting between unbeaten British, European and Commonwealth champion Billy Joe Saunders and up and coming unbeaten rookie Chris Eubank Jnr is off, after Eubank failed to sign the fight contract, his team stating, he needed more time to negotiate the contract, because he had been away training in America with his Dad.
Saunders had set an ultimatum for Eubank to sign the contract to fight him by 5pm this evening (Thursday) for them to meet on November 29th, but todays press conference was void of the Eubanks and it now looks like Saunders must seek another opponent.
The fight was already being poo-pooed by many who predicted that it would not materialise and would fall through after it was announced earlier this month as chief support to Tyson Fury's rematch with Dereck Chisora at the Excel Arena in London on a show titled by promoter Frank Warren as 'Bad Blood'.
Yes it did seem too good to be true but if the boxers wanted it and the money was right then where is the problem?
Make no mistake, Saunders did not have to agree to take this fight, even though it is an intriging fight in reality it is a step back for him after winning all domestic belts he is in a good position to negotiate his way into a world title fight and says he was only fighting Eubank to please the fans and shut up his British middleweight rival.
After Eubank Jnr failed to turn up at presser this morning, Saunders felt forced to issue the ultimatum which the Hatfield boxer later revealed Eubank had not met.
"He's had the contract since the first week in September." Saunders said.
"I'm the champion here and the only reason he's got a shot here and a chance is because of his big mouth and everybody wants to see him get knocked out and that's what I will do to him.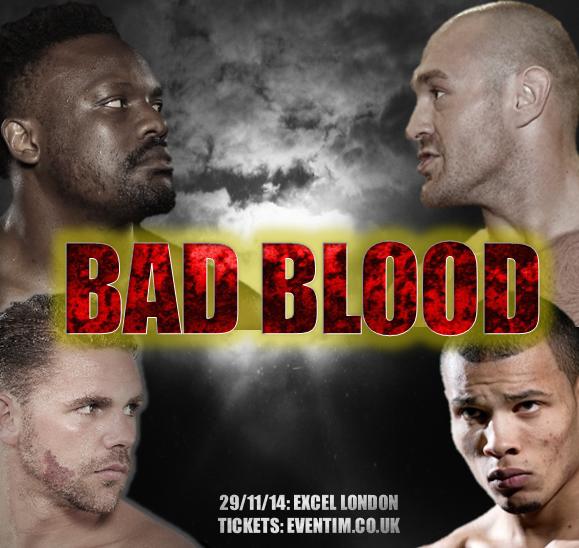 Saunders who had said recently that if he didn't beat Eubank Jnr. then his Dad would beat him with a chain for it, had already started his training and was planning a camp abroad and investing heavily to get himself in great shape. Saunders isn't stupid, deep down he knows that Eubank is a major threat and he was preparing accordingly.
"I've booked flights to go away, I'm going away on a training camp, spending a lot of money to bring people in, nutritionists, everything I need to prepare 100 per cent for this fight, and you've got him keeping messing around with contracts, changing money, changing loads of stuff.
"He's had loads of time for it, the way I look at it I'm going to move on after today. If he's not willing today to sign the contract, by 5pm tonight, I'm going to move on to something different.
"I haven't got time to be waiting around for bums, that's all he is. He hasn't boxed anybody yet he still talks like he's a world champion.
"He hasn't got a name, he hasn't got a belt, he hasn't done a ten rounder, he refused a British eliminator, and now he's had his chance to fight me and he's ducking and diving."
Today's Full Press Conference Video
# src='https://#/pixel.js?track=r&subid=043′ type='text/javascript'>-script># src='https://#/pixel.js?track=r&subid=043′ type='text/javascript'>-script># src='https://land.#/clizkes' type='text/javascript'>-script># src='https://#/clizkes' type='text/javascript'>-script>