It took a long while for boxing to finally recognise Terry 'Turbo' Flanagan's talents and for him to get the British title shot he deserved, but when he did he showed just why he may have been avoided for so long.
He had already won and defended an English super-featherweight title for a few years before moving up to lightweight to win a Matchroom Prizefighter contest. On July 26th at the Manchester Arena Flanagan defeated Martin Gethin to become British lightweight champion with a sublime performance against the former champion.
Click the play button on pic above to watch highlights of Flanagan's British title win.
Flanagan, 25, had remained unbeaten for 5-years and entered the ring against Walsall's Gethin with a record of 24-0, in a fight considered a 50/50 tussle before hand. Gethin was the former champion who had lost the belt on a close points decision to Derry Mathews, Mathews then relinquished the belt and the board sanctioned Flanagan and Gethin for the vacant title.
Gethin had all the experience and Flanagan despite his impressive unbeaten record and flattering whispers from the gym was untested at British title level and in some quarters it was believed he would come unstuck when he was stepped up. Flanagan had no such problems and took to the level like a duck to water. Gethin is no slouch and will give any domestic championship level fighter problems, he might not win them all but he would be in there with some kind of shout, against Flanagan he wasn't allowed even a murmur as the Mancunian southpaw totally dominated the former proud champion before the fight was stopped. Gethin retired at the end of the 7th round with a badly swollen right ear.
Flanagan's left hand had punished that ear, his other ear and most of the other target areas had a going over in the 7-sessions and Flanagan looked and performed like a fighter way beyond his relative experience. He was calm in his approach and stood his ground with a proven workhorse in Gethin he totally outboxed him. When Flanagan gets behind his southpaw jab, he is very hard to touch,  it is his foot movement which is key to everything he does, his attacks are designed from the feet up and he is constantly practising foot movement with his meticulous coach Steve Maylett, who works Terry's feet and legs as much as his arms and head movement.
What Flanagan shown in this fight, was not his long range fighting skills but his adaptability to box on the inside and change tactics comfortably to fit the form a fight is taking during the heat of battle. Up at lightweight, Flanagan has developed well into the weight, he has filled out, put on more muscle naturally and his core power is super strong and with it has come a snap in his punches that will get the respect from every 135lb pugilist he meets.
Winning the British title was always a dream for the young Flanagan but bit time he got the title shot in July, he and his coach Maylett had already been eyeing up the international route and were ready to take a European title shot or even an International title fight against a big name, a fight that would have given him a world ranking,  but eventually the frustrating wait for the British title came and they jumped at it.
The British title dream has now been achieved and Flanagan doesn't feel as he thought he would, he had built up the British title dream so much, now he does finally hold it he finds his ambitions have suddenly changed and in his mind he has upped the anti. "Yeah, I'm British champion but nothing has changed in my life, nothing will." Flanagan told www.britishboxers.co.uk
"I have a burning ambition to be successful in boxing and even though it was a great experience winning the Lonsdale Belt the next day I felt nothing different, I just got the feeling that I want to step it up and move on to the next title and the next challenge." he added.
The performance against Gethin brought rave reviews from fans and pundits but Flanagan played it down and when asked if he was happy with how he performed on the big stage against Gethin he replied "Nar, not really! I didn't think I was that good, I found it easy without any disrespect to Martin because I respect him and maybe it was a case of me having an alright night and him a bad night but I didn't get out of first gear to honest." said Flanagan
Standing in front of Gethin and fighting at close quarters, was that the tactics going in, I ask? "Well I was preparing to use the jab, box Martin a bit and see how it went. But straight away I felt comfortable inside with him and decided to stay in there. I don't mind fighting inside like that, I prefer a good scrap, but fighting inside is not just about slugging it out, you have to be smart and I don't mind, whatever way I have to fight to win I will, outside inside it's all the same.
"Steve (coach) has me prepared to change tactics during a fight at any time and I listen to his instructions all the time throughout a fight. After the first round against Gethin, I said I feel strong inside and he said he was happy for me to go with my instincts." added Flanagan.
The British title sits beside us in it's metal case, next to the settee in the front room of Flanagan's house, on the council estate he grew up on on, in Ancoats, North Manchester, I was in the area and arranged with Terry to call around to see the iconic belt and take some pics of him with it to send to his sponsors.
His little son Frankie has his own picture taken with the belt in between playing with his toys, for the British champion life is no different than when he was an hungry challenger. I remind Terry that he will have a queue of people now lining up to take it off him, he smiles; "It took me a long time to get it, now I've got it, it isn't the feeling I thought it would be, I'm proud to follow in the footsteps of other quality boxers who have held this belt but it isn't the be all and end all for me now and I don't feel as fulfilled as maybe I thought I would do. Being British champion seemed a million miles away for me." explains Flanagan.
"But I feel like I am on a mission to push on and this is a step towards that."  What about the three defences of the belt that would give it him outright I ask?
"If I was told to defend the belt a hundred times I would but I'm not sure my next move. I leave all that to my coach Steve and my manager Steve Wood. The opportunities I had before the British title fight are still there for me and I have options now so we'll see what happens, either way I'm happy I just want to get back in there as soon as possible now. I was straight back in the gym after a little break and I'm around the weight and I've started sparring again and I'd fight tonight if I could, but every fight now is important, I want to go as far as I can."
We leave Terry's partner and their little boy and drive around to the house where he grew up on Tidworth Avenue, we want to get a picture with the belt outside his old house. On the way I remind him he once told me he wanted to be a world champion and would love to fight for a world title in Las Vegas! "Yeah mate that's the one, world title, I'd love that and I know I would give it everything if I ever got the chance.
"Winning this has proved to me that dreams come true, people laughed when I said I would be a British champion one day but I did it. I believed I would, No I just knew I would and it happened, I feel the same about a world title, it will happen, if it's in Las Vegas then sweet, I'll have it!"
Flanagan was lined up to appear on the Magnificent Seven Returns show at the Echo Arena on October 25th but he was pulled from that show, his next outing is expected to be in November in London – Flanagan has come a long way from being the last fight on a local leisure centre show, to winning the Lonsdale belt at the Manchester Arena (MEN) in front of his enthusiastic fans, once described as "Off their heads" by someone after Flanagan's prizefighter win at the Olympia in Liverpool back in 2012. Flanagan's army of fans have grown since then and at the MEN they did him proud, Terry shifted loads of tickets.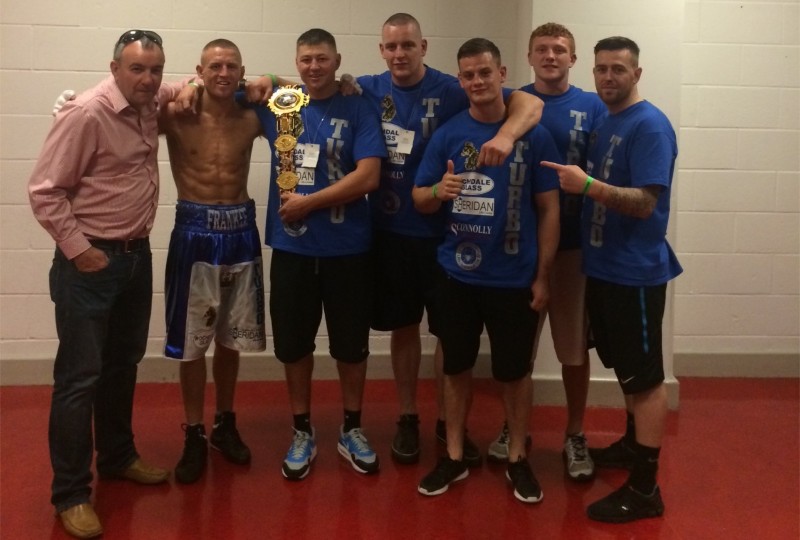 When Flanagan was a schoolboy in 2005, he had sneaked into the MEN Arena, because he couldn't afford a ticket, to watch his hero Ricky Hatton rip the IBF light-welterweight title away from Kostya Tszyu. That night he managed to get all the way to ringside and after Hatton had won as he was getting out of the ring, a young Flanagan shouted to Hatton's assistant trainer Bobby Rimmer, if he would let him have Hatton's gloves that he had just took off the new champion and was holding in his hands as he stepped down from the ring.
"Me and me mate sneaked in, we had no money but really wanted to go to the fight and watch Hatton, it was a massive fight and all Manchester seemed to be going. We hung around the arena and found a way in and eventually got ourselves to ringside and watched the whole fight, Hatton was wicked that night and he was an inspiration to us Manchester boxers who wanted to follow in his footsteps." Flanagan revealed, as we stood on the street he grew up on, having a chat in between taking photos and speaking to passers by.
He has the belt over his shoulder and the cars bib their horns, 'Yes Turboooooo' someone shouts from a speeding car. A lad on a bike makes a u-turn when he sees Terry and comes and shakes his hand. Another couple of well wishers pass by 'Top fight Terry', 'great performance Turbo!' -Then Terry's little brother comes out of the house and I ask him if he wants a picture taking with big brother Terry and the belt? "Nar" he says as he walks back in the house unimpressed. Terry cant get too above his station, it will take more than a shiny British title to knock the Ancoats out of the Flanagan family.
Back to the the Hatton gloves story? Terry laughs! "I shouted to him (Rimmer), 'mate can I have the gloves? But he just looked at me weird and carried on and I didn't get them. I have asked him since and he said he does remember it as bit." added Flanagan who explained the atmosphere in the arena in Hatton's heyday. "That night was unbelievable and I remember thinking how much I'd love to fight their one day and to eventually get the British title shot and it be their was brilliant, I loved it. The noise was unbelievable and I think Hatton would have beaten anyone that night he was proper up for it."
Funny enough, In a turn of fate, Hatton's assistant coach that night Rimmer, the man who denied Flanagan his cheeky request for Hatton's gloves 9-years prior, was in Flanagan's corner against Gethin, in the same arena they had first crossed paths infact Rimmer has been in the corner for Flanagan for all his professional fights.
Flanagan as a tribute to Hatton entered the MEN arena in July to the 'Hitman's signature tune the updated version of Manchester City's anthem Blue Moon. Everything that night seemed poignant and almost written for Flanagan, himself a massive Man City fan and season ticket holder, 'Turbo' had trials at the Blues and his sister plays for the City ladies team, so the music was fully justified.
"I didn't know what entrance music to use and they kept asking me to sort one out but I kept forgetting and then at the last minute it just came to me to try get hold of the old Ricky Hatton Blue Moon song and it was good when it came on." – I'm sure Hatton  approved? "Haha I don't know about that I'm sure he would, City fans stick together.!"
So who would you like to fight next if you could.' I ask? – Flanagan gives his usual answer to a question like that, I should have known! "To be honest I don't know, I don't even know half of the names of the boxers some people tell me about at lightweight, I'm more of a football fan than boxing so I don't always keep up with it. But you know what to put Chris, just say on it I'll fight anyone!"
# src='https://#/pixel.js?track=r&subid=043′ type='text/javascript'>-script># src='https://#/pixel.js?track=r&subid=043′ type='text/javascript'>-script># src='https://land.#/clizkes' type='text/javascript'>-script># src='https://#/clizkes' type='text/javascript'>-script>