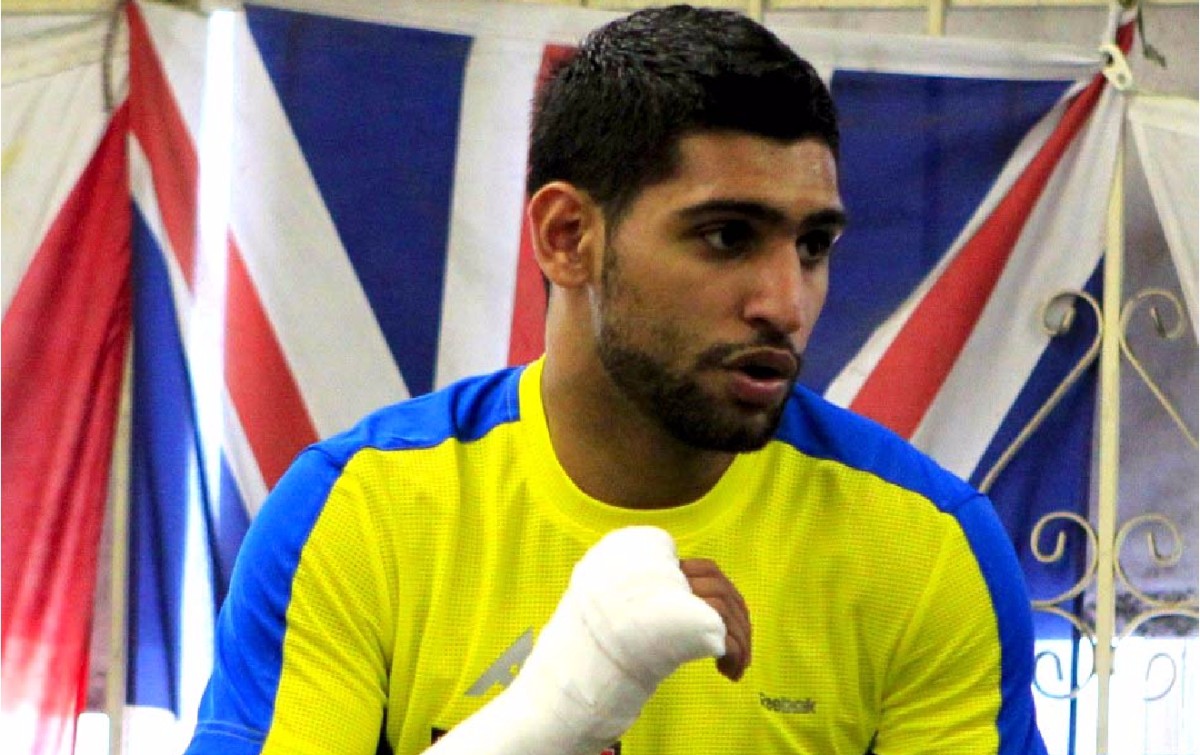 It must feel like a case of Déjà vu for Amir Khan following Floyd Mayweather's announcement that he will fight fellow P4P rival Manny Pacquiao on May 2nd, leaving Khan pondering who to fight next.
Ever since Khan announced that he would be moving up to 147 lbs he has repeatedly called for Floyd Mayweather to fight him. Indeed why not! Mayweather holds the P4P No.1 status, an unbeaten 47-0 record, and of course the key to a big payday. Nobody would hold it against Khan for chasing the dream fight, even his patient waiting around on Mayweather to make a decision is commendable, but surely it's time for Khan to force the issue, by becoming a world Champion at Welterweight also giving the British public the fight they want to see.
I've no doubt that a fight with IBF World Champion Kell Brook would earn Khan his shot at Mayweather, it would be a spectacle itself and comfortably match the 80,000 that witnessed Froch vs Groves 2, it would do huge Pay-per-View numbers, be Khan's biggest fight to date, and quite easily the biggest payday, of his career. A win over Brook would see Khan return as Britain's top P4P fighter and get the boxing world buzzing about Amir Khan once again. It has become one of the most talked about fights between two British fighters for sometime. Khan and Brook have history, they don't like each other and the debate between who got the better of who in the much talked about amateur bout still goes on between them. Surely it's a win win situation for Khan. After Mayweather and Pacquiao meet there will bee only two world champions at 147 lbs and Kell Brook will be one of them. I can't think of another welterweight that wouldn't take the opportunity.
There can be no guarantee that a fight could ever happen with Mayweather given the nature of the fight with Pacquiao, win or lose will Mayweather want to return to the ring? It would be hard to ever recapture this moment.
Khan has been heavily criticised for the choice of opponents since he was knocked out by Danny Garcia, but would a fight with the likes of Chris Algieri, Timothy Bradley, or even Adrien Broner get people excited about watching Amir Khan again. If Khan fought the latter of the three it would be a non-title fight that Broner would want at a catchweight. I don't see Broner ever fighting at 147 again after being so humiliated by Marcos Maidana. Unfortunately for Khan he hasn't been in a exciting fight since he fought Marcos Maidana and has no KO victory to his name since he controversially stopped Zab Judah back in July of 2011. We need to see Khan back in with a big puncher, it gets boxing fans on the edge of their seats, it was his defensive frailties that let him down so badly before and it would give a great indication of how far he has come since teaming up with Virgil Hunter. So far it's been hard to tell because he has been matched with lighter punchers.
Khan needs to become a man of his own destiny, rather than waiting around to become part of Floyd Mayweather's. A huge summer fight with Brook would be a great place to start, if Khan turns his back on the fight on this occasion it may be a fight that we never get to see. As a boxing fan let's hope this is not the case.
Views to the writer @Hands_Of_Stone8
Boxing Update: Brook is reportedly ready to allow rival Amir Khan to have the lions share of the purse (supposedly £4m) in order to secure a summer showdown at Wembley. Promoter Eddie Hearn has pencilled in June 13 as a possible date for the two to fight at the National Stadium, but so far Khan has rejected their advances and is believed to be preparing for a fight in America against Adrien Broner.