Friday night's "Summer Eclipse" offering proved to be a somewhat bitter sweet occasion, with a premature finale to an otherwise entertaining night of professional boxing at the Middleton Arena in Manchester on Friday night (July 31st). The show was filmed live and exclusive on BBTV LIVE. (Fight Videos below)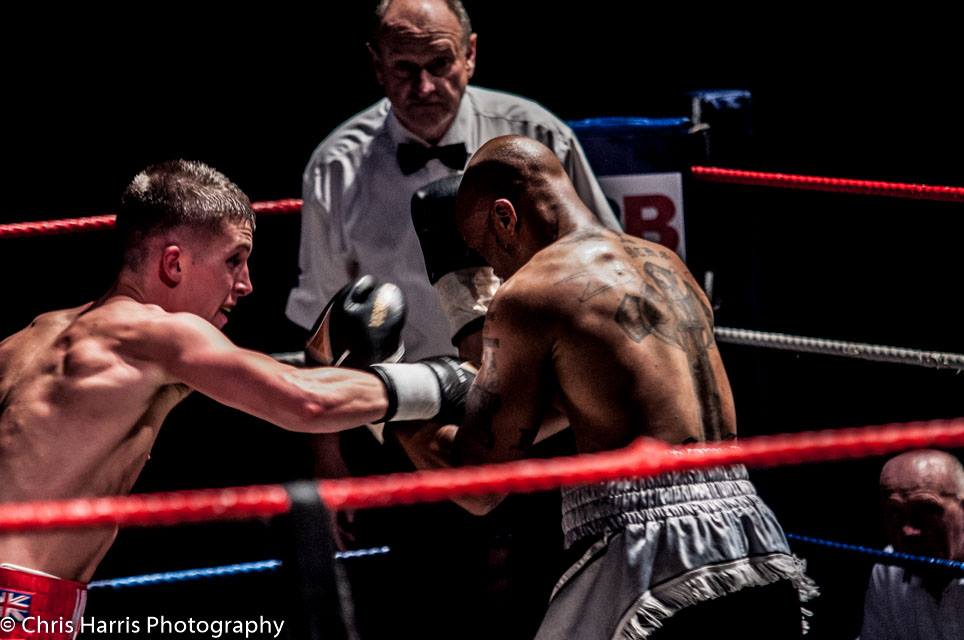 The curtain raiser featured Middleton's Alex Rutter in a four round Lightweight contest against Andrew "Thunder" Harris.
Rutter asserted himself from the first round, employing a spearing jab and trying to box to his strengths, using his greater height to keep Harris on the end of it.
Harris, though ultimately defeated, had flashes of success when trying to pressure Rutter, pushing hum back to the ropes on a couple of occasions to unleash a concentrated body attack – a tactic which I felt won him the third session.
Referee John Latham was in agreement of Rutter's solid showing, scoring the fight 40-37 to the home town man.
Next up came the first of the Collyhurst and Moston stable, the popular Moston stylist Michael Gomez Jr. He featured in a Super –featherweight contest against Stockport's deceptively capable operator, Jamie Quinn.
Quinn presented a stubborn target throughout proceedings, not allowing Gomez to settle into a dominant rhythm. Gomez looked almost pensive and thoughtful about his work, setting his feet and not reverting to the "Manchester Mexican" style he can be known for. This allowed Quinn the opportunity to force the pace, exchanging comfortably with Gomez when tagged.
The jab could have been employed more at times by Gomez, though when it was adopted it gave success, with Gomez able to work the body with meaty looking hooks from the set up jab and longer shots.
Overall, the contest was in keeping with the action packed night, and the exclamation point came with referee Phil Edwards scoring 39-38 for Gomez Jr to the delight of his vociferous support.
Blaze Mendouo returned to the ring for his second fight against seasoned Moses Matovu at Cruiserweight in a four rounder.
Mendouo looked a different fighter to the man on his debut in May. Blaise came out as his name suggested, landing heavy hooks to the side of the head of Matovu, who though initially looking fearful of "The lion's" thumping power, stood firm in the face of a sustained bombardment from first bell to last
Despite a lack of combination punching from Mendouo at times, the progression from his debut was considerable and Blaise is certainly a man to watch in future Black Flash promotions outings as he scored a shutout 40-36 win.
In what was to be the ultimate contest, Sean Ben Mulligan engaged in a scheduled four round thriller with Bedfordshire brawler Duane Grimes in a light welterweight fight, with Mulligan winning by TKO in the third stanza.
The effervescent Grimes marched forward in characteristic style, catching an at times static Mulligan with right hands to the head in fast motion, forcing the Prestwich man to fight fire with fire at times throughout the fight.
Mulligan neglected a smooth boxing approach in favour of winging away with his own right hands, sometimes missing considerably, but leaving nothing to curiosity in terms of his intentions of a knockout win as stated before the show.
Mulligan's gung ho outlook paid off in the third, with a volley of punches landing swiftly to the head of Grimes, convincing referee Phil Edwards to stop the contest at 1.50 of the third round, to the absolute delight of every person in the arena, every person on their feet and showing their appreciation for the popular Mulligan and the exciting fight and turn around they had just witnessed from the home boy.
But then in a worrying twist to the elation of victory, Mulligan began to complain to his corner of feeling unwell and asked coach Pat Barrett to get the corner stool out. He managed to stand through a post fight interview in the ring, but as he stepped from it afterwards on unsteady legs, it was obvious all wasn't well and he immediately sat down on a ringside seat. There was a look of pain on Mulligan's face as he grimaced with stomach cramps and was blinking and doctors and paramedics were called to check on the winning boxers condition.
He was taken outside for some air and fitted with an oxygen mask by the on site anaesthetist, who after checking the boxer over and learning of his sickness and blurred vision, made the decision to rush Mulligan to the Salford Royal hospital for a CT scan to check for bruising or bleeding to the brain, normal procedure in these extreme circumstances. Thankfully, Mulligan received a clean bill of health from the hospital brain scan, but it was confirmed he suffering severe dehydration, a perforated ear drum (hence the loss of balance and blurred vision) and his urine sample came back with signs of a viral infection. All in all and under the circumstances a positive result and one that everyone was holding their breath on.
[sam id="1″ codes="true"]
It is a wonder given the hospital's diagnoses that Mulligan managed to get through the fight at all, he later told BBTV, "Every punch was hurting me even his elbows inside were hurting my body and I had no energy.
"Even in the dressing room on the pads before the fight there was just nothing there, I felt weak and tired, I just don't know what was wrong with me, but I just wanted to fight so much and I was going to get in there no matter what and find a way to win and that is what I did, I had to dig deep."
Mulligan was released from the hospital the next day and is now back home recuperating. He will take some time to rest and get well and will be making an appointment with the ear specialist next week to check on the severity of the injury. A family holiday is booked and when he gets back he hopes to get back in the gym and resume his promising professional career and hopes to fight again before the end of the year.
As a result of this state of affairs, the scheduled six rounder between Zelfa Barrett and Yousseff Al Hamidi was subsequently called off, with no ambulance and staff available to attend to the fighters should the need have arisen again. Zelfa should be back in action before the end of the year in the presence of his faithful fans. There is talk of a place on a big arena card coming up before the end of the year and also a main event fight on another Black Flash Promotion show in November.
After the show was called off an absolute devastated Barrett managed to keep himself together in a professional manner and consoled himself in the mind set that everything happens for a reason and his only thought at that moment was his friend and gym mate Mulligan, who was in an ambulance on his way to hospital.
"Ben is my friend and his health was my first concern when I heard." said Barrett, when reflecting on the evening's events the next day.
"Obviously I was absolutely screwing that I couldn't fight, I was topping the bill and I had sold tickets to friends and family, so I was just devastated all round and to be honest I haven't slept since worrying.
"To be fare most of my family and friends have been supportive and have been calling asking about Ben and hoping I was ok. I have been stunned by the support and people who know me and my uncle Pat and Chris, know that what Black Flash are doing is helping young boxers in the area and putting these shows on to give us an opportunity when nobody else was willing to and it is a shame that something so good would have to suffer from a situation out of anyone's control. I can understand the ones who have asked for a refund and I have offered to pay them out of my own money."
FIGHT VIDEOS
ALEX RUTTER VS ANDY HARRIS
BLAZE MENDOUO VS MOSES MATOVU
[sam id="1″ codes="true"]
MICHAEL GOMEZ JR VS JAMIE QUINN
SEAN BEN MULLIGAN VS DUANE GRIMES
[sam id="1″ codes="true"]