Northwest based Black Flash Promotion's and VIP Promotions have teamed up to bring the fans an old school style boxing show at the brand new Oldham Leisure Centre, on July 2nd, which will feature some of the most highly regarded prospects in the UK.
Topping the bill is Middleton's 'Mighty' Matty Ryan, (10-1, 1KO) who fights for an International Challenge belt, taking part in his first 8-rounder. Ryan, 25, who is trained by Black Flash promoter and trainer Pat Barrett and a product of the famous Collyhurst and Moston Boxing Club and is joined on the bill by gym mate Zelfa 'Brown Flash' Barrett (10-0, 4 KOs)."I'm really excited about this next fight and can't wait to step up and start competing at an higher level now." said Ryan.
"Pat promised me he would get me fights and and keep me busy and that is what he has done. I love fighting on Black Flash Promotion shows and it's great that Steve Wood and VIP Promotions are working with Black Flash to bring this show. It is going to be a top bill and I'm really privileged to be given this opportunity to top it.
"I know the Challenge belt isn't the Lonsdale belt or anything like that, but it is my first time fighting for something and it is a step in the right direction and my fans are buzzing and looking forward to it as much as me, I just can't wait.
"Me and Zelfa train together everyday and have done now for years, we have fought on the same cards and it has been amazing to see his progress, he really is a fighter to watch out for. He is my friend and I know I'm biased but I predict he will go on to great things in the fight game. That's what we all want and under Pat as a trainer and a promoter. I think Zelfa, myself and all the lads coming through can eventually go on to bigger and better things."Barrett, 22, has been storming his way up the super-featherweight rankings and is rated as one of the best young prospects in British boxing. Nephew of former British and European champion Pat, Zelfa has already appeared on Sky Sports and recently on Box Nation after signing a five fight deal with promoter Frank Warren.
Barrett made his name like Ryan, on the Black Flash shows in Manchester and will continue to fight on them, in-between appearing on Warren shows. – "I can't thank Black Flash Promotion's enough for what they have done for me. I've had regular fights with them since turning pro and I've also been on my manager Steve Wood's VIP shows, so for them to be doing a show together on July 2nd it is a great thing and can only be good for the Manchester boxing.
"I'm getting better all the time, I'm improving and I can't wait for this show to come around, I just want to thank all the fans who have bought tickets already.
"I can't believe how much people are getting behind me and wanting to come and watch me. People who I don't even know are coming to the gym or stopping me asking for tickets. I am humbled by it to be honest and I promise all the fans I will not let them down, I will be a world champion one day with their support and my conviction, we can't lose."
The Oldham undercard will feature a host of other rising stars from the Northwest and promising to be a great night of boxing.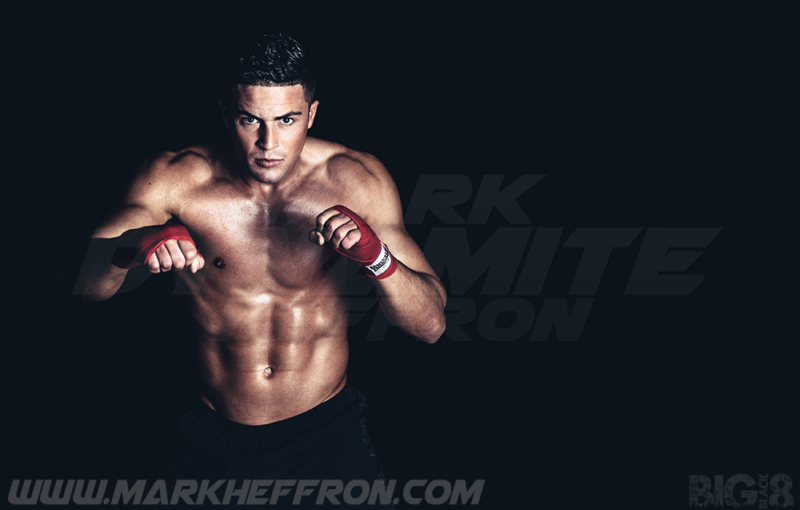 Local unbeaten Oldham favourite Mark Heffron (11-0, 9KOs) will box on the show as he looks to extend his unbeaten record and push for a domestic title shot. Ranked in the British super-middleweight top 10 The 24-year-old Heffron is one of the biggest punching prospects on the scene and will hope 2016 is the year he kick starts his promising career and fulfils his obvious potential.
Another two Collyhurst and Moston boxers also fight on the card; unbeaten super-welterweight Chris 'Fat Boy' Monaghan (4-0) goes up against Middleton's Darryl 'Razor' Sharp (2-6) who is trained by former fighter Kieran Farrell. Plus, Manchester based former Cameroon Olympian and Commonwealth games bronze medalist Blaze 'The Lion' Mendouo (3-0) is also back in action at cruiserweight.
Stephen Maylett trained prospects Callum Death (9-1, 1KO) and Dale Coyne (5-0, 1KO) from the Finest Gym in Ancoats, make the short trip up Oldham Road to the Arena and will be looking to impress as they build their propitious careers.
After three years out of the ring former Mancunian Super-welterweight favourite Lyndon Newman (5-3-1, 1KO) steps back in the the squared circle, hoping to revive his career and get back to winning ways.
Also on the bill, in his second pro fight will be former two time national amateur champion Mark Jeffers (1-0) This popular boxer from Chorley in Lancashire almost brought all of his village with him when he made his debut in May in Wigan and the fanbase for a new pro is testament to this young man's talent and promise.
Jeffers, 18, who was born in Northern Ireland and moved to Lancashire as a baby, is trained by former British and WBU world champion Michael Jennings and tipped to make big waves in the middleweight division in the next few years.Another boxer making his debut on the bill is Mindaugas Baublys – Originally from Lithuania, Baublys is a product of respected Manchester based South Africa coach Sean Krool.
Other updates to the bill will be added in due course – Don't miss this fantastic night of boxing!
Tickets for the show are priced £35 standard and £60 VIP ringside or they are available from the boxers on the bill or at @blackflashpromo or @vipboxing
TICKETS CAN ALSO BE PURCHASED ONLINE HERE
Tickets can also be ordered and collected from the Collyhurst and Moston boxing club between 12pm-2pm Monday-Friday or call 0161 376 7848.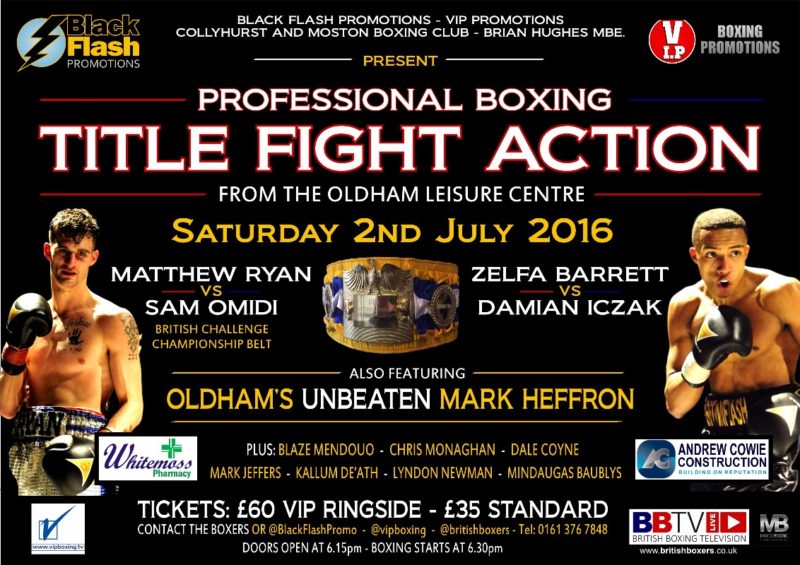 [sam id="1″ codes="true"]