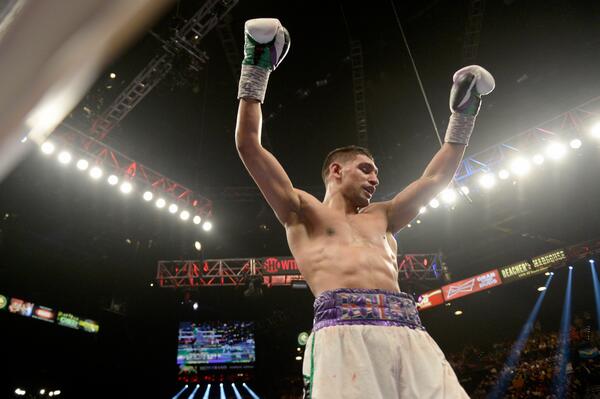 Its official, the Russian, Ruslan Provodnikov has confirmed his team are in negotiations with a possible showdown with Amir Khan in November which would take place in America.
After Khans last victory over Chris Algeri the Brit has yet to decide on his next opponent after missing out on Floyd Mayweather, who "hung up" his gloves at the weekend after defeating Andre Berto to secure a record-equalling 49th straight win next to Rocky Marciano.
The former WBA and IBF light-welterweight champion has not fought since May where he dispatched his opponent on a points decision which some saw as a tough affair.
Provodnikov's promoters, Showtime, said last week they had approached Khan over a New York showdown in the autumn and the Russian has now confirmed talks have taken place.
Provodnikov has been quoted as saying "My team is taking care of the negotiations, I'm not really sure what's going on at the moment,"
"I already came here for training camp a few days ago and I'm ready to fight anyone; whether it's him or somebody else I'm ready to fight.
"My team has to make it happen and then I'm ready.
"I would be ready to fight him in Dubai or here, my team knows the details, but the fight is supposed to be in America.
"If nothing else comes up it's the fight we want because Brandon Rios didn't want the fight. We were trying to get (Jesse) Vargas but we don't know if he wants the fight, obviously (Timothy) Bradley doesn't want the fight because he says that out loud, he says 'I'm not going to fight Ruslan'.
"But right now, with what's in the news Amir Khan doesn't want to fight him either."
However, the former WBO light-welterweight champion Provodnikov, who has 24 wins and four defeats under his belt since turning pro eleven years ago in 2004, remains hopeful of securing an autumn showdown with Khan who has also been linked with a fight in Dubai with "Sugar" Shane Mosely.
"He's been in some tough fights; he's fought some real great opposition so definitely a great fighter and definitely a fighter I would want to fight because I think it would be a great fight. So I'm hoping the fight happens.
"We were discussing for November."
If negotiations are successful the bout would headline a Showtime Championship Boxing card from the Barclays Center in Brooklyn, N.Y. which would see the event go head to head against Timothy Bradley vs. Brandon Rios on HBO the very same night.
Or Could it be Pacquiao?
Khan in an interview with Sky Sports News dismissed he would be fighting Provodnikov when he answered,  "No one has approached me about that fight, I don't know anything about it, [Manager] Al Haymon has not even mentioned that fight to me."
Khan now seems more intent on arranging a fight with former Wildcard gym mate Manny Pacquiao and has been in negotiations to try and make it happen in early 2016.
"So I think the (Provodnikov) fight is just a rumour to be honest with you, but the Manny Pacquiao fight seems more likely to happen.
"We are working on that fight, we are speaking to [Pacquiao's promoter] Bob Arum and his team and I think if that is going to happen, it will happen early next year.
"It's a good fight for me. We know each other quite well, we've done up to 100 rounds of sparring. I used to train with Freddie Roach before so it makes a good story line as well.
"But I think it is a good time to catch Manny Pacquiao now, I think it would be a huge fight, I don't know where it's going to be yet but we are talking terms and negotiating if we can make the fight happen."
Who Should Khan Fight Next?