Anthony Joshua makes the first defence of his IBF heavyweight title against American challenger Dominic Breazeale at the O2 Arena on Saturday night.
Breazeale promises to be a decent test for the Brit and appears confident of dethroning the champ and taking the belt home, but Joshua believes he will break down his challenger and retain his title.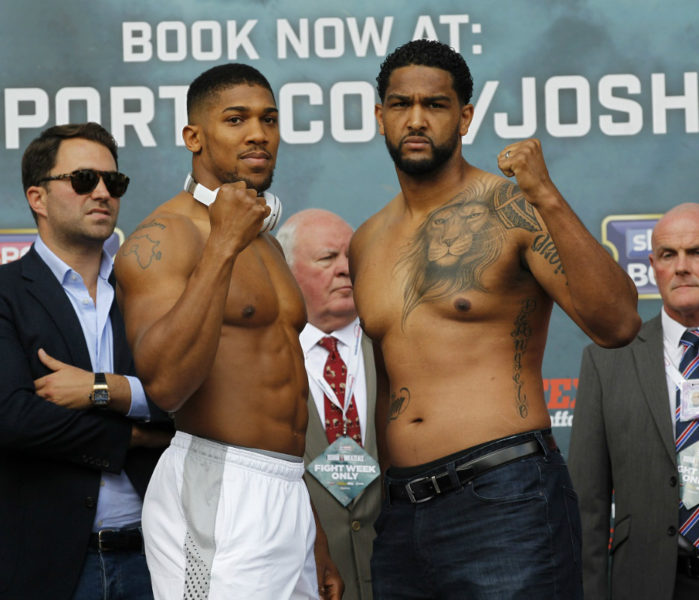 Both fighters weighed in today at Covent Garden London, in-front of a large assembled crowd. – Former American footballer Breazeale came in 11lbs heavier than the champion at 18st 3lbs. After the weigh-in Joshua spoke about the fight and the threat of Breazeale.
"Dominic Breazeale is an articulate man," said Joshua. "There's so much about the body we train for weeks to get in shape – but he's got a good mindset. I need to break him right down, defeat him mentally and the rest will fall.
"I've got 24 hours to make every second, minute and hour count so I've got to rest up. It's a brilliant turnout here and that's all positive energy. I've got to take that away and let it all out on Saturday night."
Joshua will concede height and weight against Breazeale is promising "explosive fireworks" from the start, and the American told SSNHQ he expects Joshua's army of fans to switch sides before the night is out.
"This is Anthony's hometown and I've got to expect that," Breazeale said after he was booed at the weigh-in. "The fans are going to have his back, but after Saturday night they're all going to be my fans and I'm looking forward to it.
"In the end I'm going to knock out Anthony Joshua. That's what I came here to do."
O2 Fight Running Order
5.15pm 6 x 3 mins Super-Welterweight Contest
TED CHEESEMAN (11st 1lb) v DANNY LITTLE (11st 1lb)
(Bermondsey)                              (Driffield)
5.50pm 8 x 3 mins Super-Flyweight Contest
KAL YAFAI (8st 4st 8lbs) v JOZSEF AJTAI (8st 4st)
(Birmingham)                         (Hungary)
6.25pm 6 x 3 mins Middleweight Contest
ANTHONY OGOGO (11st 8st 8lbs) v FRANE RADNIC (11st 9st 4lbs)
(Lowestoft)                                               (Croatia)
LIVE FLOAT 4 x 3 mins Middleweight Contest
FELIX CASH (11st 10lbs 8oz) v YAILTON NEVES (11st 8lbs)
(Wokingham)                                        (Manchester)
Live on Sky Sports Box Office from 7pm
12 x 3 mins Vacant WBC Silver Super-Lightweight Championship
JOHN WAYNE HIBBERT (9st 12lbs 12oz) v ANDREA SCARPA (9st 13lbs 6oz)
(Horndon-on-Hill)                                                         (Italy)
Followed by
8 x 3 mins Heavyweight Contest
DILLIAN WHYTE (18st 1lbs 4oz) v IVICA BACURIN (14st 13lbs 8oz)
(Brixton)                                                         (Croatia)
Followed by
4 x 3 mins Super-Lightweight Contest
CONOR BENN (10st 4lbs) v LUKAS RADIC (9st 12lbs 2oz)
(Alford)                                            (Czech Republic)
Followed by
12 x 3 mins British Middleweight Championship
CHRIS EUBANK JR (11st 5lb 13oz*) v TOM DORAN (11st 4lbs 4oz)
(Brighton)                                                            (Connahs Quay)
Followed by
12 x 3 mins WBA International Super-Middleweight Championship
GEORGE GROVES (11st 13lbs 8oz) v MARTIN MURRAY (11st 13lbs 12oz*)
(Hammersmith)                                               (St Helens)
Followed by
12 x 3 mins IBF World Heavyweight Championship
ANTHONY JOSHUA (17st 5lbs) v DOMINIC BREAZEALE (18st 3lbs)
(London)                                                      (USA)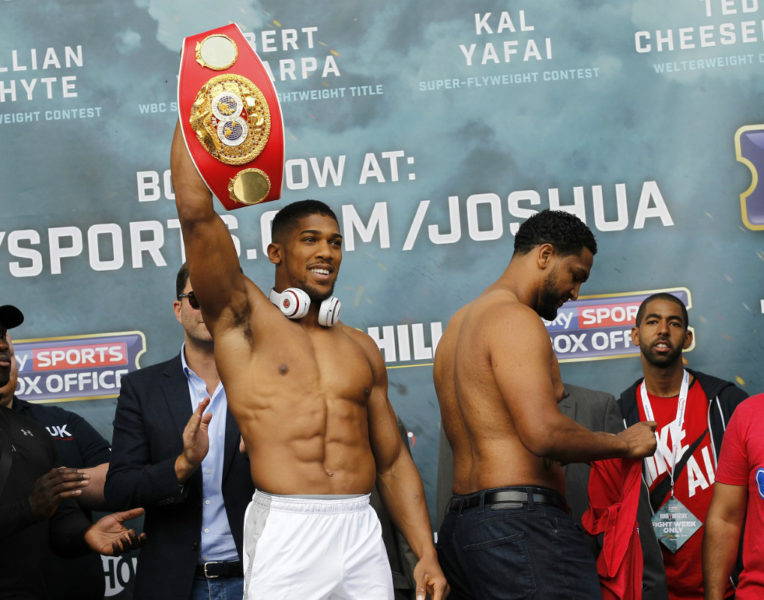 You can watch the full show live on SkySports Box Office on Saturday night
DEONTAY WILDER SAYS JOSHUA-BREAZEALE IS A 50-50 FIGHT
WBC champ believes American can bring the title home
Deontay Wilder says that Anthony Joshua's IBF World Heavyweight title clash with Dominic Breazeale is a 50-50 fight at The O2 in London on Saturday night (June 25) live on Sky Sports Box Office and on Showtime in the US. 
Wilder will be part of the Showtime team covering the fight from New York City and the WBC king will be on the edge of his seat as he cannot split champion or challenger as Joshua prepares to defend the World title he landed in April with a devastating second round KO win over Charles Martin. 
"I definitely see the fight as a 50-50," said Wilder. "You've got two big Heavyweights, and the challenger wants what the champion has, and the champion wants to keep what he has.
"It's going to be interesting because we've seen Breazeale in a lot of wars. He's almost been taken out by some of the smaller Heavyweights, he's been punched around, but he has always survived.
"We've seen Joshua has also been busted up as well, but he has kept his composure, and this fight is in his backyard amongst his people.  
"I don't put anything past Breazeale because he's coming in hustlers' territory. I think that it'll be a good fight because of Breazeale – I think he really wants it." 
Wilder makes the fourth defence of his WBC strap on July 16 against Chris Arreola in his hometown of Alabama, and the 30 year old says that Joshua will feel like a different fighter as he goes into his first fight as World champion – but that there's now an even bigger target on his back.
"Once you've got that belt, you feel like 'I'm the man'," said Wilder. "After the first fight, that's when you really feel confident. You really feel you're the man, you're the champ. You're the ruler once you've had your first defence.  
"For Joshua, this is his first title defence, so he should feel some kind of security about himself and confidence about himself. But he's going to find out that to continue his career and defend that title, these guys aren't going to lay down after one punch or after two punches.  
"They're going to keep taking punches, they're going to keep getting knocked down and they're going to keep getting up. This is for a World title. This can bring you out of poverty, you know what I mean? For that reason, these challengers are hungry. That's one of the things that I had to realise. 
"I put myself in their position. When I was a challenger, I was hungry and I already had the mentality that 'you're going to really have to kill me or hurt me bad to get me out of this ring.' So that's the mentality that these challengers have.  
"It's going to be interesting when you have a guy with a big heart that really, really wants it  and I think Breazeale really wants it. We're going to see where his heart is. I can't say what kind of heart he has, but we're going to see."
Breazeale is following compatriot Charles Martin into Joshua's Greenwich fortress, where the 2012 Olympic gold medalist is fighting for the seventh time in his pro career. Wilder has boxed outside of the US many times – including his one-round KO of Audley Harrison MBE in Sheffield – and he believes Breazeale's confidence must be sky-high to travel to Joshua's backyard.
"It takes a lot of courage, will and heart to fight in someone's backyard," said Wilder. "It takes someone that has confidence in themselves. And not to mention going to someone else's country, because then the environment has completely changed. It's a big difference and not a lot of guys are willing to travel outside of their country where they would be uncomfortable. 
"Only a very few that really want to build their legacy, such as myself, will travel and have no problem. I don't like to worry about judges or nothing. You go do what you have to do. That's just my philosophy and mentality as a champion now. When you say the Heavyweight Champion of the World, that's why this is tough, we travel all over the world."