Chris Eubank Jr defends his British middleweight title for the first time, against Tom Doran at The O2 on Saturday night and the champion insists he is not looking past the dangerous challenge of Doran, with the talk of a super fight with middleweight king Gennedy Glolovkin on the cards. But Welshman Doran, believes they have already overlooked him!
"I'm on the world stage on Saturday and I'm facing a guy in Tom that wants to cause an upset," said Eubank Jr.
"That's what people want to see, they want a competitive and exciting fight and that's what I hope we can deliver.
"I'm 100 per cent ready, it's fight time and I am really looking forward to it. It's a very good test, it's always tough when you fight someone that has yet to taste defeat as they have an aura about them so it will be interesting to see how Tom deals with being in the ring with a guy of my quality.
"Any fighter is tricky when they are fighting for a British title because they are going to put it all on the line to take that belt from me. I don't think he's on a level with me as far as ability though, but he will give it everything and that makes him so dangerous.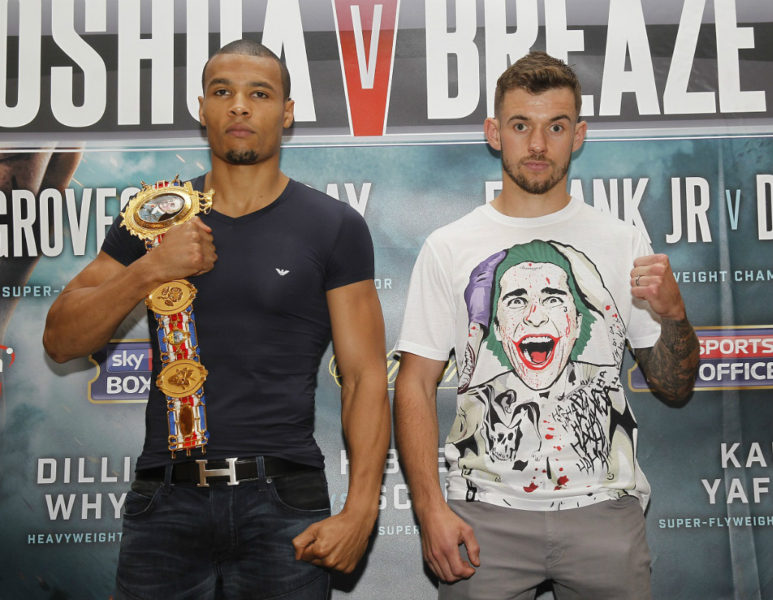 "It's one fight at a time of course, but when you know you are working towards a super fight, then that always plays a role in your mind and in your preparation. For me, it's a positive thing, it makes me train harder and focus more because I know that with every step I am moving closer to a World stage fight against any of the guys with a belt. That's what I dream of, to pursue these guys and take them out in devastating fashion.
"I'm not looking past Tom at all. I know he is a talented fighter and a dangerous guy, and anyone that faces me knows that they will elevate themselves to a whole new level by beating me. It's a huge opportunity for him and I cannot take anything for granted. Spike O'Sullivan and Nick Blackwell were brawlers so if he's a brawler, great, it should be an exciting fight. He showed he had heart, and he'll need that against me.
"Each statement I make gets me closer to the super fight, you cannot have flat performances and then come out and say you want Golovkin. It doesn't work like that. You have to stop these guys and put on World class performances to earn this shot."
[sam id="1″ codes="true"]
Doran accepted that Eubank Jr. respects the threat that he carries, but the unbeaten Connahs Quay man believed there is some disrespect from those around the Brighton star about the possible Golovkin fight – but that could play into his hands.
"I think Team Eubank are overlooking me," said Doran. They are already talking about Golovkin and then massive Super-Middleweight fights, but I expect that, I'm not surprised by it, its part and parcel of the sport.
"To be honest, I think it plays into my hands. I hope that he is overlooking me, because he's going to get a big shock on fight night. Chris is ranked number three in the world, so he's right to be putting himself in with those names but he's got me to deal with first, and I intend to grab that opportunity with both hands.
"Chris is taking me seriously and that's good to see because on Saturday he has a really serious opponent in front of him.
"Chris is a great fighter, you can't take that away from him, but I'll be working to a game plan and I am confident I can rip the title from him. His world ranking speaks for itself, but taking his scalp and getting into the world rankings myself is just another incentive in this fight, it's a great springboard for my career."
Eubank and Doran clash in a huge night of action at The O2 as Anthony Joshua MBE makes the first defence of his IBF World Heavyweight title against unbeaten American Dominic Breazeale.
George Groves and Martin Murray meet in an eliminator for the WBA World Super-Middleweight title, John Wayne Hibbert clashes with Andrea Scarpa for the vacant WBC Silver Super-Lightweight title, Brixton Heavyweight Dillian Whyte returns to the fray, unbeaten Super-Flyweight star Kal Yafai is in action, Olympic bronze medallist Anthony Ogogo continues his comeback from injury, Conor Benn fights for the third time in the paid ranks and there's a debut for Team GB star Felix Cash.At todays weigh-in
Eubank Jr had to skip off an ounce after initially missing the middleweight limit for tomorrow nights fight.
Eubank Jr was fractionally over the 160lb-limit even after removing a pair of 'Superman' gloves. Doran, meanwhile, was over a pound inside and the pair then went head to head.
Rather than remove his underwear, Eubank Jr decided to come back after some work to lose four ounces, weighing in the second time at 11st 5lb 13oz. 
"It's not even an ounce. It's a tiny bit over the top. They wanted me to take my underwear off but I didn't want to scare people out here. I'll go for a little skip for two or three minutes and I'll be fine." added Eubank Jr.