The mano a mano nature of boxing makes it one of the most exciting sports to wager on. And with the hype and money that the biggest mega-fights generate, it's easy to want to feel like you part of the action itself by placing a bet on what you think will happen.
Many boxing fans enjoy having a punt on the sport, putting their knowledge to the test. If you're looking for boxing betting tips then you should check out Team FA for the latest daily free tips and previews on boxing.
But some particularly-confident punters go above and beyond and place a wager that brings watching fights to a whole new level, And sometimes these bets are even made by the fighters themselves as you'll see below in our list of five of the biggest boxing bets of all-time.  
£5,000 on Curtis Woodhouse himself to become champion 
There's probably been many bigger boxing bets placed money-wise, however there hasn't been many with more panache. Curtis Woodhouse was an English footballer that decided to give boxing a go in 2006 despite having no real experience with the sport. That small fact aside, the "Drillfield Destroyer", as he would come to be known, allegedly placed £5,000 on himself to one day become a British boxing champion at 50:1 odds

Woodhouse, who himself estimated that he had been in over 100 street fights in his life, won 10 of his first 11 bouts and decided to focus on boxing full-time at the end of the 2008-09 football season. Three years later, he had won the English light welterweight title and (allegedly) £250,000 on his bet. "There is a rumour going around that I had a £5,000 bet on myself to win the British title at 50/1," he once said. "I can neither confirm nor deny these rumours but the drinks are on me."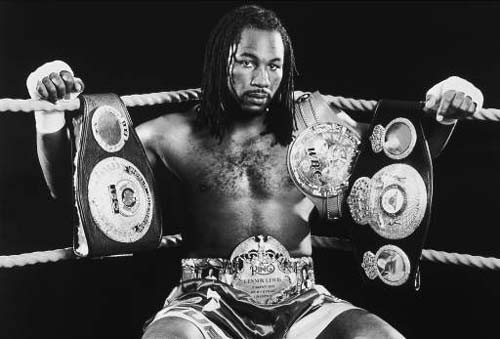 £24,000 on Tyson over Lewis 
Mike Tyson was in the midst of the craziest period of his crazy career when he was scheduled to take on Lennox Lewis in 2003. After the infamous second Tyson-Holyfield fight in which Iron Mike was DQ'd for taking a bite of his opponent's ear, he was temporarily banned from the sport before beginning a comeback by mowing down a number of lesser-known fighters. 
However, most experts agreed that the Mike of the early 90s was gone forever, and Britain's own Lennox Lewis opened as the favorite for the mega fight. Despite this, the line moved steadily in favor of Tyson (according to Ladbrokes), and a £24,000 from a single punter was placed at odds of 13:8. Unfortunately there is no happy ending for that bettor, as Tyson would of course go on to lose after being knocked down twice in the eighth round and refusing to get up.    
£50,000 on Carl Froch to beat Mikkel Kessler 
Kessler-Froch Source: Telegraph.co.uk
William Hill's reportedly biggest boxing bet ever taken was back in 2010 from a punter in Hastings of all places. At 11/10 odds, the unidentified man placed £50,000 on Carl Froch to defeat Mikkel Kessler (in their first meeting) for the WBC super-middleweight title.  The fight was an incredibly close one (so close that many considered a contender for Fight of the Year) and ultimately it was Kessler who was given the contest via unanimous decision. The scoring was considered to be controversial (no doubt especially in the eyes of our unnamed bettor) and Froch even remarked that the fight would have been awarded to him if it had been fought in England instead of Kessler's native Denmark.    
£150,000 on Mayweather over Pacquiao  
Mayweather vs. Pacquiao broke many PPV revenue and viewership records, and it can also lay claim to the largest single bet on a boxing match through bookmaker WIlliam Hill. That record belongs to an 80-something year old man from Northern Ireland who decided to drop a £150,000 wager on Mayweather at 1:2 odds, meaning a potential return of £250,000.That wager was part of an estimated £10 million turnover for the fight that night. And even though most of the viewing public was left disappointed by the largely-defensive strategy of Mayweather and the fight itself in general, there was undoubtedly at least one man in Northern Ireland that didn't mind one bit when Mayweather was given the fight by decision.  
Sports betting is always on the rise, especially with boxing. Knowing how to get involved is the hardest bit, but with so many resources online the newbies can find out how it works and the occasional better can improve their chances even more by reading online guides.  
$750,000 on Mayweather 
Perhaps the biggest wager in boxing history wasn't placed at a betshop window at all. Instead it was at the office of Top Rank, the boxing promotion company that has handled the likes Muhammad Ali, Oscar De La Hoya, Roberto Duran, Joe Frazier, and countless other legendary fighters over the years. Through the early 2000s, they were also managing the fights for a up-and-coming and undefeated fighter by the name of Floyd Mayweather Jr. 
Mayweather wasn't satisfied with the numbers his PPV fights were drawing, and as part of a greater vision he had for his own personal brand, handed Top Rank a check for $750,000 (about 25% of what he was making per fight at the time) to opt-out of his contract with them. Regardless of what you think about the guy, his business shrewdness paid off as he has grown into one of richest athletes in the world.
BBTV VIDEOS