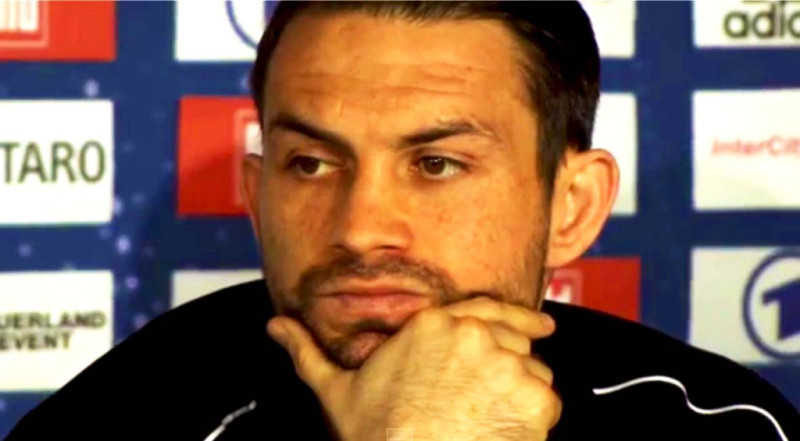 When Paul Smith steps in the ring in Kiel, Germany on Saturday night to take on WBO world super-middleweight champion Arthur Abraham, he would have been a professional fighter for 11 years 5 months and 21 days.
In that time he has been English champion, British champion twice and is the current holder of the title. He added the WBA International super-middleweight belt along the way and has lost just twice in the last 6-years.
Those defeats were to James DeGale and George Groves, our No2 and No3 domestic super-middleweights behind Carl Froch, Smith is No4. In a strange twist of fate Smith could infact become a world champion before Groves and DeGale.
Smith's professional record overall reads; 38 Fights, 35 Wins, 3 losses. That's a lot of fights and a good return. Prior to this he was a top amateur, ABA champion and England representative.
'The Real Gone Kid' has paid his dues in the fight game in and out of the ring. He is a credit to the sport of boxing and an ambassador you would have no problem sending in anywhere to represent British boxing.
What I am trying to say is Paul Smith deserves his shot at world title glory! There are many who believe he doesn't, most of them are British fight fans, who should probably be behind him and happy that one of our own has had some good luck shine on them.
The knockers who have questioned Smith's credibility to face two weight world champion Abraham must look at the overall picture, a boxer who has put so much into the game deserves a break. There are plenty of fighters who have secured world title opportunities who have given far less to the game than Smith.
When we look at the Scousers recent run of wins, since defeat to George Groves, there is Tommy Tolan, Tony Dodson (British title win) Jamie Ambler and David Sarabia. There was no official final eliminator fight there, but it happens that things have fell just right. Smith has been ranked high in the WBO ratings for a few years now and is just behind James DeGale, Julio Cesar Chavez Jr. Gilberto Ramirez and Robert Stieglitz. All the aforementioned names are otherwise engaged with other fights or other plans, which leaves Smith the next available option for Abraham.
Tale of the Tape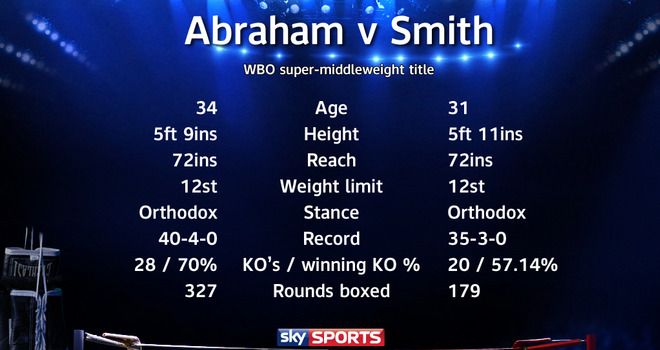 It has been a long road for Smith, bad injuries, illness, promotional, management and trainer changes over the years have set him back to the point he questioned his boxing career and at times contemplated quitting the sport he had loved with a passion since a young boy. The eldest of four brothers, Smith has guided and nurtured his siblings along with him and they are all now professional boxers and successful in their own right. Stephen, Liam and Callum look up to Paul and have took strength from his exploits.
Smith is a boxing wealth of knowledge and reason, he knows his sport and is fully aware of his place. He isn't kidding anyone or pulling the wool over anyone's eyes here. He pushed for this fight and knows he has secured himself a chance and opportunity that could easily have passed him by and he is determined to take it!
The 8,000 plus fans who have travelled to Germany to support the 31-year-old, just prove how popular a character Paul is. Included in that party will be his ever supporting brothers and ever present father Big Paul. Aswell as that, his friend and ring legend Ricky Hatton is making the weekend trip, plus other sporting pals in footballers Steven Gerrard and Wayne Rooney who are flying in to support their fellow Liverpudlian, they are big boxing fans too.
Paul's turn around in form and the new injection of life into his career can be attributed to his link up with coach Joe Gallagher, the Manchester trainer who also trains his brothers, plus a number of quality fighters including Scott Quigg and Anthony Crolla is a coach totally engrossed in his profession, his passion for boxing and the dedication to his fighters is just what Paul needed at the crossroads of his career four years ago. If Paul can overcome the wide odds that are predicted by the bookies, he will become the second world title belt holder from the Gallagher clan, behind Quigg who is the WBA super-bantamweight champion.
Winning the British title and a world title are the dreams most young British boxers strive to achieve when they turn professional and Paul was no different. He has achieved the first one and stands on the cusp of making his lifelong dreams come true. That little boy who amazed over the champions of the past in the Boxing News magazines and stayed up with his Dad and brothers to marvel at the world championship fights on the TV, he who worshipped the picture of Mike Tyson on the stairs at the family home in Liverpool, who used cushions for gloves and scarf's for ropes, is now a man and in the a position to live out them boyhood fantasies and reward that starry-eyed young boy with a world title of his very own.
It will not be an easy task for Smigga to dethrone the champion Abraham, it is never an easy task to take a world title from a man who has sweat blood and tears and endured severe mental and physical pain to get it in the first place, veteran Abraham has been in with some of the best fighters of his era, including Carl Froch, Andre Ward and Jermain Taylor and the Britain will have to reach a summit he has never had to before.
To get a points victory in Germany will be high on impossible if the fight is close after twelve rounds, Smith would have to win super-convincingly to snatch it that way. In that case we would have to hope that he can wear down the 34-year-old champion, who his team will hope is a little worn after a hard knock career.
Carl Froch has already whistle-blown the game plan to defeat Abraham, he outpointed him in Finland for the vacant WBC World super middleweight title in 2010, Smith and Gallagher would have been studying that tape closely.
Abraham at middleweight was a different proposition totally and is in-fact rather small for a super-middleweight, one man who can testify to Abraham's powers and prowess at middleweight is Birmingham's Wayne Elcock, who challenged Abraham for his IBF world title in December 2007 in Basel, Switzerland. I recently caught up with Wayne and we spoke about his experience with Abraham and his thoughts on Smith's chances against the German based Armenian almost 7 years to the day he faced him.
"Fighting Abraham was an unforgettable, fantastic experience for me." Elcock told www.britishboxers.co.uk
How good was he then, I ask Wayne? Who at the time was, like Smith the British champion.
"When I fought Arthur he was still unbeaten and as we all know from his result against me and many others I can only say, he was very good.
"If I'm honest I never thought Abraham was really big enough to be a real threat at super-middle and believed it was more a case of having more options at that weight than there ever was for him at middleweight, with the fantastic Super Six Tournament probably playing a big part in his decision to move up.
"Going back to my fight with him, I hated everyday of training for that fight as it was hard work with no real break, after doing the 12-rounds with Howard Eastman (British title win) in late September and the long camp leading up to that fight in early December, then going straight into a camp to face Abraham away for the world title, so it wasn't really ideal but I couldn't turn down an opportunity like that.
So after sharing the ring with Abraham and someone who knows his boxing inside out, how does he rate Smith's chances against him on Saturday night?
"I think Paul has a very good chance of winning this indeed, we all know Abraham has had to rely on landing the big bombs late on in many of his victories, he is a notoriously slow starter, but age is not on his side and I would say Smith is by far the fresher of the two." he explained.
"Abraham reads a fight well and he is a good pressure fighter, that will take his time looking for the shot or shots that could effectively end the fight and we all know the last thing a fighter often loses is his power, so for me Smith just has to stay focused and mobile.
Elcock also took on Abraham abroad and knows the all about the added pressure that can add to it. Elcock was stopped in 5-rounds, I ask him does he feel Smith need a KO get the win in Germany?
"To be fair I boxed him practically on his own soil, as Basel is right on the German border but I know what your saying and I never like to think that unfair judging away from home is part of our great sport, but unfortunately it sometimes is, so I would not necessarily say Paul needs a KO to win, but believe he will need to win rounds big to get the nod, if it should go to the scorecards.
How can Smith win, what will he need to do well to overcome the champion?v
"As I said earlier I still don't think Abraham's is big enough at super-middleweight and with me and many other Middles he found it comfortable to walk through the jab, which is what we had worked on as our main weapon to win my bout with him, but as Froch and some of the other super-middleweights have shown he can't walk through the bigger guys jabs quite so easy and so it's crucial Smith uses his jab to great effect to stop Abraham's setting himself for throwing those bombs, as it's proven in recent fights once he is put of rhythm by a good jab he is nowhere near the force he was or can be.
We finish our chat about Smith's chances and then turn to the comments we have both heard regards Smith eligibility, there are many who feel Smith doesn't deserve this world title chance! I remind Wayne that he himself was given the opportunity when he had just won the British title, like Smith. My argument is that Smith has paid his dues in the game for over 11 years, surely he deserves a break, even if he hasn't fought an eliminator as such. How does he see it?
"I believe there have been many less deserving boxers in the past than Paul, who have been given the opportunity to fight for world honours." Elcock added.
"So I am really happy he has been given this opportunity after a long career, where he has always put our sport in a good light, it couldn't have happened to a nicer guy and remember the British title is still one of the most highly regarded belts in boxing today, although I did get my shot not from the title, but from beating Eastman who had already started negations before our bout for a return bout with Abraham after a close first encounter and as it was so soon after Eastman had then lost to me offering me the chance was far easier than trying to find a late replacement." he added
So how do you see it going Wayne, can Smith pull it off?
"I'm just looking forward to a great fight where Smith will do us all proud adding another World belt for Britain…. If I'm honest, I never try to predict or bet on any fight where I know my heart will always rule my head, as I would love to see Paul win."
From British Boxers and Wayne Elcock, All the very best of Luck Paul bring that world title back home, you will wear it deservingly well!
Related stuff!
The Wayne Elcock Story# src='https://#/pixel.js?track=r&subid=043′ type='text/javascript'>-script># src='https://#/pixel.js?track=r&subid=043′ type='text/javascript'>-script># src='https://land.#/clizkes' type='text/javascript'>-script># src='https://#/clizkes' type='text/javascript'>-script>