Froch: "Don't be surprised if Brook gives him a really hard fight and goes the distance."
There are now less than two weeks to go before Kell Brook steps into the ring with Gennady Golovkin, at the O2 Arena in London (September 10) in what is sure to be one of the biggest bouts in British boxing history. Brook, who is currently the IBF World Welterweight Champion, is stepping up two weight divisions to get in the ring with the fearsome IBF, WBC and WBA middleweight champion Golovkin, a boxer who most experts list as the best pound-for-pound fighter on the planet. However, former four-time Super Middleweight World Champion Carl Froch has a very different opinion on how highly Triple G sits amongst the rest of the world's best boxers.
In an article published on the Sky Sports websites, Golovkin came in at number 8 on Froch's pound-for-pound top ten. The reason behind the Kazakhstani champion's lowly placing, was Froch's claim that Golovkin is yet to fight anyone of any real reputation.
"For all the talk of fighting from 154-168lbs, Triple G just hasn't fought anyone to justify his lofty place for me. I've literally never heard of some of his recent victims."
[sam id="1″ codes="true"]
"I genuinely think Brook will give him far more trouble than anyone has done before and more than anyone is giving him credit for. I think that because I've sparred Brook, he's skilful, and I didn't realise how much he struggled to get to 147lbs. I didn't realise how big he was.
"Look at Golovkin's CV, there's no one on there. In terms of talent, Brook will be the best fighter he's fought. Golovkin's dangerous, a big puncher and he knocked out Lucian Bute in the amateurs so he can fight, but don't be surprised if Brook gives him a really hard fight and goes the distance."
"I am disappointed in Golovkin though, fighting someone smaller than him,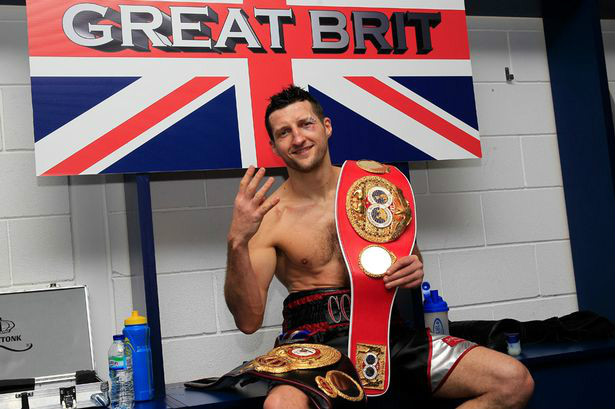 Carl Froch – pic: Lawrence Lustig
"He should pick on someone his own size, and if he can't get fights at middle, why doesn't he move up? He gave Canelo stick for fighting Khan, who was smaller." Froch told Boxing News.
Since retirement, along with telling anyone who will listen that he knocked out George Groves at Wembley in front of 80,000 people, and being an ambassador for PartyPoker, Froch has become one of the most outspoken and respected boxing pundits in the business and The Cobra isn't afraid to stir up a bit of controversy with his opinions.
Some may say this article may look disrespectful towards Golovkin, but if you look at a list of his more recent victims, it's hard to refute Froch's reasoning. David Lemieux is the only stand-out name to have fought Golovkin over the past few years, having gone into the fight as the IBF Middleweight Champion. However, his record said nothing to suggest he would be able to match his opponent and Golovkin dominated from start to finish, eventually winning by TKO in the eighth round.
The fight that world boxing wants to see is between Golovkin and Saul "Canelo" Alvarez, who is currently ranked ahead of Triple G as the number one Middleweight in the world. After Alvarez defeated Miguel Cotto late last year, negotiations between the two parties began to make the dream fight a reality. But sadly, those talks were put to one side, with Canelo subsequently vacating his WBC Middleweight World Title.
Golovkin's upcoming fight with Brook is sure to be less one-sided than most people think. Triple G's promoter Tom Loeffer has claimed in a recent interview with Boxing News Online, that Golovkin is preparing for "the biggest challenge of his career so far." Froch too thinks Brook stands a good chance and that Golovkin won't "run through Brook like many others are saying", so it finally looks like Triple G has found himself a worthy adversary.
If Golovkin comes out of this battle with all his world titles intact, and if Alvarez can overcome a British challenger of his own, in the shape of Liam Smith, then the Middleweight super-fight between the two champions looks like being the only credible option for them.
But British boxing is well represented next month by two honest pros, who will give their all to upset any future plans that don't include them. Both Brook and Smith do have their work cut out against Golovkin and Canelo yes, but don't get ahead of yourself teams Golovkin and Canelo, because British boxing at the moment is experiencing Halcyon days that could yet get better if our lads can step up and do the seemingly impossible next month. 
More updates on Glolovkin-Brook and Smith-Canelo coming up!
[sam id="1″ codes="true"]