Former British light-welterweight champion and recent world title challenger Ashley 'The Treasure' Theophane (39-7-1, 11 KOs) has not been in the ring since April, when he fought Adrien 'The Problem' Broner (30-2-2, 24 KOs) for the vacant WBA belt (39-7-1, 11 KOs) Ashley lost the fight after being controversially stopped in the 9th round.
We caught up with the Las Vegas based Mayweather Promotions boxer, while he is back home in London, to ask him about the Broner fight, what he has been doing since then and what the future holds for him?
Hello Ashley, Thank you for speaking to www.britishboxers.co.uk
BB:

 You spend your time between the UK and America, training at the Mayweather gym since you signed for them. But what are your wear-about's at the moment and what have you been doing since we saw you challenge Adrien Broner for the WBA world super-lightweight title in April?
AT: Straight after my fight with Broner, I headed to Jamaica and Dubai for some downtime. Since May I've been at All stars Boxing gym and Equilibrium – Total Balance just staying in shape. It's great being back in London as over the last three years I've been fighting constantly in America and away from my family so enjoying my downtime and spending time with my family and friends.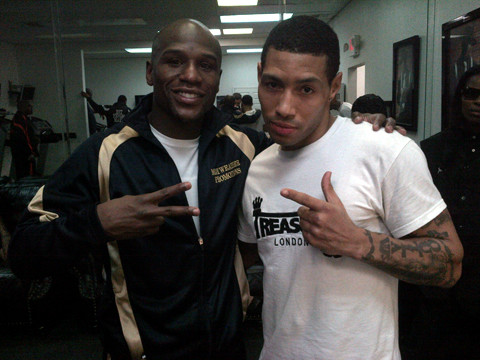 BB: How do you look back on the Broner fight now in hindsight. did the weight issues with Broner have a big bearing on the fight on the night with him coming in over the limit. Plus when you got stopped you appeared to be claiming he hit you low, as the ref stopped it.?
AT: Broner not making weight was positive for me. I picked up a 50k bonus for that.
I feel that I could of fought better. I had a great training camp. My best ever. I just didn't produce the outcome on fight night I wanted. Everyone saw it was a low blow. The crowd boo'd the referee after he stopped it. I had just had two good rounds previous, so why would I quit. It was a good fight other than the bad stoppage. The plan was to try be in the fight mid way to the championship rounds as my team believed he'd gas out. Going into the fight I didn't think he had power to KO me. He hit me with some good shots but nothing I couldn't handle.
The WBC president said if it was a WBC title fight he'd order a straight rematch so it's all good, I'll be back in a big fight next year.
[sam id="1″ codes="true"]
BB: Are you still with Mayweather Promotions and do you have any fights in the pipeline? And will you base your training camp back in US or UK?
AT: I've just signed a 3 year contract extension with Mayweather promotions. Why would Floyd drop me after challenging for the world title?! That would make no sense and that's not his style. He told me straight after my fight with Broner, get some wins and you'll be here again. Floyd is a man of his word so I will be in another world title fight with Matweather promotions.
Dejuan Blake, my advisor is working on my next fight with Mayweather promotions now. His number one choice was Ricky Burns but he has his mandatory to deal with. My next training camp will be in the UK but I'll be back in Vegas soon.
BB: You obviously have an affinity with the States and spent a lot of time there even prior to joining Mayweather Promotions, but your a Londoner and proud of that. So much so you recently got a tattoo of London Map on your back, what was the inspiration behind it?
AT: I'm London born and bred. I'm a proud Londoner and into tattoos. So it made sense.
BB: Since fighting in America after going over there after the loss to Hamilton for the British title, that period up until the Broner fight was a successful stint for you, now in the autumn of your career at 36 years young, do you feel you can go on another good run and earn another world title shot before you call it a day?
AT: I've got 39 professional wins. My target is 50. So I will continue boxing for the next 4 years. I'd be happy to complete another 3 years with Floyd. It's been a great ride with them regardless, being able to watch Floyd prepare for 7 of his fights. Backstage memories I'll never forget.
I'll fight before the year ends. I'll just waiting on confirmation of my date. And I'll get a world title shot in 2017 – That's what mayweather promotions is working on.
BB: Whats next for you in the immediate future?
AT: I'll fight before the year ends. I'll just waiting on confirmation of my date.
BB: How do you feel about the current British boxing scene and the amount of world champions we are producing?
AT: I don't watch really watch boxing but British boxing is currently riding high in the amateur and professional game. That's good for them!
BB: How do you see the Liam Smith v Canelo Alvarez fight going and why?
AT: I've never watched Liam fight but I've heard good things about him.
It's a hard fight for him. I wish him the best.  It's his career defining fight. You got to go for Canelo. He's been fighting at the higher level but I'd like Liam to win.
BB: How do you see the Golovkin-Brook fight going and why?
AT: GGG is too big for Brook but Kell is making his career high purse. Pro boxing is business first so that's great for him. He's fighting a man that top middleweights wouldn't fight so Kells got bigger balls than them. He'll still be 147 champ afterwards so it's win win for him.
Ashley added, he would like to thank everyone for their support. The love I've received in London over the last few months is truly appreciated.
Check out AshleyTheophane.com
And @AshleyTheophane on Twitter and Instagram.
[sam id="1″ codes="true"]