MOTIVATED McLAREN CANNOT WAIT FOR TITLE TILT
Kieron McLaren is hoping to tick off his first major boxing milestone by securing the British super-lightweight Challenge belt when he takes on Chris Adaway on Hatton Boxing's 'The Beginning' show, on the undercard of Nathan Gorman's Central Area heavyweight title clash with David Howe at Fenton Manor Sports Complex in Stoke next weekend.
'Gunner' has been aiming for the title since he started the sport and is confident of getting the result in his home town.
"I am more motivated than ever to get the belt. It is something big and something that I have been wanting from the moment I have started boxing really so I just want to get out there and make sure I get it," he said.
"I can't wait for the night to come. I have been asking and pestering my manager and coach to get a fight in my home-town for a long time. It is finally here now and I am completely ready so I couldn't ask for anything better.
"I am hoping to take quite a few fans down with me and we have sold lots of tickets so far so it should be a great atmosphere."
[sam id="1″ codes="true"]
The 23-year-old is expecting a challenge from Plymouth scrapper, Adaway, but he is adamant he shouldn't have too many problems as long as he sticks to the game-plan.
"I am expecting a tough fight. I have seen a couple of videos of him and he comes and gives it his all so I know I will be in for a hard night. But if we stick to what we have been doing in the gym then I think I will be alright," he said.
"I do see a few weaknesses with him. I know that he is quite open when he is jabbing. We will see what happens on the night. I will take it as it comes and give it my best shot."
The Staffordshire boxer admitted there was pressure on him in-front of his home fans for the first time but he isn't worried about the occasion getting to him.
The unbeaten fighter has enjoyed eight successive wins but he is keen to keep his feet on the ground.
"It is extremely important that I put on a performance and show people what I am about. We have been on about getting a fight around here for so long now so if I wasn't able to perform for the fans it would be a massive disappointment. But I don't think I will have any problems with that and I am sure I will turn up on the day.
"Everything has gone to plan. We have been sticking to the things we have been working on in the gym and working hard and I am sure it is going to pay off on the night.
"I am not looking too far ahead and I want to take every fight as it comes and not look past any. I want to make sure I get this belt first and then push on after that. I am very happy with my start and it really couldn't be any better. Everything we have done and the steps we have taken have all been at the right time so it has been great."
'The Beginning' is the first in number of upcoming shows to be hosted by Hatton Boxing, the company founded by the two-weight world champion; Hatton Boxing also manufactures premium boxing equipment and trains thousands of fitness professionals each year through its Academy.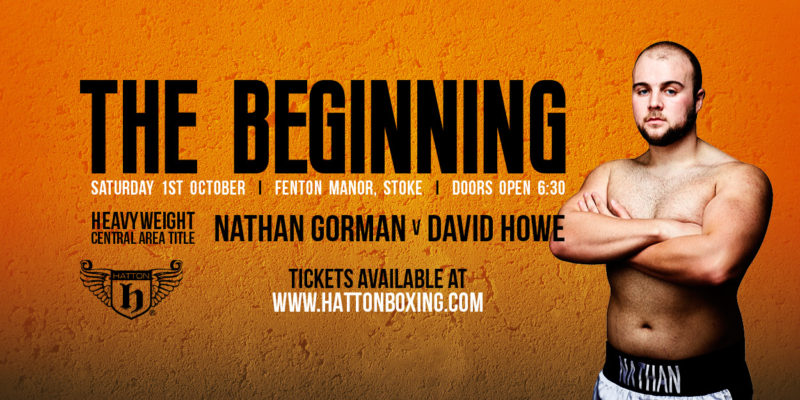 The card is headlined by Nathan Gorman's Central Area heavyweight title clash with David Howe and also features welterweights Craig Morris and Nathan McIntosh clash for the Midlands Area crown.
Also featured are Hatton Promotions' welterweight prospect Sam 'Taffy' Evans, popular Irishman Chris Blaney, Stafford stalwart Rob Hunt, Ruskington's Dan Cooper and hometown debutant Owen Jobburn.
Tickets to are priced at £30 for general admission and £60 for ringside and can be purchased at Hattonboxing.com
[sam id="1″ codes="true"]